Hot dog-eating contest to welcome women this summer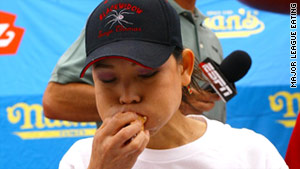 Sonya "the Black Widow" Thomas is currently ranked No. 4 in the world by Major League Eating.
STORY HIGHLIGHTS
The first woman to compete was a German tourist, in 1984
Sonya Thomas is a leading contender this year
In the 2010 championship, she downed 36 dogs
This year's top male eater will get $20,000, but top woman will get $5,000
New York (CNN) -- The Nathan's Famous hot dog-eating contest has always separated the men from the boys, as far as eating competitions go, but this year it will separate the men from the women -- with separate challenges for the sexes.
George Shea, chairman of the annual event's sponsor, Major League Eating, says that with more women competing, it was the right decision to make.
"There was a feeling that what woman have done is nothing short of fantastic, but they were being overshadowed by the men," Shea said.
As Nathan's Famous readies for its 96th annual July Fourth International Hot Dog Eating Contest on Coney Island, the ladies will go first in vying for their own championship belt.
The women's competition will abide by the same rules, with at least 10 female contestants required to eat as many hot dogs and buns as they can in 10 minutes.
Qualifying events for the contest begin April 23 and will be held in 13 cities including Las Vegas, Atlanta, Boston, Cleveland, Los Angeles, New York and Pittsburgh. Events will also be held in Canada and China to qualify for the July 4 contest.
Although the men's competition will feature a grand prize of $20,000 and the famous championship belt, the woman's purse will be $5,000.
Why the disparity?
Shea says that the overall prize money will eclipse that of past years and that although the money is meaningful, the instant celebrity for the first female hot dog-eating champion will make up for the shortfall.
In 2010, reigning champion Joey Chestnut took home the championship belt for the fourth year in a row after scarfing down 54 hot dogs and buns, although he'd eaten a record 68 dogs in 2009.
The leading female contender for this year's event is Sonya Thomas, who downed 36 hot dogs in the co-ed 2010 contest, falling short of her personal best of 41 hot dogs in 2009.
A strong challenger will probably be 45-year-old Juliet Lee from Germantown, Maryland. Lee, who owns a hair salon, is "excited" and hopes to best her personal record of 34 hot dogs, which she accomplished a year ago.
Lee, who weighs 100 pounds, says she's participating "not for the money but because it's a passion." She prefers seafood, she says.
German tourist Birgit Felden broke the Nathan's gender barrier in 1984 as the first female competitor, downing 11 hot dogs and buns.
Major League Eating is launching a global effort to find Felden and have her come back to Coney Island this year.
FOLLOW THIS TOPIC