STORY HIGHLIGHTS
"The Bang Bang Club" film debuts in the U.S. this week at the Tribeca film festival

It's based on a book about the humanity of four journalists who chronicle inhumanity

The four photographers covered the bloody political violence as apartheid ended in South Africa

Today, only two are alive, including Joao Silva, who was injured last year in Afghanistan

Editor's note: CNN's Tom Cohen was based in South Africa from 1990 to 1998 for The Associated Press and worked with Greg Marinovich and Joao Silva. He covered many of the events depicted in the book and film. Note, this story contains graphic photos and some profanity.
(CNN) -- More than 20 years later, the image remains both horrifying and riveting.
An attacker slams a machete into the skull of a kneeling man engulfed in flames as a boy runs past in celebration.
"As I focused, I noted that the early sun was right behind the burning man," photographer Greg Marinovich wrote of how he captured the moment to win a Pulitzer Prize in 1991. "The camera's light meter did not work, and so I twisted the aperture wide open: f5.6 should be right."
That instant of emotional detachment -- setting his aperture as a man gets brutally murdered a few feet away -- is at the heart of the book "The Bang-Bang Club" by Marinovich and Joao Silva on covering South Africa's chaotic township violence in the final years of white rule.
Published in 2000, the book is considered a must-read by many journalists who report on human conflict for a living.
It is a gritty and honest account of how Marinovich, Silva and two other acclaimed photographers -- Ken Oosterbroek and Kevin Carter -- confronted tragedy, risk and their own compassion in recording the fallout of a secret war waged by the last white South African government and its Zulu nationalist allies against Nelson Mandela's African National Congress.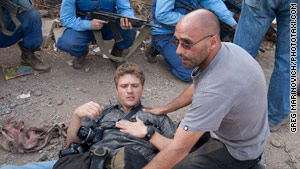 Joao Silva, on the set of "The Bang Bang Club" assisting actor Ryan Phillippe.
This week, a movie based on the book, starring Ryan Phillippe and Malin Akerman, will be released in the United States after its American debut at the Tribeca Film Festival in New York.
Also titled "The Bang Bang Club," the film raises anew questions about the humanity of conflict journalists who make a living chronicling inhumanity.
Written and directed by Steven Silver, the film is a well-intentioned but flawed account of what happened to the foursome given the "Bang-Bang Club" nickname for a willingness to get close enough to photograph the chronic political violence in black townships around Johannesburg.
In reality, there was no club, just a group of young photographers working to cover the endgame of apartheid and make their names. It was hard, draining work that evoked a range of sometimes contradictory reactions: the adrenaline rush from proximity to danger, exhilaration when capturing momentous images, disgust with the human carnage and grief over the accompanying misery.

Two journalists killed in Misrata

Reporting in conflict zones

Reflections on reporting in Libya
In the end, it exacted a heavy toll. Of the four main characters in "The Bang-Bang Club," only Marinovich and Silva survived, and both bear heavy scars from their chosen careers.
Marinovich was shot four times in almost two decades of conflict photography. Now married with two children, he no longer accepts combat assignments.
Silva emerged unscathed from the South African violence and went on to become a combat photographer for The New York Times.
Then, in October, his "number came up," as he it put it.
He stepped on a land mine in Afghanistan, losing both legs below the knee and suffering internal injuries.
Now the 44-year-old is learning to walk on prosthetics. Also married with two children, he wants to cover conflict again, if possible, and expresses no regrets.
"I was not surprised when it happened," Silva said, noting all the years that he has put himself in dangerous situations. "It's been a long time. I've been very lucky. And finally I've run out of luck."
As a conflict photographer, Silva explained, he has always benefited "as a result of somebody else's suffering."
"Yes, what we do is important. We show the world certain reality that most people would like to ignore," he said.
But, "for us to have a good day photographically in a combat type situation, somebody else has got have an incredibly shitty day, and that's a reality that's always been in the back of my mind."
Scarred, but alive
Covering the South African violence in the early 1990s could seem like an endless cycle: up before dawn to chronicle the overnight violence at first light, dodging gunfire and tear gas, rushing back to file photos, then going back out for the good light of the late afternoon, filing more photos, followed by nights of drunken and stoned commiseration and arising before dawn to do it all again.
Danger and stress were ever-present.
Oosterbroek was shot to death in a fierce battle in Thokoza township a week before Mandela's party won the nation's first all-race election in 1994.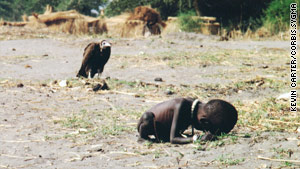 Kevin Carter's photo that captured the famine in Sudan earned the 1994 Pulitzer Prize. He committed suicide later that year.
Three months later, Carter -- who won a Pulitzer Prize that year for his haunting photo of a starving child stalked by a vulture in southern Sudan -- committed suicide.
Marinovich and Silva, meanwhile, built their careers on their township photos. Along with Marinovich's Pulitzer, they have won other international honors for their work.
At the same time, they also have questioned the necessary cost for their success.
In the book, Marinovich told how the first time he was shot, in the same volley that killed Oosterbroek, he felt immense pain but also a sense of relief because he too was shedding blood along with the victims in his photos.
"That's a very real emotion," Marinovich, 48, said last week.
He described the discomfort of "always being the voyeur, always being the outsider that comes and goes, always making money out of it."
"If you're a decent human being, it's going to bother you," he said.
A passage in the book describes a 1992 conversation between Silva and Carter on the moral implications of their work. Marinovich writes:
"Joao was adamant that there was a price to be paid for the pictures we took. This was something we hardly ever discussed.
"Kevin was having none of it and he was getting annoyed. 'Retribution? In order to have retribution, there has to be a sin.'
"'There has to be retribution for the things we sometimes do,' Joao persisted.
"'Are you saying what we do is a sin?' Kevin asked.
"Joao could not answer, but he felt there had to be some form of retribution for watching people kill each other through our viewfinders when all we did was take pictures."
A heavy price to pay
The book and film also explore the question of whether these photographers should remain uninvolved in chronicling the violence that unfolded in front of them, or put down their cameras and intervene.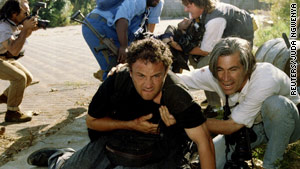 Greg Marinovich, center, was shot and wounded in this 1994 gun battle in a South Africa township. Colleague Ken Oosterbroek, in the background, did not survive.
While taking his Pulitzer-winning photos, Marinovich engaged in a brief negotiation with the attackers when they told him to stop.
"I'll stop taking pictures when you stop killing him," he responded.
As the attack continued, he kept snapping photos.
Only after he returned to his car did his emotions come out, and he pounded the steering wheel in frustration.
It was a question asked of Carter when he won his Pulitzer: Had he helped the starving girl shown in a state of near collapse as a vulture approached from behind?
Carter said he drove off the vulture and was certain the girl reached a nearby feeding center, but the questioning persisted on why he didn't carry her there himself.
Crippled by longstanding feelings of inadequacy and heavy drug use, Carter deteriorated further after the death of Oosterbroek, until he ran a hose from his pickup's exhaust into the cab and got stoned while writing a long and increasingly rambling suicide note.
"I have always had it all at my feet -- but being me just fucks it up anyway," the note said.
Silver, the director, said he believes the photographers had more than one motive for pursuing their work.
On one hand, they chose a life of risk to record the injustice of apartheid, but they also fed off the action and energy and adrenaline of that life, he said.
"Do I like them? Not all the time," Silver said of the film's main characters. "But I don't like myself all the time."
In the end, he said, the film is "really about the cost of bearing witness, the price you pay for doing this kind of thing."
Heroes to some, villains to others
The book, which sold more than 60,000 copies worldwide and is being re-released with the film's limited U.S. distribution, has achieved a kind of cult status in some circles for its depiction of the complex reality of covering conflict.
Marinovich said he regularly receives e-mails about it from strangers, such as a recent message from aspiring Brazilian photojournalist Giordanno Bruno, who wrote: "I'm doing my finals on journalism, and I'm speaking about ethics on war photography. The question is: do your job, or help who needs? The Bang Bang Club is my bible on this, and I'm using it to 'discover' what photographers should really do."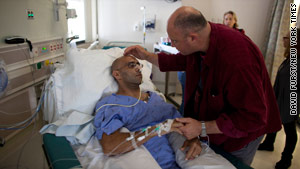 Marinovich visits Silva in the hospital where he is recovering after stepping on a land mine in Afghanistan in October.
For Silva, the role of a photographer is to record the moment for history, and he faced a personal dilemma over his responsibility at the height of the township violence.
When fellow photographer Abdul Shariff got killed in crossfire during an unexpected battle at an ANC event in January 1994, Silva went to the nearby Natalspruit Hospital on hearing the news. He was shown Shariff's body lying on a gurney, but when Silva raised his camera to take a photo, the accompanying nurse protested.
Silva took the picture anyway, saying he photographed the corpses of strangers all the time and now he needed to photograph his dead friend.
Three months later, Silva instinctively photographed the moment when two of his best friends, Oosterbroek and Marinovich, were shot in Thokoza.
Images of the mortally wounded Oosterbroek were published the next day, and Oosterbroek's widow lashed out at Silva for taking the pictures.
"Because it was me, one of Ken's closest friends, it broke the rules" in her mind, he said. "It hurt me deeply. It made me question my motive. It made me question my humanity, you know."
He struggled with that issue for weeks, eventually finding clarity in his chosen role.
If you're a decent human being, it's going to bother you.
--Greg Marinovich, photographer
"It all falls into the same category: casualties of war," Silva said. "If you have the guts to photograph people you don't know -- corpses in the street -- then if it happens to your own friends, journalists, you have to have the courage to photograph them too."
That remained true for him in October in Afghanistan. After the land mine exploded, Silva's first instinct on seeing his mangled legs was to take photos.
He snapped off three frames before the pain forced him to drop the camera.
"I wanted a picture of the medics working on me from my perspective," Silva said. "If it had been a soldier, I'd be trying to get the same picture."
His motive was simple: "I was a casualty of war. I was trying to capture a bit of my own history as a casualty of war."
FOLLOW THIS TOPIC