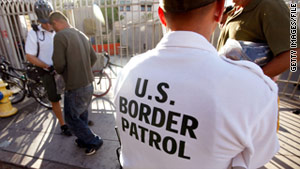 Arrests of undocumented immigrants along the Mexico border has dropped 58% since 2006, according to federal statistics.
STORY HIGHLIGHTS
The number of Border Patrol agents has nearly doubled since 2004
CBP counted more than 1 million arrests of undocumented immigrants in 2006
By 2010, that number was down more than half
Authorities and experts cite several reasons for the decrease
(CNN) -- By at least one measure, illegal immigration is not the problem that it used to be for the United States -- the number of arrests of people trying to cross the U.S.-Mexico border illegally has decreased sharply in the last five years, according to federal statistics.
In fiscal year 2006 there were 1,071,972 arrests of undocumented immigrants in the multi-state border area, according to Customs and Border Protection (CBP). The number had fallen to 705,005 in 2008, and last year's figure was 447,731, CBP data shows. Those figures represent a 58% decrease from 2006 to 2010.
Immigration has been controversial since New York's Ellis Island was the entry point for millions of hopeful citizens-to-be during the last two centuries and even before that. Political fortunes have been made and lost by arguing the pros and cons of allowing foreigners into the country.
This week, immigration rose again to the national attention when President Barack Obama called for "genuine, comprehensive immigration reform." At a speech Tuesday at Chamizal National Memorial in El Paso, Texas, Obama said that "Washington is lagging behind the country" while a growing number of leaders "see the harmful consequences of a broken immigration system for their businesses and communities and they understand why we need to act."
Although many agree that the system is "broken," as President Obama called it, a close look at the number of arrests of people trying to cross the border illegally shows that sharp decrease in the last five years.
Several factors have contributed to the decrease in the number of arrests of would-be immigrants. The number of U.S. Border Patrol agents along the U.S.-Mexico border has doubled in roughly the same period in which arrests have decreased. In 2004, there were 11,000 agents patrolling the border, according to CBP. Now the number is getting close to 22,000.

Take a ride with the border patrol
U.S. Border Patrol Agent David Jimarez, who works for the Tucson Sector in Arizona, says organized crime is now a greater challenge for agents than migrants trying to cross illegally to find a job.
"These smuggling organizations like to operate from dusk till dawn. They like to operate under the cover of darkness because they think they're not going to be seen," Jimarez says. The Department of Homeland Security, which oversees Customs and Border Protection, has made significant investments in state-of-the-art technology for border surveillance and that has helped agents
In his speech in El Paso, Obama said that over the past two and a half years, drug seizures have increased by 31%, cash confiscations by 75% and weapons seizures by 64%.
Bills aimed at cracking down on illegal immigration at the state level have also had an effect on the number of people trying to cross illegally. Arizona's strict legislation that would have, among other things, required local law enforcement in the state to help deport illegal immigrants was signed into law in April of 2010. A federal judge issued an injunction in July blocking some of its most controversial provisions, and that ruling was upheld in the 9th Circuit Court of Appeals last month.
In spite of the legal impasse, that and similar measures in states including Georgia, Florida and Utah have had a chilling effect on would-be migrants who would otherwise consider crossing the border illegally into the United States.
Another significant factor has nothing to do with enforcement.
The global economic downturn was responsible for the demise of many businesses across the United States. Some of those business used to employ illegal labor, particularly in agriculture and construction. There's no way of knowing how many workers lost their jobs, but many low-skilled undocumented workers had no alternative but to return home.
Andrew Selee, director of the Mexico Institute at the Woodrow Wilson Center in Washington, says that President Obama's speech Tuesday "sought to convince the public that the border is as secure as it has ever been and that immigration is necessary for American society and an essential part of this country's heritage."
"The president seems intent on changing the narrative about immigration, which has turned negative in recent years, and reclaiming momentum for pro-immigrant arguments, even if this doesn't lead to policy changes in the short term," says Selee.
Organizations that favor a tighter immigration policy dismissed the president's speech as a political effort to regain the Hispanic vote.
"In his effort to shore up support from his political base, President Obama is choosing to reignite a divisive debate about amnesty for illegal aliens," said Dan Stein, president of the Federation for American Immigration Reform (FAIR).
What to do with those who are already here remains one of the biggest questions of the immigration debate. According to the Pew Hispanic Center, 11.2 million "unauthorized" immigrants live in the United States, equal to 3.7% of the nation's population. The figure follows a two-year decline from the peak of 12 million reached in 2007.
FOLLOW THIS TOPIC