STORY HIGHLIGHTS
Dozens of shuttle enthusiasts with alternative media outlets attend every launch
Some call them "space junkies"
Most feel deeply connected to manned space programs
Kennedy Space Center, Florida (CNN) -- On the morning of the launch of the space shuttle Endeavour, Lloyd Behrendt paced the floor of NASA's news center at the Kennedy Space Center, rubbing elbows with reporters while keeping an eye on the countdown clock.
Behrendt wore a baseball hat adorned with pins from previous shuttle missions. His media credential dangled from his neck. A camera strap was slung over one shoulder.
But he doesn't take photographs for a major publication, nor does he report for a television station, newspaper or radio network. Behrendt is a member of a close-knit group of people that some call space junkies.
"I came here when I was 11 months old," Behrendt said. "My dad was weather officer here when the Air Force took over from the Navy in 1949."
Behrendt said he's been to at least 60 shuttle launches. He proudly admits he's a space junkie.
"My name on Facebook is SpaceBrat1 because I saw that first launch take off from Patrick Air Force Base. I was only 18 months old. ... It's in my blood."
There were dozens of space junkies at NASA's news center watching Endeavour lift off on its final mission Monday. Many arrived several days before the launch, ahead of the news networks. They live and breathe NASA's space program. Some self-publish small newsletters. Others have blogs or host public access cable shows.
The space junkies come from all walks of life, but they speak in one voice when they express their disappointment, even anger, over the space shuttle program's coming to an end.
"I'm chagrined and honestly quite angry," Behrendt said. "The politicians here did not do a good job of protecting the program. The organization did not do a good job or articulating what they do."
The way he sees it, most of the advances of the past 50 years are connected in some way to the space program.
"Everything has come from the space program and we're basically sticking it in a trash can. So you might be able to tell I'm a little bit upset about it."
There are others who express the same sentiment. Ronald Palmisano of Plainville, Connecticut, hosts a public access cable show called "Space Age Times" on Nutmeg Television. He's been covering launches since 1990.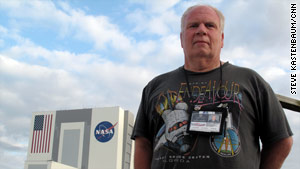 Ronald Palmisano, host of a public access show, has been covering space shuttle launches for more than 20 years.
Palmisano was at NASA's news center for close to 24 hours on April 29, the original launch date for Endeavour's final mission, which was scrubbed due to a mechanical problem.
At the end of the day, he was falling asleep in a seat in the back of the room, but he wouldn't leave because he didn't want to miss anything.
Palmisano feels deeply connected to the space shuttle program. The last thing he would want to do is miss a shuttle launch.
"Somehow, some way, you feel you are a piece of putting those men and women into space."
The small-time cable show host is not looking forward to the final space shuttle launch of Atlantis. NASA is prepping the shuttle for its last mission, but a launch date has yet to be finalized.
That moment is when Palmisano will say goodbye to the people he has bonded with all these years.
"I will miss coming down here. There always was another launch," said Palmisano. "It's really a shock because they really are your family. You look forward to saying 'see you next time' and I have to say, there always was a next time."
The Volunteers
Not all space junkies gain access to the Kennedy Space Center during a launch by acquiring a press credential. Many fill launch-day volunteer positions.
Endeavour was John Johnson's 130th shuttle launch. He's missed only three.

Endeavour launches for the final time

Warp speed: 134 launches in 134 seconds
"I think in our volunteer group, I think we're down to six now that are over 80 years old," Johnson said. "I've got a month and a half to go before I join the 80 group."
Johnson's love affair with NASA's space program began when he was deputy commander at the nearby Air Force base many years ago.
With bitterness in his voice, he said, "I guess after the shuttle's gone, well, we'll be gone."
After the shuttle program comes to an end, Johnson will still see members of his shuttle family around town. But he won't see the throngs of people that swell the population at the Kennedy Space Center in the days surrounding a launch.
In his volunteer position, Johnson escorts members of the media around the Kennedy Space Center.
When he pondered whether he would miss the journalists, Johnson said, "Well, some of you ... most of you."
Moments later, the soon-to-be-80-year-old turned his eyes toward the launch pad and for the 130th time watched in awe as the rocket engines ignited and the shuttle lifted off into space.
FOLLOW THIS TOPIC