STORY HIGHLIGHTS
NEW: Schwarzenegger's housekeeper gave birth to his son, New York Times reports
NEW:The child was born days after Maria Shriver gave birth to another Schwarzenegger son
NEW: The housekeeper's husband left her 3 weeks after the birth, divorce papers show
The former California governor acknowledges having a child out of wedlock
What was Schwarzenegger thinking? Tune in to "Dr. Drew" on Thursday night on HLN at 9 ET for a candid conversation about why he would cheat.
Los Angeles (CNN) -- A son fathered by Arnold Schwarzenegger with his housekeeper was born less than a week after Maria Shriver gave birth to another Schwarzenegger son, according to birth records obtained Wednesday by CNN.
The New York Times, citing two friends of the family, reported the mother was Mildred Patricia Baena, who worked for two decades as housekeeper for the Schwarzenegger family.
The former California governor acknowledged Tuesday he was the father of a child "over a decade ago," but he did not identify the mother.
CNN is not identifying the child.
The birth certificate listed the father as the man Baena was married to at the time.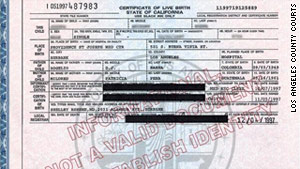 The boy's birth certificate listed the father as the man Mildred Baena was married to at the time.
However, divorce papers obtained by CNN say the couple separated less than three weeks after the October 2, 1997, birth. She is a 50-year-old native of Guatemala, according to the document.
The Los Angeles Times, which first reported the story early Tuesday, quoted the woman as saying she recently retired "on good terms" with the couple after working for them for 20 years.
Schwarzenegger has provided support for the child since birth, one source told CNN.
Property records indicate Baena purchased a home in Bakersfield, California, in June. Television crews and paparazzi swarmed the residential cul de sac in northwest Bakersfield on Wednesday, but there was no sign of Baena.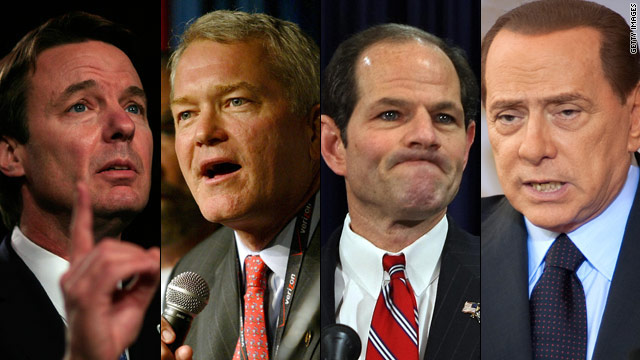 Gallery: Recent political sex scandals

Schwarzenegger drops bombshell

Dr. Drew on why powerful men cheat

Public men, private failings
A neighbor told journalists, including a reporter with CNN affiliate KTLA, that Baena told them she previously worked for Schwarzenegger.
The revelation that Schwarzenegger fathered a child outside his marriage came a week after Schwarzenegger and Shriver jointly announced they were "amicably separating." No reason for their split was given at the time.
The developments have been "very hard" for Schwarzenegger, and the actor "is doing everything he can to take full responsibility to take all of the spotlight off his children and wife," a source close to Schwarzenegger told CNN.
"He realizes the terrible mistake he made and has a lot of work to do to repair his relationship with his family," the source said, adding that Schwarzenegger has asked people around him to not talk about his relationship with his wife and children.
"He's in touch with his family and talked to them last night and apologized to them," the source said Tuesday, noting that Schwarzenegger also spoke with Maria Shriver, his wife of 25 years.
The source told CNN the action-movie star has three movie deals and is slated to shoot a drama called "Cry Macho" this summer. However, the source said, Schwarzenegger has put the other two movie projects on hold to concentrate on his family.
"He has a lot of work to do to repair the relationships and rebuild their trust," the source said. "He will do whatever they want him to do -- give them space or be there -- to allow them to heal and get through this."
Shriver, meanwhile, joined talk show legend Oprah Winfrey on Tuesday for a taping of the Oprah Surprise Spectacular -- part of the final episodes of "The Oprah Winfrey Show" scheduled to air next week.
As she walked on stage with longtime Oprah confidant Gayle King, thousands in Chicago's United Center jumped to their feet and erupted in applause.
"For 30 years you have bestowed the most amazing friendship on me," Shriver told Winfrey.
Shriver went on to talk about Winfrey's role in encouraging young people to pursue their education and introduced a video tribute from youths around the world.
Shriver did not talk to media backstage but appeared happy and smiled in a long, navy sequin gown throughout her on-camera appearance.

Schwarzenegger: 'There are no excuses'

Maria Shriver talks about her marriage

The private lives of politicians
Earlier Tuesday, she released a written statement describing "a painful and heartbreaking time."
"As a mother, my concern is for the children," Shriver said. "I ask for compassion, respect and privacy as my children and I try to rebuild our lives and heal. I will have no further comment."
A source close to Shriver said Tuesday that the former NBC anchor and her children were "circling the wagons and are working through" the family crisis.
The source, who asked not to be identified because of the sensitivity of the matter, said Schwarzenegger was "way on the outside of the circle" and "rambling around" their huge house with none of his family around.
Schwarzenegger, in a statement obtained by CNN Tuesday, said he told his wife about the child after he left the governor's office in January.
"I understand and deserve the feelings of anger and disappointment among my friends and family," he said. "There are no excuses and I take full responsibility for the hurt I have caused. I have apologized to Maria, my children and my family. I am truly sorry."
Schwarzenegger's four children were told about their sibling only recently, with Shriver "methodically" talking to them, the source said. They were "well prepared" before it became public, the source said.
The couple have four children together between the ages of 13 and 21.
Patrick, Schwarzenegger's 17-year-old son, expressed his feelings Tuesday morning in a Twitter posting:
"Some days you feel like s--t, some days you want to quit and just be normal for a bit, yet i love my family till death do us apart. #family"
The oldest child, 21-year-old Katherine, followed with her own tweet later Tuesday:
"This is definitely not easy but I appreciate your love and support as i begin to heal and move forward in life. I will always love my family!"
Privately with her children, "Maria is very much 'Don't abandon your father,'" one source said "It is very admirable to not show your children the anger and also ask your children to be supportive of their father."
After Schwarzenegger and Shriver married in 1986, they became one of America's most famous couples.
He was one of Hollywood's highest-paid actors, and she was a network news anchor and a member of the Kennedy family, America's storied Democratic political dynasty.
Shortly before the 2003 gubernatorial election that catapulted the former actor to political office, however, the Los Angeles Times ran a series of articles in which 16 women accused him of sexually harassing and humiliating them over a 30-year period in incidents on movie sets, at gymnasiums and elsewhere.
One of the women said that when she worked with Schwarzenegger on a movie, he pulled up her shirt to expose her breasts and took a picture and groped her on two other occasions.
The woman, Rhonda Miller, filed a lawsuit, saying Schwarzenegger and his campaign staff tried to discredit her by spreading false information about her.
Schwarzenegger said he knew nothing about Miller's allegations and said the timing of the complaints of the 16 women was "rather odd," given that no one had filed a complaint against him in the 35 years that he had lived in the United States.
Schwarzenegger issued a general apology for "behaving badly sometimes" but said many of the allegations were not true "because that's not my behavior."
Shriver took to the campaign trail to defend her husband a day after the allegations surfaced and just four days before the 2003 recall election.
"You can listen to all the negativity, and you can listen to people who have never met Arnold, or who met him for five seconds 30 years ago. Or you can listen to me," she said in a speech to a Republican women's group in Orange County.
"I wouldn't be standing here if this man weren't an A-plus human being. I wouldn't be taking my time, I wouldn't have left my job that I love, I wouldn't be doing any of this if I didn't believe in this man."
Speaking to reporters after the speech, Shriver described her husband as "an extraordinary man" and took issue with the characterization that he behaves boorishly toward women.
"He's honest, he's sensitive, he's sincere. And he is gracious with every bone in his body," she said. "I have met thousands and thousands of women who have come up to me and said they have worked with him, they have worked for him, alongside (him) and he has been an extraordinary gentleman."
Shriver said then that she was not personally hurt by the allegations.
"Nothing hurts, because I know the man that I'm married to," she said. "Has he said and done everything absolutely (right) 100% of the time? No. But I don't know anybody on the planet, male or female, who's led a perfect life.
Schwarzenegger, a naturalized U.S. citizen from Austria who gained fame as the youngest winner of the Mr. Universe bodybuilding contest, was governor until January. He has been busy in recent months reviving his acting career and signing movie deals -- including plans for another installment of his "Terminator" series.
CNN's Joe Sterling, Thelma Gutierrez, Traci Tamura, Angie Massie, and Megan Clifford contributed to this report.
FOLLOW THIS TOPIC