STORY HIGHLIGHTS
NEW: The National Guard is being deployed in Missouri
Some fatalities reported from tornado in Joplin, Missouri
A wave of heavy storms stretches from Wisconsin to Texas
The weather service warns of tornadoes, hail and damaging winds
Get in-depth local coverage of the Missouri twister from CNN affiliates KSHB and KODE.
(CNN) -- A tornado flattened buildings, snapped trees and tossed tractor-trailers like toys as it touched down in Joplin, Missouri, on Sunday night, causing an unknown number of deaths and injuries.
"I would say 75% of the town is virtually gone," said Kathy Dennis of the American Red Cross.
The twister was part of a line of severe weather that swept across the Midwest on Sunday, prompting tornado watches and warnings that stretched from Wisconsin to Texas. High winds and possible tornadoes struck Minneapolis and other parts of Minnesota, leaving at least one person dead and injuring nearly two dozen others, police said.
Witness: "Lots of overturned trees"

| Hospital damaged



Authorities in Joplin were contending with multiple reports of people trapped, as well as significant structural damage to St. John's Regional Medical Center, which was hit directly by the tornado, city officials said. CNN affiliate KSHB said there were reports of fires throughout the hospital.
One facade of the building made of glass was completely blown out, and authorities were evacuating the medical center, said Ray Foreman, a meteorologist with KODE in Joplin. Makeshift triage centers were being set up in tents outside, witness Bethany Scutti said.
Missouri governor: "Total devastation"

Residents 70 miles away from Joplin in Dade County, Missouri, were finding X-rays from St. John's in their driveways, said Foreman, indicating the size and power of the twister.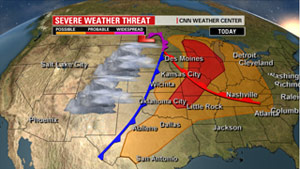 Parts of the city were unrecognizable, according to Steve Polley, a storm chaser from Kansas City, Missouri, who described the damage as "complete devastation."
The tornado, which touched down just before 6 p.m. CDT, cut a path of destruction through the heart of the city, hitting heavily populated areas, Foreman said.
"We've had numerous vehicles picked up and thrown into houses," he said.
iReport: Are you there? Please send photos, videos
At least seven overturned tractor-trailers were seen on one stretch of Interstate 44 west of the city, said Michael Ratliff, who has been chasing storms for eight years. Ratliff said the possible tornado was "rain wrapped," making it impossible to see as it tore what he estimated to be a half-mile to three-quarter-mile path of damage.
Officials did not know how many were injured. Witnesses reported seeing some of the wounded being ferried to hospitals in the backs of pickup trucks as first responders struggled to handle the overwhelming destruction.
Lynn Ostot, the spokeswoman for the city of Joplin, confirmed "some fatalities," but did not have an exact number.
The Joplin mayor has declared a local disaster, and the Missouri National Guard was activated by Gov. Jay Nixon.
"These storms have caused extensive damage across Missouri, and they continue to pose significant risk to lives and property," Nixon said in a statement. "As a state, we are deploying every agency and resource available to keep Missouri families safe, search for the missing, provide emergency medical care, and begin to recover."
Deadly tornado hits Kansas | Storm footage

Elsewhere, tornadoes were spotted in Forest Lake, north of the Minneapolis-St. Paul area, and near Harmony, more than 120 miles to the south. And in Minneapolis, witnesses reported numerous downed trees and neighborhoods without power.
Minneapolis police spokeswoman Sara Dietrich said the storm left one fatality, with 22 people reported hurt. One hospital, North Memorial Medical Center, said it had treated 18 people for minor injuries.
LeDale Davis, who lives on the north side of Minneapolis, told CNN, "This is the first time we can remember a tornado touched down in this area. They aren't usually in the heart of the city."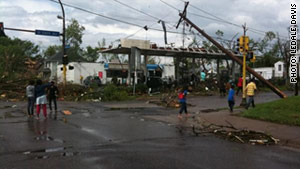 Widespread damage from severe weather was reported across Minneapolis on Sunday.
In Anoka County, north of the city, sheriff's dispatcher Linda Hamilton said authorities were receiving reports of roofs blown off, trees down and gas leaks. Hamilton said the worst damage appeared to have been in Fridley, on the northern outskirts of the metro area.
Curby Rogers said warning sirens sounded near her northwest Minneapolis home Sunday afternoon. Shortly afterward, the light rain that had been falling was whipped into sheets by heavy wind, and power went out.
"We could hear doors busting open through the house," Rogers said. "There was a lot of commotion, and then it was silent."
When she and a visiting friend emerged from their house, the streets were blocked by debris and a tree had fallen on her car. Around the corner, the damage was "a million times worse," with some houses split in half.
CNN meteorologist Chad Myers warned that the storms were not over for the Midwest.
"You need to have that NOAA radio on tonight everywhere from Wisconsin to Texas and Oklahoma," he said.
Forecasters said the system that struck Minnesota was separate from another storm that struck eastern Kansas on Saturday, killing one person and damaging or destroying hundreds of homes there.
CNN's Greg Morrison, Divina Mims, Anna Gonzalez, Stephanie Gallman, Joe Sutton, Jessica Jordan, Ross Levitt, Sarah Aarthun, Don Lemon and Sean Morris contributed to this report.
FOLLOW THIS TOPIC