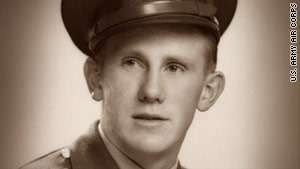 Hungary, Russia and the U.S. had to negotiate before the remains of Staff Sgt. Marvin Steinford were returned.
STORY HIGHLIGHTS
Staff Sgt. Marvin Steinford's B-17 was shot down over Hungary in 1945
His remains have been identified and will be reburied in Iowa on June 21
Exhuming and identifying his remains involved international cooperation
Steinford's remains had to be separated from those of a Russian soldier
Washington (CNN) -- Staff Sgt. Marvin Steinford was 22 years old when he climbed into the nose of a B-17 "Flying Fortress" in Amendola, Italy, and left on a mission bound for Berlin during World War II.
His job description: togglier -- an enlisted man doing a job similar to a bombardier's, but less complicated.
The plane was hit by Nazi antiaircraft fire and he bailed out over Hungary. That was March 24, 1945, less than two months before Germany's surrender ended the war in Europe. "Steiney" as he was known, was never seen again. He left behind his wife, Rosella, and young daughter Carol Ann.
But now, his remains have been found, positively identified and, in less than two weeks, will be reburied near his hometown of Keystone, Iowa.
The effort to repatriate Steinford's remains began seven years ago and involved delicate diplomatic and scientific work to prove they were his remains and not those of a Soviet soldier.
In 2004, Hungary was relocating a Soviet WWII memorial from the center of the city of Zirc, in western Hungary, to the outskirts of town. During that work they noticed one coffin that didn't match the other Soviet-style coffins in the memorial. Inside they discovered identification tags with Steinford's name on them.
About this time, Steinford's widow and daughter were told that his remains had apparently been located.
But before his remains could be returned to Iowa, there had to be diplomatic negotiations among Hungary, Russia and the United States.
"Even though his remains were buried in a military memorial grave in Hungary, they were included with the burial of Soviet soldiers, so we had to work with both the Russians and the Hungarians in order to exhume his remains," said Larry Greer, a spokesman for the U.S. Department of Defense's Joint POW/MIA Accounting Command (JPAC).
Twice the negotiations failed. But in 2008, Russia finally gave Hungary the approval to exhume the grave site.
Within days of that agreement, the JPAC team transported eight bags of remains to the Museum of Natural Sciences in Zirc for examination.
Turns out the remains JPAC tentatively identified as Steinford's were commingled with those of a Soviet soldier.
They delicately separated the Soviet soldier's remains from Steinford's. And In October 2010, JPAC positively identified his remains.
On June 21, his daughter and many of his four grandchildren and 10 great-grandchildren will gather in Cedar Rapids, just a few miles from Keystone, for a memorial service and burial.
But Rosella will not be there. She died in October, just as the remains of her husband were officially identified.
Some 73,000 Americans who served in World War II remain listed as missing in action.
FOLLOW THIS TOPIC