STORY HIGHLIGHTS
California is in the biggest population slump in state history
The state grew by 10% from 2000 to 2010, which is about the national rate
California is used to being a larger-than-life place of growth, however
Many people are leaving the state to find work, cheaper housing
Santa Ana, California (CNN) -- For California native Elaine Cali -- yes, that's her real name -- the best thing about growing up here was the smell of orange blossoms.
Her mom used to take the family on drives through Orange County's citrus groves, the windows down so they could take in the tangy, semi-tropical aromas. Back then in the '60s, her brown hair blowing in the wind, Cali saw this place as a coastal paradise -- where picturesque farmland stretched on forever and the idea of swimming pools and movie stars seemed shiny and new. There was room for everyone back in those days.
Now 56, the rare seventh-generation Californian is trying to save one of Orange County's last orange groves, which sits abandoned behind a chain-link fence near her Santa Ana home. A developer wants to turn the land into yet another ticky-tacky subdivision -- the kind that now occupies every valley in this sprawling greater-metro area, which extends from the Pacific Ocean to the San Bernardino Mountains, some 70 miles away.
In doing so, she's trying to preserve an older image of this state -- one before it became so congested and expensive and inaccessible to almost any average American.
She's holding onto the California Dream.
"It's a piece of history," she said of the grove. "There's not much of this left."
California isn't what it used to be. Sure, America's most populous state, with 37.3 million people, is still home to Hollywood, "The OC," Silicon Valley and other cultural and economic engines. But for average Americans, the state seems to have lost its appeal.
No longer is California the larger-than-life destination where anything's possible -- the pot of gold at the end of our collective path westward.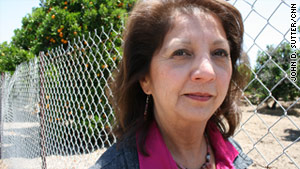 Elaine Cali is trying to hold onto her California of yesteryear, a relaxed place where sun-kissed orange groves thrived.
It's too crowded and pricey for that.
GALLERY: California then and now
Census data outlines the state's fall from grace. California grew at a slower rate from 2000 to 2010 than in any period since statehood in 1850, according to U.S. Census Bureau data released this year. Put another way: This is the biggest population slump in California's history.
Many middle class people are leaving the state for Texas, Colorado, Nevada and Arizona, where taxes and the cost of living are lower. In the past decade, 1.5 million more people left California for other states than came to California from another part of the United States, according to analysis from the Public Policy Institute of California.
New births and international immigration make up the difference, but even immigration has slowed from sky-high rates in the 1990s, according to demographers, as people such as Maribel Mota, a recent arrival from Mexico, find themselves unemployed and behind on rent in the Golden State.
Mota, a 38-year-old who spoke to CNN through a translator, said she wants to go to Minnesota, where she hears there are more job opportunities and rent is lower.
She'll trade sun for snow, she said, if it means she can make ends meet.
It had to slow down at some point.
--Hans Johnson, demographer
It's not that California as a whole is hemorrhaging people. Streets aren't empty. Not everyone has fallen on hard times. The state actually grew by 10% in the 2000s, which puts it roughly on pace with the national rate. But this isn't just any state. It's California, a state whose history is written as a series of population explosions: Gold Rush of the mid-1800s; Hollywood in the 1920s; and the aerospace boom after World War II. Before the 1990s, California never saw a growth rate below 20%. In the '40s and '50s, the state grew by 53% and 49%, respectively. In the 1850s, during the Gold Rush, growth topped 310%.
Unexpected but related: Dodgers file for bankruptcy
In spirit and numbers, it's a place that's used to an upward trajectory, and the rest of us are used to thinking of it that way.
But California is starting to look more like New England than the fun-and-sun version of itself many of us keep in our memories, said Hans Johnson, a demographer at the Public Policy Institute of California.
"We're not talking about the cute little white steeple churches and things like that," he said. "The California version of that: stucco and 7-Elevens."
In some ways, this slump may have been unavoidable. The state is filling up. It's not new anymore, now that its era of explosive growth has passed. America's biggest left-coast state is no longer the wild and exciting frontier.
To prove this point, Johnson did a thought experiment in which he extrapolated California's historically crazy-fast growth rate into the future. If California's growth continued at the pace it did from 1960 to 2000, Johnson said, then there would be one person per square foot in the state within 300 years. Soon after, he said, people would have to "stand on each others' shoulders" in order to fit.
"It had to slow down at some point," he said.
Others share that view.
Dowell Myers, a professor of urban planning and demography at the University of Southern California, said the state's growth has been a "roller coaster," but he doesn't expect the ride to go back up in the future.
"For that to happen," he said, "it would depend on economic disaster in other parts of the country. So if things go really bad in the Midwest, Southern California could be a beacon of hope. But, in general, immigration has slowed down now and is not likely to turn upward."
Part of the issue is that the nice things about California are becoming less nice as the state gets more crowded. It used to be the suburban dream to move to Orange County, amid the orchards and farms. With almost all the farmland gone, parts of this one-magical county, home to Disneyland, start to seem usual and urban.
Housing prices are so high that most people can't afford to live anywhere near the coast. The search for cheap housing has pushed people away from the Pacific and into places like the "Inland Empire," which is an hour or two drive through smog-filled traffic jams from Los Angeles. A car trip from the Inland Empire toward the coast gives visitors the feeling of being stuck in looped film reel:
Suburb; strip mall; mountains; valley; highway; suburb; strip mall ...
I think they only hear the part of Hollywood, L.A. They only show the good parts of it. But the reality out here is much different.
--Maribel Vasquez Lemus, San Bernardino resident
Gia Chavez, 29, drove more than an hour from Riverside on a recent afternoon to take her kids to Newport Beach, in Orange County, where the 2009 median home sale price was more than $1 million -- way out of her price range.
Her kids love the beach, but because of the long drive from her more-affordable town, she doesn't get to come very often.
"We try to get out here once or twice a year -- just to say we went to the beach," she said.
Even in less-expensive parts of California, people with low-paying jobs still struggle to make ends meet. A recent report from the American Human Development Project of the nonpartisan Social Science Research Council found there are essentially two Californias: one wealthy, one poor.
"The middle is hollowing out," said William Frey, a demographer with the Brookings Institution.
On the lower end of the spectrum are people like Maribel Vazquez Lemus, a 30-year-old who skips two meals a day so she can afford to feed her kids in San Bernardino. She works at a rundown museum dedicated to the original McDonald's restaurant -- a reminder of the old California as well as some of the only meals she can afford for her family.
She wants to move east -- perhaps out of the state -- so she can find better employment and lower rent. Right now she pays $400 a month for a single bedroom in someone else's house. She and her two daughters all sleep together in that room.
She said outsiders get the wrong impression of California.
"I think they only hear the part of Hollywood, L.A.," she said. "They only show the good parts of it. But the reality out here is much different."
Numbers bear out California's economic fall as well. While California still has the largest GDP of any state -- $1.9 trillion in 2010 -- it's losing pace with the nation, growing at a slower rate than states such as North Carolina, Texas and North Dakota. California's real GDP grew by only 1.8% from 2009 to 2010, according to data recently released by the U.S. Bureau of Economic Analysis.
But what if all of this -- the economic slowdown and the population slump -- isn't such a bad thing?
The hold California has on people has been every bit as much psychological as actual -- but people are leaving. It can be very, very difficult here.
--William Deverell, USC
David Carle, author of several books about natural resources in California, sees it that way.
The state, he said, is approaching its carrying capacity -- a point when the land can't support any more people. To his point, California has been piping in water and electricity from other states for decades. Southern California's thirst for water is blamed in part for causing the Colorado River to run dry before it reaches the coast.
"Biology controls a lot of things," said Carle, who lives at Mono Lake, due east of San Francisco and near the Nevada border. "There are resource limits and natural limits. We've fought against that in California for a long time. We've pushed for 150 years or so to make this place boom in terms of population, and it seems like we're coming up against an extreme."
The state, he said, needs to slow down.
One of the few things Southern California still has going for it these days is the natural setting: always sunny; always 70-something degrees outside; mountains in one direction; ocean in the other. Palm trees peer out from the hills like long-necked, shaggy-haired giraffes. Soil in the valleys supports all kind of exotic and lucrative plants, from avocados to lima beans.
The desert air here has been touted as a cure for arthritis and asthma. The fact that it's sunny and pleasant all year here led, in part, to the emergence of Hollywood. Directors could shoot year-round, not just during summer.
This setting has helped create a larger-than-life appeal.
But when people these days come to California with dreams of it being all sunshine, they are setting themselves up for a big West-coast let-down, said William Deverell, director of Huntington-USC Institute on California and the West.
"The hold California has on people has been every bit as much psychological as actual -- but people are leaving," he said. "It can be very, very difficult here.
"If you come out here with a level of expectation that the place will provide for you and rejuvenate or renew you or make you rich -- or make you famous -- and it doesn't, then that can be a tremendous disappointment."
Take Maxim Esterkin, a former real estate developer from Latvia who has been taking acting classes at the Beverly Hills Playhouse, a swank school in a ritzy part of town where it's not unusual to see a Bentley or yellow Mercedes on the tree-lined streets.
If I don't get my dream, I'll go to Vegas.
--Juan Diego Ciaurri, aka Captain America
Esterkin came here with dreams of making it big. Now he's spending his own money to produce a film he wrote called "No Fun at All."
Starring: Him.
"It's sort of like a black hole," he said of Los Angeles. "You can get sucked into it, and you can disappear here."
Captain America feels the same.
"This is a city of broken dreams," said Juan Diego Ciaurri, a 30-year-old who dresses up as the comic-book superhero -- holding a red-and-white shield and wearing a droopy, blue spandex suit, with a loose belt hanging awkwardly around his waist.
He poses for pictures with tourists on Hollywood Boulevard for tips.
He came here to be a screenwriter.
"If I don't get my dream, I'll go to Vegas," he said, "because I can be a character there, too."
Many Californians, however, still love their state despite all the changes.
This is especially true of people such as Sara Flores, a 28-year-old teacher in Orange County, who came to the state from Mexico as a young girl after having seen pictures her brothers brought back from California.
"It's exactly what I pictured: a better life, a better opportunity," she said. "Disneyland."
Captain America's sidewalk counterpart, Marilyn Monroe, said California is still a place where dreams can come true -- but you have to find your own path here.
It's exactly what I pictured: a better life, a better opportunity.
--Sara Flores, Santa Ana resident
"I think people should live their own dream -- not the American Dream or the California Dream," said the actor, who asked to remain anonymous to preserve the myth of her assumed character, the classic Hollywood star.
Then there's Elaine Cali, who is trying to save the orange grove in Orange County.
Scott Allen, president of the Tava Development Co., which is proposing to turn the grove into a 24-house subdivision, said enough of Orange County's agricultural legacy lives on elsewhere. That history is important, but "I'm not sure there's a need for another" orange grove preserve, he said.
Cali, however, feels tied by history to the orchard behind her home. Her mother and father met while working in an orange-packing house. Still, she knows that change can mean progress. And she actually makes a living selling an idyllic image of this place as a vice president at the Anaheim Orange County Visitor and Convention Bureau. Her office is a stone's throw from Disneyland.
On a few occasions, she and her husband have talked about moving away. But she can't bring herself to do it. She'll put up with the traffic. She'll deal with the expenses. She has to be connected to this place.
Still, it's hard for her to watch oranges fall unpicked from the grove behind her subdivision. These fruits are scattered on the ground -- left to rot.
"It's a shame for all that to go to waste," she said.
She doesn't want the old California to disappear completely.
FOLLOW THIS TOPIC