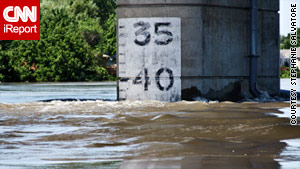 Sioux City, Iowa, is experiencing worsening flood conditions.
STORY HIGHLIGHTS
NEW: Flooding forces some businesses to close in St. Joseph, Missouri
"It's going to be scary," a resident says of the fast-rising river
Iowa officials close part of an interstate and another road to build flood barriers
A bridge connecting Nebraska and Iowa is closed due to bank erosion
(CNN) -- Nearly three-quarters of the mountain snowpack contributing to high water levels along the Missouri River system has melted, but significant flooding remains a concern in seven states from Montana to Missouri, according to the U.S. Army Corps of Engineers and the National Weather Service.
The Corps of Engineers is sending record amounts of water into the Missouri from reservoirs filled with extraordinary amounts of melting snow and spring rain. That has been creating flooding conditions lasting for weeks across much of the massive river basin, which includes parts of 10 states.
The National Weather Service reports significant flooding is occurring in Montana, North Dakota, South Dakota, Iowa, Nebraska, Kansas and Missouri.
Missouri's Platte River -- which is separate from the larger Platte River in Nebraska -- was forecast to rise more than six feet at Platte City in the next three days after rising nine feet in the past two.
"It's going to be scary," resident Connie Brittingham told CNN affiliate KSHB-TV.
In St. Joseph, the Missouri exceeded its forecasted crest on Tuesday, rising to 29.57 feet Tuesday morning. The flooding has forced the closure of some businesses along the riverfront, including Terrible's St. Jo Frontier Casino.
That put Nora Thompson out of her housekeeping job, which pays half of the $30,000 a year her husband Sam needs for prescription medications he takes after a kidney transplant, according to KSHB.
"I did dialysis for three years and I got this kidney and I definitely want to try to keep it as long as possible," Sam Thompson told the station. "I'm hoping that the (casino) boat is not going to be closed for a real long time."
Flooding in Nebraska has attracted particular attention because of the potential impact on two nuclear plants in the state. The Fort Calhoun plant is surrounded by as much as two feet of water, but plant officials and federal regulators say they do not expect any disruptions at the plant, which remains shut down.
The other plant, the Cooper Nuclear Station, sits on higher ground, and the plant's owners say they intend to continue operating.
The flooding near the plants has raised comparisons to the Fukushima nuclear plant in Japan, where an earthquake and tsunami in March damaged and swamped the facility, knocked out electricity and resulted in serious problems keeping the plant's nuclear fuel cool. That led to meltdowns and radiation releases.
But nuclear regulators and plant officials have said such concerns are out of place.
"There's no likelihood of a Fukushima-like incident here," said Tim Nellenbach, manager of the Fort Calhoun plant.
Elsewhere, up to six inches of rain that fell in parts of the Midwest on Sunday exacerbated problems.
In Iowa, where state officials report more than 600 people have evacuated, transportation officials have closed a portion of northbound Interstate 29 across the Missouri River from Nebraska to build a barrier against rising water, Dena Gray-Fisher, a spokeswoman for the state Department of Transportation, said Tuesday.
The department also plans to close a portion of U.S. 30 linking Iowa and Nebraska, she said.
"Two breaches have occurred in the area and the water is currently filling the basin," she said. "Eventually it would overtop the roadway in lower-lying areas if the mitigation strategies are not used."
Iowa and Nebraska officials also had to close a bridge spanning the Missouri between Onawa, Iowa, and Decatur, Nebraska, after severe bank erosion made the structure unsafe.
Missouri officials reported fresh levee breaches and evacuations Monday in Platte County and Buchanan counties. In Holt County, 120,000 acres of land, 50 roads and 800 homes had been affected by flooding, according to the Missouri Department of Emergency Management.
Significant flooding is forecast to spread east into Missouri over the next week as the floodwaters work their way toward the Missouri River's confluence with the Mississippi River near St. Louis, according to the weather service.
Enormous amounts of rain and heavy snowmelt are causing the flooding.
The Rocky Mountains ended winter topped by a snowpack that was 140% of the average, according to the Corps of Engineers. About 29% is remaining, the Corps said, but what is left represents 38% to 40% of the snowpack in a typical year.
The Corps is releasing record amounts of water from reservoirs along the Missouri, and that is expected to continue into July or August, according to federal officials.
In addition to the Missouri, the Souris River is causing problems in North Dakota. Flooding in Minot has inundated about 4,000 homes and forced the evacuation of about 12,000 people -- a third of the city's population.
Rushing floodwater apparently broke a submerged drinking-water main on Monday, resulting in an emergency conservation order that remained in effect on Tuesday, a city spokesman said.
CNN's Brian Todd contributed to this report.