FAA, air traffic controllers agree on new fatigue rules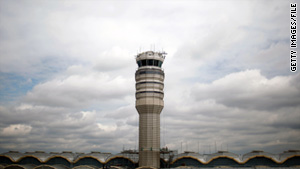 New agreements have been made for air traffic controllers, such as allowing them to listen to the radio or read.
STORY HIGHLIGHTS
New rules aimed at controlling fatigue on the job
Controllers can now listen to the radio and read appropriate material 10 p.m.-6 a.m.
Controllers can request a leave of absence if they are too fatigued to work
(CNN) -- The Federal Aviation Administration and the National Air Traffic Controllers Association announced details Friday of a new agreement on fatigue recommendations in the aftermath of several incidents involving controllers falling asleep on the job.
Among other things, air traffic controllers will now be allowed to listen to the radio and read appropriate printed material while on duty during the hours of 10 p.m. and 6 a.m., as traffic permits. The agreement allows controllers to request a leave of absence if they are too fatigued to work.
The agreement reinforces existing FAA policy that prohibits air traffic controllers from sleeping while they are performing assigned duties The FAA will continue to provide controllers breaks on the midnight shift based on staffing and workload.
Controllers on break will still be expected to "conduct themselves professionally and be available for recall at all times," the FAA said in written statement.
"The American public must have confidence that our nation's air traffic controllers are rested and ready to work," Transportation Secretary Ray LaHood said. "We have the safest air transportation system in the world, but we needed to make changes and we are doing that."

Sleeping controller prompts FAA review

FAA boss: No more sleeping on job
The FAA has already changed air traffic controllers' work schedules to ensure a minimum of nine hours off between shifts. In addition, controllers can no longer be put on an unscheduled midnight shift following a day off.
New schedules accounting for the latest fatigue studies are slated for implementation by September 1, 2012.
Also, a "Fatigue Risk Management System" for air traffic operations should be in place by next January, according to aviation authorities.
Air traffic controller fatigue became a highly scrutinized public concern after several controllers were reported falling asleep in recent months.
In April, an air traffic controller at Seattle's Boeing Field was fired after twice falling asleep on duty. Another controller was fired for falling asleep in Knoxville, Tennessee, while a third was dismissed in Miami.
The firings followed a spate of incidents in which controllers in various cities were reported to be dozing off while on the job.
CNN's Mike Ahlers and Alan Silverleib contributed to this report