U.S. official: CIA interrogating terror suspects in Somalia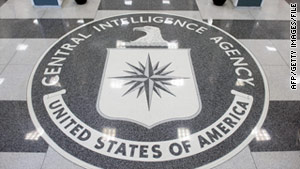 A senior U.S. official says the CIA has gone to Somalia to help interrogate terrorism suspects.
STORY HIGHLIGHTS
Official: CIA believes al Qaeda in Somalia increasing links to al Qaeda in Yemen
CIA was at questioning only "one or two times," official says
CIA gets assurances that detainees will not be mistreated, official says
Washington (CNN) -- CIA operatives have secretly traveled to Mogadishu, Somalia, to help interrogate terrorism suspects about operations in East Africa and Yemen, a senior U.S. official told CNN Tuesday.
The official, who was not authorized to speak publicly, stressed any suspects were under the control of Somali forces and the CIA was present only in "support" of interrogations in recent months. He described the number of times the CIA was present as "very small," adding that he would only say it was "one or two times."
"Only on very rare occasion does the CIA support debriefings of suspected terrorists who are in TFG (Transitional Federal Government) custody," the official told CNN.
The suspects were captured by the Somali TFG troops and held for questioning. CIA operatives typically assist by being present in the room or suggesting specific questions. The official said the CIA gets assurances from the TFG that detainees will not be mistreated.
But the fact that the CIA is willing to risk sending personnel into one of the most dangerous places in the world to engage in interrogations conducted by a shaky government underscores the growing U.S. concern about the rise of terrorist networks in the region.
The CIA now believes the Somali-based al Qaeda affiliate Al-Shabaab is increasing its links to al Qaeda in neighboring Yemen. There are increased messages and partnership arrangements between the two groups, the official said.
The expansion of secret CIA operations inside Somalia includes the interrogations that the official says are taking place in buildings at the international airport where there are somewhat reliable security arrangements in place, a rarity in Mogadishu.
In addition, as part of its expanding secret program in Somalia, the CIA now regularly sends personnel and aircraft into Mogadishu to train Somali TFG intelligence operatives, the official said.
"The CIA is supporting the counterterrorism efforts of the TFG," the official said. The training at the airport focuses on collecting intelligence and targeting terrorists, the official said. Members of the U.S. Joint Special Operations Command focus on the field training of TFG troops.
The official also acknowledged a CIA "subject matter expert" was present during the questioning of Somali terrorist suspect Ahmed Abdulkadir Warsame while he was recently interrogated onboard a Navy ship by the U.S. military.
Parts of the story initially appeared in the magazine The Nation on Tuesday.
FOLLOW THIS TOPIC