STORY HIGHLIGHTS
Lee County, Texas, closely mirrors the racial, ethnic makeup of the U.S.
Residents say it's becoming more and more like America as a whole
Like America, residents are surviving economic hits
They're also looking for new pathways to prosperity, as is the U.S.
Editor's note: This summer, CNN's Defining America project is traveling the country with the CNN Express bus and iReport to explore the stories behind the data and demographics that show how places are changing.
Giddings, Texas (CNN) -- At 5 a.m. in this tiny town an hour's drive east of Austin, Texas, Gerald Birkelbach is already at work, lugging hickory wood from an old pickup truck into his nearly 70-year-old barbecue joint.
All along the restaurant's smoke-stained walls hang mementos collected over the decades, including an heirloom sausage stuffer, an engraved butcher's saw, photos of celebrities and a classic Texas lone star.
This bearded, 56-year-old meat-meister ignites a flame inside the kitchen firebox and carefully places precious pieces of chicken, pork and beef into a classic Texas barbecue pit. It's "been there forever," and creates the kinds of flavors you can't get anywhere else.
A few hours later, scores of folks from all around will be lined up outside Birkelbach's City Meat Market. It seems like everyone in Lee County is there: Asian, African-American, Hispanic and white families, all waiting to enjoy a Texas delicacy.
Watch Birkelbach work his barbecue magic

Top ten counties most racially, ethnically similar to the United States:

1. Brazos County, Texas

2. Lee County, Texas

3. Seminole County, Florida

4. Galveston County, Texas

5. Colorado County, Texas

6. Wilbarger County, Texas

7. Austin County, Texas

8. Ellis County, Texas

9. Milam County, Texas

10. Williamson County, Texas


Source: CNN analysis of U.S. Census Bureau data
Texan as this place is, it's American, too: On paper, at least, Lee County is a microcosm of the United States. Its racial and ethnic makeup is statistically more representative of the nation as a whole than almost any other county in the United States, according to CNN.com's analysis of 2010 Census data.
CNN compared percentages of the 2010 Census' racial and ethnic groups in each county with the nation as a whole, then ranked the counties by how closely they matched.
Technically, Brazos County, Texas came out on top, but numbers for the home of Texas A&M University are skewed by thousands of students coming in and out of the county when school is in session.
Consider the numbers: The entire United States is 64% white, 12% African-American, 16% Hispanic and 5% Asian, 0.7% American Indian, 0.2% Hawaiian or Pacific Islander. About 0.2% checked the Census box for "other," and 2% said they're two or more races.
In Lee County, 65% are white, 11% African-American, 22% Hispanic, 0.3% Asian. 0.3% American Indian, 0.1% are Hawaiian or Pacific Islander. About 0.4% identified as "other" and 1.2% said they were two or more races.
Why there's no messing with Texas
Places around the United States have long had the monikers Chinatown or Little Italy. Across the country, there are enclaves of Mexicans, Poles, Indians, Germans, Puerto Ricans, Arabs and others. But the lessons of the 2010 Census showed there's diversity everywhere, that ideas of what makes an American are changing.

Best barbecue in Texas?
Here in Lee County -- a place named for a Confederate general, bolstered by railroads, and getting more diverse -- it's something else: Little America, with all its changes, worries and promise.
National mirror
Of course, in many ways, Lee County isn't like the rest of the United States at all. At 26.2%, it has a higher percentage of children than the United States as a whole. Its 6.1% unemployment rate beats by far the national statistic of 9.2%. Lee County has a higher percentage of homeowners -- 78.2% -- than the nation at large.
And it's much, much smaller -- just 16,612 people.
But the story of how it came to be this way mirrors touchstones of U.S. history.
During the Civil War -- before the county even existed -- residents' loyalties were sharply divided between the North or the South. When the county was created in 1875, it was named for Confederate Civil War commander Robert E. Lee.
A new railroad led to the founding of the city of Giddings in 1871, and the new form of transportation spurred economic and population growth, just like it did in towns all over the United States.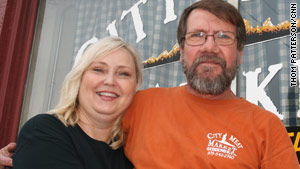 Sharon and Gerald Birkelbach own City Meat Market, one of Texas Monthly Magazine's top 50 barbecues.
Like the rest of 19th century America, the county then experienced a surge of immigrants from Europe. In Lee County, Slavic Germans, known as Wends or Wendish, settled nearby. Even now, German names are common and the Lutheran faith dominates this church-going town. With about 1,500 members, Immanuel Lutheran boasts Giddings' largest congregation.
The Texas Wendish Heritage Museum serves as an attraction for tourists and hallowed ground for some locals.
After 1900, Mexican immigrants came to the area in force, according to the Texas State Historical Association, and in the 1960s, as America began burning more and more oil and natural gas, Lee County was happy to produce it. An oil boom in the 1980s attracted more people to Lee County and increased its racial diversity.
More recently, Lee County harbors traditional trappings of small-town life.
Giddings, Lee's county seat, is the kind of place where the courthouse bell tower rings every hour and the most important event in the world is Friday night's high school football game. Giant painted murals decorate city water tanks and declare the town's passion: "Home of the Buffaloes." They rule here.
See a bird's eye view of Giddings from the courthouse clock tower
Nowadays, burglaries and mailbox vandalism make the front page, but residents like to repeat the story about bank robbers Bonnie Parker and Clyde Barrow, who holed up in a Giddings boarding house in the 1930s.
Walk down the street in Giddings and without fail, folks smile and offer a friendly hello. Stop and chat with them and they'll ask you where you're from and what you think about the weather. They crack jokes about small-town life. They say everybody here knows everybody's business, and if they don't know it, they'll make it up.
Birkelbach, the pitmaster, is a lifelong Texan who loves his work. He shyly admits that since he first began at the Meat Market in 1974, the longest "vacation" he's ever taken from the restaurant is four days.
Meat-meister has beef with non-Texas barbecue
"I do think Lee County is a lot like America," Birkelbach says. "People here are interested in a lot of the same things that Americans everywhere are interested in: a good job, raising your kids, keeping them safe."
And like the rest of the United States, Lee County is changing, too.
New faces
Giddings resident Lucy Liu is a native of Taiwan -- her real first name is Huang -- and her initial view of America came from watching U.S. TV shows. She adopted the name Lucy when she came to the United States in 1984, mistakenly thinking that American women were like Lucille Ball's character on "I Love Lucy."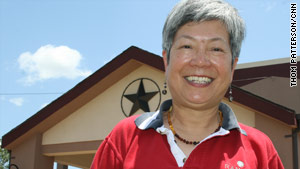 Lucy Liu forced herself to meet new people in Giddings after moving to the small Lee County town 15 years ago.
"But TV is TV and reality is reality," she says.
She followed her husband to jobs in Georgia, then Houston, and finally Giddings. In the early days there, few people would speak to her.
"I thought it was because they were shy or they thought I didn't speak English," she said.
As a hobby, she tried her hand at ranching -- wrangling seven head of cattle and a hundred chickens, "until my husband got sick of them," she says.
Liu began breaking the ice by forcing herself to meet strangers. She's now the owner of Giddings' Ramada Inn and has a reputation as a Lee County mover and shaker. Watching Liu work the room at a Rotary Club meeting is like watching a Vegas lounge singer -- cheery introductions, chatty conversation. Everybody wants her attention.
It's not easy for everyone, though. While the nation's Hispanic population has risen by more than 15 million since 2000, it has grown by nearly 900 in Lee County.
That growth has people grumbling down at Mel's Diner, where good ol' boy oilmen and ranchers have been gossiping over their bacon and eggs for decades.
"This town's going to be all Mexican before we know it," one man says, shaking his head. "There won't be any room for the rest of us."
Down the street, Joel Lopez is at the auto repair shop he owns. He doesn't go to Mel's very often and said he probably wouldn't go there to drink his morning coffee.
People are surprised to hear that Lee County is becoming a tiny melting pot, including Lopez, who is also a city councilman.
"When I first moved here my junior year of high school, you could pretty much count the Hispanic families on one hand," he said. "You knew all their names."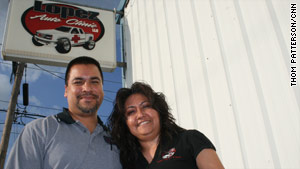 Town leaders Joel and Sandra Lopez have seen Giddings' Hispanic population rise since their high school days.
Now more Hispanic students can be found in Lee County's schools. More Mexican restaurants have sprung up along Giddings' main street and more Spanish language signs are hanging around town.
Residents -- both Hispanic and non-Hispanic -- are now forced to confront their fears, says Sandra Lopez, Joel's wife. She's a Lee County native who grew up speaking Spanish and English. She recently took part in a bilingual retreat through her church.
"Once we all sat in a room, and everybody smiled and everybody laughed and everybody held hands, we all were friends -- and there was no color in the room," she says. "It didn't matter anymore."
When Fred Jones first moved to Lee County from Houston in the 1990s, he was warned about its insular German community. He had just retired and was hoping to open a restaurant there.
"They said, 'This is a German town, and they'll either love you or hate you,'" he said.
But Jones was quickly embraced.
Since then, he's become the only African-American on the city council. He earned a reputation as a great compromiser when he brokered a settlement between black community leaders, who wanted to rename a street for the Rev. Martin Luther King Jr., and a group of mostly white opponents.
The compromise eventually led to renaming part of U.S. Highway 77 in the civil rights leader's honor.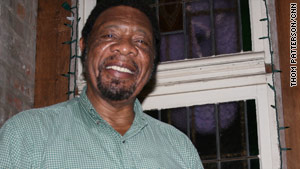 Fred Jones was warned about the county's insular community, but he was quickly embraced.
"It actually went from bad to good," Jones says.
When townsfolk talk about their community's compassion, they tell stories about scholarship fundraisers for high school students and record-setting benefits for local cancer patients and families who've lost their homes.
Compassion and helping each other is what separates Giddings from larger cities, residents say.
"Giddings doesn't want to be a city like Austin," said Jones. "We want to maintain certain rural qualities."
Their challenge is how to keep small-town America alive.
The next boom
America's economic landscape is shifting and Lee County shares that pain on a local scale. In 2007, the county's unemployment rate was only 3.5%. In May, it was 6.1%, lower than the U.S. level, but still a reminder of the former job sites that pock the county.
Right across the street from Jones' restaurant, there's a rusted steel structure that was once the Lee County Peanut Company. It had been processing peanuts grown by nearby farmers since the 1940s and was once a fixture of the community. It shut down recently as local peanut farming dwindled to almost nothing.
An aluminum smelter and strip mine that shut down in 2008 resulted in more than 600 layoffs.
County oil production is down by 50% compared with 2000 levels, according to the Railroad Commission of Texas.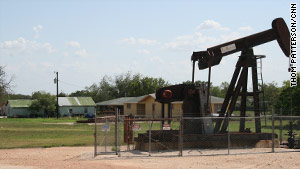 Oil production is down, but residents are hoping a new oil boom will help the area's economy.
People talk hopefully about the "next oil boom" they say is "right around the corner." But few seem to know when -- or even if -- the boom will take place.
"There is some new technology and new geological formations that in the next few years will lend themselves to more drilling and increased production," Mayor Charlie Brown says confidently.
While high temperatures hover around 100 degrees, local ranchers suffer from a statewide drought. Since the water shortage began, there's a lot more brown in the 7-acre grazing field at Scot Mitchell's place outside Giddings.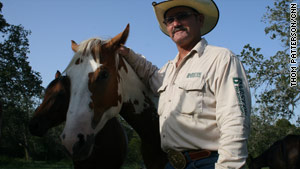 This summer's widespread Texas drought has browned rancher Scot Mitchell's grazing fields.
The price of hay to feed 30 cattle and 40 horses is a little too painful, but the retired rodeo champ doesn't seem too worried. More than a decade in the rodeo ring taught him how to handle pressure.
Does the county reflect America? Mitchell pauses thoughtfully for a long second.
"I guess so," he finally concludes in a drawl he learned back home in Cooper, Texas, a town half the size of this one.
The question for Lee County is the same one being faced by the rest of the United States: What's next?
Giddings may be a small town, but it's not blind to how technology is shifting the way Americans do business.
At It's All Good cafe, restaurant owner Faye Iselt single-handedly takes orders, waits tables and uses social media to lure more customers. She's devised a Facebook promotion that lets customers vote on what they'd like to eat, and offers free meals as prizes.
"I just tweeted out that I've got a fresh batch of brownies coming out of the oven and two people stopped by," she says.
Business leaders seem resigned to the reality: Change is coming and the county needs to adapt. Instead of waiting for the economy to work itself out, Giddings may be tweaking its identity by dipping its toes into unfamiliar waters -- like tourism.
Now, Giddings' economic heart has an address: the crossroads of U.S. highways 77 and 290. Highway 290 stretches from Austin to Houston and brings about 40,000 drivers through the county each day. The local joke is that Austin and Houston trade places every weekend, but the money they spend when they stop here is critical to the town's economy.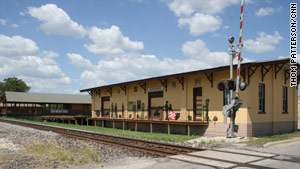 Giddings hopes decorated train depot-style buildings will give travelers a reason to stop and spend.
The town now promotes itself as Texas' railroad depot capital -- hoping its brightly decorated train depot-style buildings will give travelers on U.S. Highway 290 a reason to stop and spend time -- and money. In 2009, the town made some tourism dollars by hosting a hunting dog competition.
But the mayor says he wants less focus on tourism and more focus on luring new business and helping existing ones grow. But you have to wonder: Will shifting the town's identity to boost the economy force Lee County to give up the small-town lifestyle residents treasure?
"A lot of people like Giddings the way it is," Brown says. "Maybe it just needs to be a little better, rather than a little larger."
CNN's Curt Merrill contributed to this report.