STORY HIGHLIGHTS
"We have AC. Who cares what's playing," says a Minneapolis theater marquee
In New York, possible fines for stores that leave doors open
Air conditioner repair experts' business booms
Brookfield Zoo in Illinois gives some animals big blocks of ice filled with food
Read local weather stories from CNN affiliates WRTV in Indianapolis, KCTV in Kansas City, WXYZ in Detroit and WLFI in West Lafayette, Indiana.
(CNN) -- The blistering heat wave that has brought stifling conditions to much of the United States broke 55 record highs on Wednesday, the National Weather Service said Thursday. That's more than 1% of all temperature records in the country.
Another 60 records were tied Wednesday, the weather service said.
As many as 22 deaths are blamed on the heat, the service said.
Excessive heat and humidity are "expected to expand into the Ohio Valley and East Coast states for the remainder of the week," the weather service said in its forecast Thursday.
The highest heat index values -- how hot it feels -- "are expected across parts of the Midwest, Ohio Valley and Mid-Atlantic, where they are forecast to be between 105 and 115 degrees through Friday, with locally higher values possible," the forecast said.
How hot is it where you live? Share your photos, videos and stories
"Excessive heat watches, warnings and heat advisories are in effect over much of the central U.S., Ohio Valley and from the Carolinas northward into New England."
Triple-digit temperatures are forecast to remain across the Eastern United States through Saturday before cooling off slightly to the mid-90s by Sunday, according to the National Weather Service.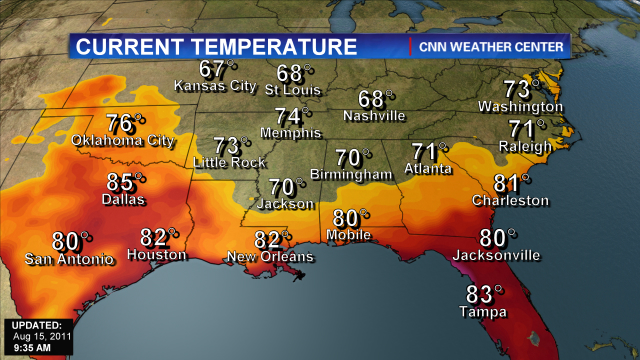 Current temps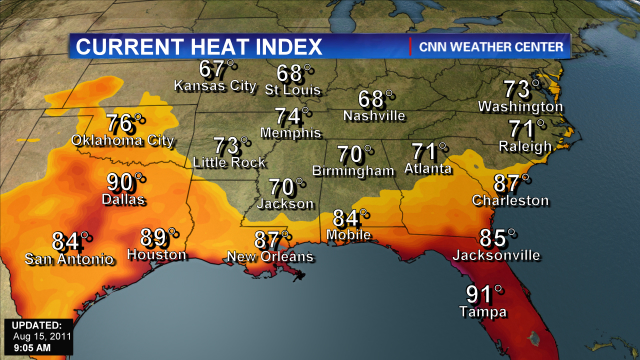 Current heat indices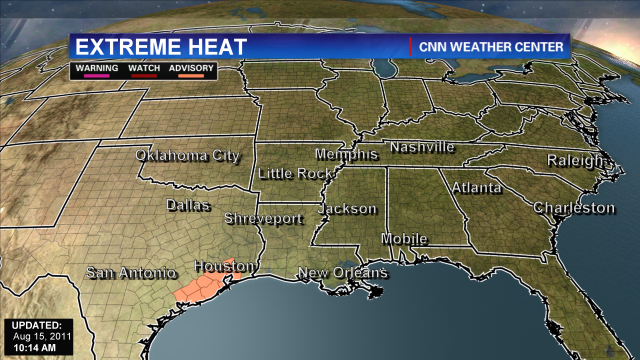 Heat watches/warnings
But for some places, relief was already in store Thursday.
"The extremely hot temperatures should begin to subside across portions of the northern plains today," the National Weather Service said, "but the intense heat will remain in place through the weekend across the central and southern plains."
Among the records broken Wednesday were temperatures in Walsh, Colorado, at 104; Garden City, Kansas, at 108; and Gage, Oklahoma, at 107, according to preliminary reports.
Heat drives up emergency calls
The heat has affected many outdoor activities, prompting one Minneapolis movie theater marquee to read, "We have AC. Who cares what's playing," and one Canadian couple to forgo their original plans while visiting the Twin Cities.
Scott Hoffot and his wife, Colleen, of Saskatchewan, Canada, arrived in Minneapolis Sunday with their camping gear, planning for a vacation spent mostly outdoors at a campground. Instead they're now doing "more touristy" things.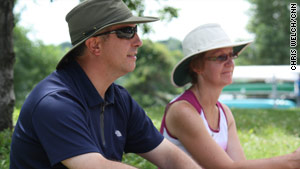 Tourists Scott Hoffot and his wife, Colleen, are doing "more touristy" things to beat the heat while in Minneapolis.
"We went from camping in a tent to staying in hotels, so that we could get air conditioning," said Hoffot. "We spent a fair amount of time in the Mall of America yesterday because of the heat."
What's behind deadly heatwave?
The last time Isabella Kulkarni of Minneapolis felt this hot, she wasn't even on the same continent.
"I was in India, to be honest," Kulkarni said Thursday. "I just have never really experienced this intense humidity. ... You go outside and it's just oppressive. Breathing in (takes) energy."
Kulkarni started a new job selling natural ice cream for Pick-a-Pelata, a street-vending ice cream company, around Lake Calhoun in Minneapolis. She rides a bike, with the ice cream in a cooler, around one of the biggest and busiest lakes inside the city.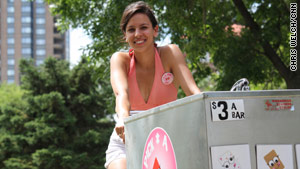 Isabella Kulkarni, a Minneapolis ice cream street vendor, said the last time she felt this hot was when she visited India.
One of Kulkarni's first days at work it was nearly 95 degrees. "I just went nice and slow," she said.
In Chicago, the excessive heat has left about 7,000 people without power, CNN affiliate WGN-TV reported. ComEd crews worked through the night, but some residents were resorting to extreme measures to find relief. In one neighborhood, residents Thursday ran wires from one home to another.
In Newark, New Jersey, Mayor Cory Booker announced that facilities were available in every ward to help keep citizens cool.
"It is imperative that our residents drink plenty of fluids, stay indoors in a cool climate, and avoid strenuous activity," Booker said in a statement. "I urge our senior citizens and Newark residents who lack air conditioning to come to one of our cooling centers."
Why you can't sleep when it's hot
In New York, Con Edison called on customers to stay cool and not waste energy.
"Store owners who leave doors open with the A/C running could be subject to fines from the city," ConEd said.
Air conditioner repair experts with Logan AC & Heating in Cincinnati, Ohio, have been working around the clock.
"This is our time of year. The heat wave has been very good for business," said Amanda Kinsella, director the company's sales and marketing division. "Our lines have been flooded with calls for service."
The heat index in the Cincinnati area was expected to reach as high as 115 Thursday.
The first confirmed heat-related death in Kansas City was declared Thursday, but it stemmed from a death last month. A 57-year-old man was found dead in his home on June 5, according to Dan Ferguson, who works for Jackson County.
In addition to the man's death, there are 13 other possible heat-related deaths in Missouri -- the youngest was a woman in her mid-30s, and the oldest were two women in their mid-70s, said Jeff Hershberger, spokesman for the Kansas City Health Department.
It may take six weeks to several months for officials to process toxicology tests to determine whether all 13 died of heat-related causes, Hershberger said.
In Wisconsin, a 65-year-old man from Fountain Prairie was confirmed by health officials to have died from heat-related causes Thursday, according to CNN affiliate WKOW. Columbia County Medical Examiner Angela Hinze said the man had underlying medical conditions that were made worse when he was helping a family member outside with housework.
In Oklahoma, four heat-related deaths have been confirmed since May, said Cherokee Ballard, a spokeswoman for the state medical examiner. Three of those occurred in the past 30 days, including a 3-year-old boy in a car in Norman and a 69-year-old man from Blackwell, she said.
Beat-the-heat advice from a pro
An additional eight Oklahoma deaths may potentially be related to the heat, she said, with most occurring in July.
CNN affiliate WPXI reported Thursday that a child accidentally locked in a hot car was rescued in Spring Hill, Pennsylvania. The girl's mother locked her keys in the car and immediately called for help, the report said. The girl was not hurt.
The high heat continues to take a toll on animals. Dozens of cattle died south of Harmony, Minnesota, CNN affiliate KTTC reported. And on a cattle farm just across the border in northern Iowa, an estimated 100 cattle died, the report said.
At the Brookfield Zoo just outside Chicago, staff kept water misters in exhibits and gave some animals huge blocks of ice filled with meat and fruit.
CNN's Chris Welch, Sean Morris, Jacqui Jeras, Dave Alsup, Phil Gast and Marlena Baldacci contributed to this report.
FOLLOW THIS TOPIC