STORY HIGHLIGHTS
Newark, New Jersey, breaks its all-time record high temperature Friday
Weather service: Triple-digit temperatures to remain across the eastern U.S.
Weather expected to cool off slightly beginning Sunday, forecasters say
About 100 concert-goers are overcome by heat at Vans Warped Tour in New Jersey
Read more about the heat wave from CNN affiliates KYW, WKOW, WPXI, KSFY and KTTC.
(CNN) -- With this summer's heat already blamed for at least 22 deaths, the recent heat wave continues to claim victims as it settles over portions of the East Coast this weekend.
On Friday, Tennessee reported four confirmed heat-related deaths, said a spokesman for the health department in Shelby County. The deaths are not yet included in the National Weather Service's count of 22.
Chicago confirmed six heat-related deaths Friday, according to Roderick Drew, a spokesman for the Office of Emergency Management and Communications.
The four men and two women, all over the age of 45, suffered from various heart-related conditions and all had heat stress listed as a secondary cause of death, according to Drew.
Also Thursday, Kansas City confirmed that a man's death on June 5 was heat-related. The 57-year-old man was found dead in his home, according to Dan Ferguson, who works for Jackson County. It was not clear if his death was included in the weather service's count.
Missouri has reported 13 other possible heat-related deaths, with the youngest victim being a woman in her mid-30s and the oldest two women in their mid-70s, said Jeff Hershberger, a spokesman for the Kansas City Health Department.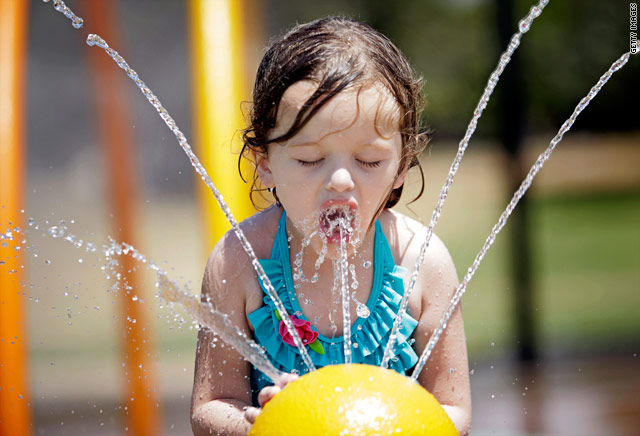 Gallery: Beating the heat

Zoo animals eat meat inside ice blocks

Is it hot enough to fry an egg outside?
It may take six weeks to several months for officials to process toxicology tests to determine if all 13 died of heat-related causes, Hershberger said.
In Wisconsin, a 65-year-old man from Fountain Prairie was confirmed by health officials to have died from heat-related causes Thursday, according to CNN affiliate WKOW. Columbia County Medical Examiner Angela Hinze said the man had underlying medical conditions that were made worse when he helped a family member outside with housework.
In Oklahoma, four heat-related deaths have been confirmed since May, said Cherokee Ballard, a spokeswoman for the state medical examiner. Three of those occurred in the past 30 days, including the death of a 3-year-old boy in a car in Norman and a 69-year-old man from Blackwell, she said.
An additional eight Oklahoma deaths -- most of them occurring this month -- may be related to the heat, she said.
The National Weather Service issued an extreme heat warning for much of the Middle Atlantic States, saying Friday would be the hottest day in the region. The highest heat index values -- how hot it feels -- could reach 115 degrees in some locations, it said.
"These triple-digit temperatures are forecast to remain in place across the eastern U.S. through Saturday," it said.
The weather was expected to cool off slightly to the mid-90s by Sunday, according to the National Weather Service.
On Friday, Newark, New Jersey, recorded its highest temperature since record-keeping began, the National Weather Service said. The temperature hit 108 degrees by Friday evening. The previous all-time high in Newark was recorded on August 9, 2001, at 105 degrees, the service said. Record-keeping in the city began in 1931.
Millions of people were being warned to avoid strenuous activity and outdoor exercise after the National Weather Service issued a number of code red air quality alerts -- meaning air pollution levels are considered unhealthy for the general population -- in a handful of cities, including Baltimore and Washington, D.C.
About 100 people, primarily teenagers, were overcome by the heat Thursday at the Vans Warped Tour in Camden, New Jersey, where more than 12,000 people gathered at the outdoor concert, authorities said.
"I just, I guess got overheated and I got really dizzy," 17-year-old Maureen Meckly, who attended the concert, told CNN affiliate KYW-TV. "I had to grab on to (my friend's) shoulder to tell her I was passing out."
In Chicago, residents have opened an estimated 2,000 fire hydrants since June 18 to get relief from the heat, according to Drew.
Drew says the open hydrants are a public safety issue because they will lower water pressure and decrease the fire department's ability to fight fire.
That didn't stop Marc Santiago, 49, of Chicago, from taking advantage of the situation. He took out a bar of soap and took a shower in the middle of the street, dodging traffic.
Santiago said the open hydrant dropped the water pressure in his home, preventing him from taking a shower inside, and "I had to take a bath."
The city emergency management team warned citizens planning weekend outdoor activities to take every precaution. "We advise all residents... to stay cool, drink plenty of fluids and dress appropriately to handle the heat," said Gary Schenkel, the executive director of the Emergency Management Office in a statement Friday.
In New York, Con Edison called on customers to stay cool and not waste energy. The city's electricity service hit a new record Friday afternoon for 13,189 megawatts used, said spokesman Chris Olert. There are 1,700 outages in the city, he said.
CNN's Divina Mims, Chris Welch, Sean Morris, Jacqui Jeras, Dave Alsup, Phil Gast, Chelsea J. Carter and Marlena Baldacci contributed to this report.