Warm July shrinks Arctic ice pack, NOAA says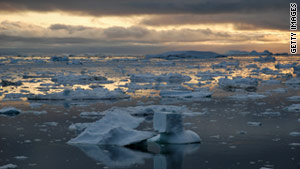 There was a lot less Arctic Ocean sea ice around during the month of July, one of the warmest months on record.
STORY HIGHLIGHTS
Arctic sea ice hit a record July low, NOAA says
Global average temperatures were the 7th-warmest on record for July
(CNN) -- Sea ice in the Arctic Ocean hit the lowest monthly recorded level for July in more than three decades of record-keeping, while overall global temperatures for the month were the seventh-warmest on record, U.S. researchers reported Monday.
Sea ice covered an average of 3 million square miles (8 million square kilometers) during July, the lowest measurement for that month since the National Oceanographic and Atmospheric Administration started keeping track of those figures in 1979. The figure is 81,000 square miles smaller than 2007's previous July record low and about 22 percent below the average for the month, NOAA reported.
The shrinkage slowed in the last half of the month, as cooler weather left a "thinner but more extensive ice cover" over the Arctic, according to the National Snow and Ice Data Center, which is backed by NOAA, NASA and the National Science Foundation. The decline has allowed ships to cross the Arctic along the Russian coast with some aid from icebreakers and could open up the Northwest Passage along the shores of North America in the coming weeks, the center reported.
Meanwhile, the average temperature for the month worldwide was 61.4 Fahrenheit (16.4 Celsius), about 1 degree Fahrenheit over the 20th century July average, NOAA said. That's the seventh-warmest July since records started being kept in 1880.
In the United States alone, a heat wave that wracked much of the Midwest and southern Plains drove the July average to 77 degrees -- the fourth-hottest July on record, according to NOAA.
Around the world, most of North America, northern Europe, and eastern and western Russia saw warmer-than-average conditions in July. Central Russia, western Europe, the western United States and southwestern Canada saw a cooler July than usual, NOAA reported.