NRC inspectors head to nuclear power plants in path of Irene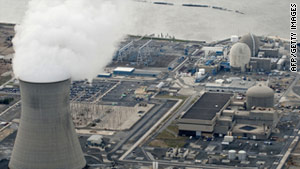 All of the plants are required to shut down their reactors ahead of predicted hurricane-force winds, the NRC said.
STORY HIGHLIGHTS
The inspectors are sent to ensure the safety of the facilities
The plants have flood protection and watertight buildings for key components
Some of the plants were also affected by Tuesday's earthquake
(CNN) -- The Nuclear Regulatory Commission has dispatched additional inspectors to nuclear power plants along the East Coast to ensure the safety of those facilities in advance of Hurricane Irene, the agency said Friday.
The inspectors were sent to plants "likely to be in the storm's path," including Brunswick near Southport, North Carolina; Surry in Surry, Virginia; Calvert Cliffs in Lusby, Maryland; Hope Creek/Salem in Hancocks Bridge, New Jersey; Oyster Creek in Forked River, New Jersey; Pilgrim in Plymouth, Massachusetts; Millstone in Waterford, Connecticut; Seabrook in Seabrook, New Hampshire; and Indian Point in Buchanan, New York, the NRC said in a press release.
While currently operating at full power, all of the plants' procedures require that their reactors be shut down ahead of predicted hurricane-force winds, the agency said. Generators will provide backup power in the event of an outage.
"All plants have flood protection above the predicted storm surge, and key components and systems also are housed in watertight buildings capable of withstanding hurricane-force winds and flooding," the agency said.
The approaching Hurricane Irene comes just days after a 5.8-magnitude earthquake rattled the East Coast and caused several power plants to issue an "unusual event" declaration, the lowest level of emergency notice. Some of those same plants are in the path of the storm, including Surry, Calvert Cliffs, Oyster Creek, Hope Creek and Salem.
"NRC inspectors have verified that the plants have made the necessary preparations for Hurricane Irene," the NRC said.
FOLLOW THIS TOPIC