STORY HIGHLIGHTS
NEW: Emergency ferry will be sent by Monday to get supplies to residents
2,500 people are cut off from the mainland on Hatteras Island
"There was a lot of carnage on Hatteras Island," Coast Guard officer says
Six deaths are tied to the storm
(CNN) -- A furious Hurricane Irene exacted a heavy toll on North Carolina, claiming at least six lives, peeling siding off houses and plunging hundreds of thousands of homes in darkness.
"The Outer Banks has taken a hit, and we saw damage everywhere we stopped," Gov. Bev Perdue said. "Lives have been lost, homes and property destroyed. But this storm could have been worse, and North Carolinians are resilient."
About 2,500 people who defied mandatory evacuation orders were stranded on Hatteras Island after pounding surf washed over dunes, covering roads with water and sand. The flooding cut off the island from routes leading to the mainland.
"There was a lot of carnage on Hatteras Island and I feel for those people," U.S. Coast Guard Rear Adm. William Lee told CNN after surveying the damage from the air.
An emergency ferry will be sent to the island to bring in supplies, CNN's Brian Todd reported after taking a helicopter tour of the island. However, the ferry may not arrive until Monday. Those who stayed behind were prepared for such a situation though, telling Todd that they have enough food and water to last a few days.
"It looks like an earthquake hit it," Todd said of the barrier island's main road. "The storm and storm surge just completely chopped up the road, and the ocean is now washing over it."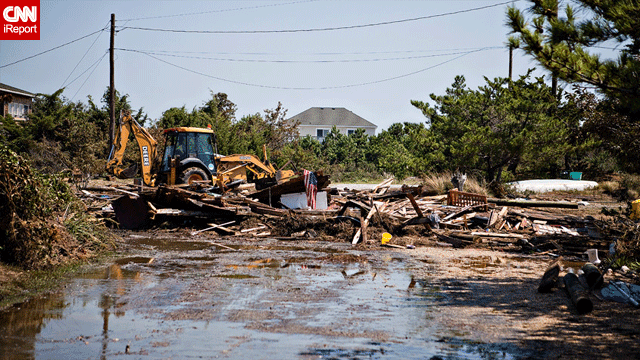 Coastal flooding in North Carolina

Irene causes flooding in Kill Devil Hills
One home on the island had burned, possibly from downed power lines, and Lee said the home appeared to be a "total loss."
Three of North Carolina's deaths involved traffic wrecks during the storm. Another person died when he was hit by a tree limb, while feeding livestock. A fifth died of a heart attack as he was putting plywood over this windows ahead of the storm's arrival.
Some 444,000 were without power Sunday afternoon, officials said. Irene had stomped across the state most of the day Saturday after a morning landfall near Cape Lookout at the southern end of the Outer Banks.
Most of the damage was centered between Cape Hatteras and Oregon Inlet, Lee said.
The storm ripped shingles and siding off buildings in Atlantic Beach, knocked over a church steeple and flooded homes in low-lying areas. At least 10 major roads were closed and airports were forced to shut down, Perdue said.
By midnight Saturday, Kill Devil Hills had endured 31 hours of nonstop rainfall. Firefighters waded through knee-high flood waters as they responded to calls in the community.
The nearby town of Wanchese was reported under water, officials said.
In Duck, North Carolina, the storm pushed water from the Currituck Sound inlet out to the sea, resident Gregg Nigro said.
In Greenville, Mike Sharpe woke to find water under his living room door.
"The front parking lot is just as flooded, and the cars have water up past their doors," he said. "Everybody's a little worried. We didn't expect to have any flooding. That's something we weren't prepared for."
Glenn Williams watched the storm from his downtown Raleigh office.
"I just come down here in the hurricane because it's safer than it is at home where all the trees are at," he told CNN affiliate WRAL-TV.
Through it all, residents maintained their good humor.
In Kill Devil Hills, the boarded-up shop windows displayed spray-painted missives to Irene: "I have enough women in my life, Irene," said one. "No crabs for Irene," said another at a seafood shop. "Don't be mean, Irene," said a third.
In some areas, beachcombers looked for any shells Irene had deposited.
Surfers reveled at their good fortune at Wrightsville Beach, taking advantage of the bigger waves dished up in the aftermath of the storm.
"It's the wind and the waves and the culture," Dane Reynolds telling WRAL why he was out in the post-storm surf. "It's all about the culture of the surf community."
FOLLOW THIS TOPIC