2 arrested in latest Bay Area transit protests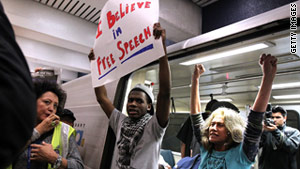 Demonstrators have targeted BART for, among other reasons, cutting cell phone service to try to thwart protests.
STORY HIGHLIGHTS
Protesters have rallied to bring attention to transit police officer shootings
Two males were arrested Monday night for protesting in a paid area of a station
BART officials have been criticized for cutting cell service to commuters to stop protests
San Francisco (CNN) -- Police arrested two people Monday night in the latest round of protests in San Francisco against the Bay Area Rapid Transit system and its policies.
Protesters have rallied at train stations in recent weeks to bring attention to a number of transit police officer shootings, including the death of 45-year-old Charles Hill. Hill was shot July 3 after a confrontation with officers.
Two males were arrested Monday night for protesting in a paid area of the Embarcadero station in the city's financial district, BART officials said.
The demonstration did not hamper the Monday evening commute and all stations remained open, officials said.
In previous protests, BART had to open and close stations. The transit system has also come under criticism from free-speech advocates for cutting off commuters' cell signals during an August 11 protest.
BART said it did so to prevent protesters from using "mobile devices to coordinate their disruptive activities."
On Wednesday, BART's board agreed to put together a formal policy on when cell phone service can be cut off to commuters.
Developing the new policy could take weeks. The proposed policy would also be presented to free-speech groups for their review, board members said.
BART director Lynette Sweet acknowledged the controversy as a "PR nightmare." She was upset that the board didn't have a say in the staff decision.
CNN's Augie Martin contributed to this report.
FOLLOW THIS TOPIC