STORY HIGHLIGHTS
Ana Maria Cruz is a single mother of four after her fiance was deported
Chally Dang was a legal permanent U.S. resident, who emigrated from Southeast Asia
He was deported this year for a crime he committed and served time for 14 years ago
Cruz says he turned his life around and hasn't committed a crime since
Philadelphia (CNN) -- Last September, Ana Maria Cruz waited in her minivan outside an immigration office, clutching her fiance's keys, wallet and cell phone.
Cruz, then eight months pregnant and with two of the couple's other children in tow, began to worry when Chally Dang took longer than usual to emerge from what should have been a routine check-in with immigration officials.
"I sat there for about an hour because I didn't know what to do," Cruz said. "Then he collect-called me to say they weren't letting him go."
For the next nine months, U.S. Immigration and Customs Enforcement (ICE) officials held Dang and three other Cambodian-Americans -- all legal permanent residents who had come to the United States as child refugees.
In June, they sent Dang to Cambodia. Each of the men detained last September had committed a crime that carried a retroactive removal order. That allows them to be deported at any time, regardless of when the crime was committed.
Dang, now 29, was arrested when he was 15, after he fired an illegal handgun into the air. Although no one was injured, Dang was charged in 1997 with aggravated assault, criminal conspiracy and possessing criminal instruments.
He was sentenced to 5½ years in prison. Despite having served his prison time, under 1996 immigration laws, he could be deported back to Cambodia -- a country he had never seen -- without a hearing in front of an immigration judge.
Attorneys: U.S. deportation policy shifting
Dang's situation is not uncommon, and it is becoming part of the growing debate over immigration reform in the United States.
In a move that could shake up the U.S. immigration system, the Department of Homeland Security said the government would review about 300,000 deportation cases pending in federal immigration courts.
Lower-priority cases -- those not involving people considered violent or otherwise dangerous -- would be suspended under the new criteria.
Federal authorities are still hashing out details of how the cases will be reviewed, a senior Department of Homeland Security official said last week.
For Cruz and Dang, the announcement comes too late for them to tell their story.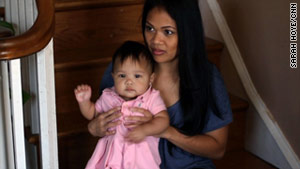 Ana Marie Cruz's fiance, a legal resident and father of her children, was deported for a crime he committed 14 years ago.
Cruz maintains that her fiance -- now a world away in Cambodia -- had turned his life around after serving his time in prison and deserved to stay in the United States.
"They should give Americans, refugees and permanent residents who have reformed (themselves) chances to prove that they are of good character, regardless of any mistakes that they have made in their past," she said. "Just because someone made one mistake, especially in their youth, doesn't label them a criminal for life. People change, and people learn."
One of five children, Dang was born in Kamput refugee camp in Thailand, after his parents escaped the "killing fields" in the Southeast Asian nation of Cambodia, where at least 1.7 million people died under the 1970s Khmer Rouge regime.
Shortly after Dang was born, his father separated from his mother while awaiting sponsorship. His family entered the United States in 1983 and settled in crime-ridden North Philadelphia, where his mother remarried and gave birth to her youngest son.
The cash-strapped family moved from apartment to apartment, and a strained home life left him finding solace among other refugee kids in the neighborhood.
"Truancy became regular, and schoolwork was out of the question," Dang wrote in a letter on December 4, 2010, while he was being detained in York County Prison. "That's when the downhill became even steeper."
Opinion: Immigration plan offers 'false hope'
He was expelled multiple times from school for his disruptive behavior and eventually joined an Asian gang.
Dang hit rock bottom in 1997 when a rival gang spotted him and a friend in North Philadelphia. According to Dang, the rivals threw bottles and rocks at the car he was in, and his friend handed him a gun.
"I recklessly fired a few rounds in their proximity," he wrote.
Dang spent his high school years behind bars, where he obtained his GED. When he was paroled in 2003, Dang, then 21, was taken into ICE custody and given a final order of deportation.
But Cambodia was not accepting deportees from the U.S., so he was allowed to stay here under ICE supervision. After six months, he was granted supervised release.
"Regret is one of many effusive links composing a chain that binds me to my past," he wrote. "The actions of my past still haunt me."
Coming as an immigrant is a privilege, and we expect that you stay out of trouble.
--Ira Mehlman, Federation for American Immigration Reform
Vowing never to repeat the mistakes of his past, Dang started a family, earned a living working for a vending company, committed no crimes after his release and regularly checked in with immigration officials.
"It's hard for me because we built a life together, and I feel like it was ripped apart," Cruz said. "It's a life-changing thing."
Cruz, 28, gave birth to the couple's daughter, Farrah, a month after Dang was detained.
Agency officials say immigrants who commit these crimes must be removed even if, like Dang, they have a green card.
Dang's freedom lasted seven years.
Mia-lia Kiernan, who helped launch a Philadelphia grass-roots organization dedicated to keeping immigrant families living together, is at odds with the DHS immigration announcement.
Kiernan and family members of the detained and deported started the One Love Movement to help them fight for individualized reviews of their deportation orders -- including that of Dang.
The very government that gave Dang shelter targeted him and other refugees with criminal histories, Kiernan said.
"People really need to think about the title 'criminal alien' and who gets left behind," she said. "We're creating a generation of young people forced to grow up without parents."
By law, deportation is mandatory for anyone not a U.S. citizen who commits an "aggravated felony," a broad category of crimes ranging from shoplifting to murder that carry sentences of at least one year of imprisonment, said Sin Yen Ling, a senior staff attorney at the Asian Law Caucus in San Francisco.
"Because of their immigration status, they're penalized," said Ling, an immigration attorney who handles nearly 50 aggravated felony cases a year.
"There's no bail, no bond, it's mandatory deportation. Even if you were to get a sympathetic judge, their hands are tied. By law, it takes away the ability to review individual cases."
Federal immigration officials are simply prioritizing their resources on criminal aliens who present the greatest risk to the security of our communities, according to ICE spokeswoman Nicole Navas.
In 2010, ICE announced record-breaking illegal immigration enforcement numbers under the Obama administration, including unprecedented numbers of "convicted criminal alien removals."
Half of the individuals removed from the United States -- more than 195,000 people -- were convicted criminals, a 70% increase, according to ICE.
Feds increase immigration enforcement
"Everybody in their right mind would think that criminal aliens should be removed," said Ira Mehlman, spokesman for the Federation for American Immigration Reform.
"No, it's not harsh. Coming as an immigrant is a privilege, and we expect that you stay out of trouble."
Philadelphia immigration attorney Caitlin Barry says the broad definition of "aggravated felony" and the retroactive application of the law have created a constant stream of criminal deportation cases.
Although Dang was released under ICE supervision, a removal order remained in effect. He was allowed to re-enter the community and make a life for himself because at the time, Cambodia was not issuing visas to deportees from the United States, Barry said.
"Unfortunately, as soon as those visas to Cambodia became available, Chally was rounded up with the other guys and sent to Cambodia," Barry said. "Chally's case is the perfect illustration of how severe these laws have gotten."
Because of Dang's deportation, Cruz has found herself a single mother of four, struggling to make ends meet while working as a receptionist at a Philadelphia law firm.
I don't believe that refugees should be subject to deportation, period. That's not their home anymore.
--Mia-lia Kiernan, One Love Movement
She has sold household items and the family vehicle to pay the bills. She has also applied for welfare and other government assistance to feed her children.
"What I've experienced, I wouldn't want any other family to have to go through," said Cruz, a permanent resident who came to the United States as an infant from the Philippines. "I want that law to be taken and thrown in the garbage because it does nothing, it doesn't make anything better."
The deportations are a disservice to those who have come out of the system and changed their lives, said Kiernan, the One Love Movement co-founder.
"I don't believe that refugees should be subject to deportation, period. That's not their home anymore. They came here, this is their home," Kiernan said.
"Everyday families are being broken apart, and every day, there are children suffering without a parent."
While Cruz tidied up her home after hosting a One Love meeting on a recent Saturday, she paused and looked at her children coloring quietly in their sparse living room.
"They made me a single mother," Cruz said. "It touches everyone involved."
FOLLOW THIS TOPIC