STORY HIGHLIGHTS
NEW: Remnants of Lee settle in Wednesday over mid-Atlantic, Northeast
NEW: Flash flood warnings range from D.C. to western New England
Rainfall amounts of up to 10 inches are forecast in isolated pockets
Lee is blamed for at least four deaths in the South
Read more about the remnants of Tropical Storm Lee from CNN affiliate WCBS.
Atlanta (CNN) -- The remnants of Tropical Storm Lee settled in over the mid-Atlantic and Northeast on Wednesday, prompting warnings of heavy rain and flash flooding in areas from Washington up to western New England, the National Hurricane Center said.
Several rounds of heavy rain lie in store for much of the region the next couple of days, with an additional 2 to 6 inches forecast -- and in isolated cases as much as 10 inches.
This comes on top of the heavy precipitation that already has fallen in the region as the storm, which blew up from the Gulf of Mexico, ran up against an extra-tropical low-pressure system centered across the central Appalachian Mountains and stalled.
"These rains may cause life-threatening flash floods and mudslides," the prediction center said.
A flash flood warning for the District of Columbia remains in effect till midnight tonight, with damaging wind gusts and severe thunderstorms also possible. A news release from the D.C. Homeland Security and Emergency Management Agency urged people to "avoid driving when possible, drive very carefully when you must drive, and stay alert for pooling water that you cannot drive through."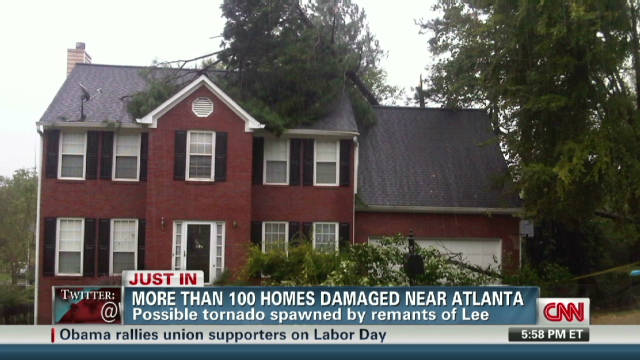 Lee's remains spawn tornadoes in Georgia
Earlier Wednesday, the storm caused a series of air traffic delays across the Northeast. Multiple flights were delayed by over an hour in the New York metro area and by up to 55 minutes in Boston and Philadelphia.
The forecast was unwelcome news for waterlogged Vermont and northern New York, which could receive another 1 to 3 inches of rain with up to 4 inches possible in some spots by Wednesday night.
"We could get flooded again," Robin Stewart of Paterson, New Jersey, told CNN affiliate WCBS. "We're real concerned about that."
Garbage remained piled outside Stewart's home after flooding from Irene wrecked her lower level, WCBS said. Stewart hasn't had power for more than a week, and she is afraid more rain will flood her home again and keep her in the dark even longer.
"When everybody else is on their way to recovery, we're getting flooded again," Stewart said.
Some eye-popping storm rainfall totals in the Northeast were recorded through 5 p.m. Wednesday in Becket, Massachusetts (8.11 inches); Rockaway, New Jersey (8.43); Phillipsburg, New Jersey (7.9); and Forks, Bethlehem and Dover, Pennsylvania (just over 7 inches).
Lee left at least four people dead as it crossed the Southeast, dumping as much as 12 to 15 inches of rain in many places.
In Gwinnett County, Georgia, just outside Atlanta, firefighters said Tuesday they found the body of a man who drowned in a rain-swollen creek near Norcross.
In Baldwin County, Alabama, police said they no longer believe a missing 16-year-old boy is alive. The teen was last seen on a beach near Gulf Shores on Sunday.
A flooding death was also reported in rural northeast Mississippi, where one person drowned after floodwater swept away a vehicle in Tishomingo County, emergency officials said.
And a woman was struck by a tree and killed in Chattanooga, Tennessee, early Tuesday.
CNN's Sarah Dillingham contributed to this report.
FOLLOW THIS TOPIC