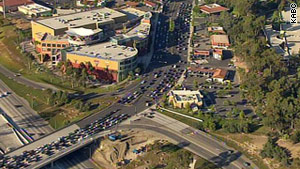 The blackout has left more than 1 million customers without power and caused widespread traffic jams.
STORY HIGHLIGHTS
NEW: Mayor: "It's going to take a long time to bring the power back"
NEW: Authorities say power will be restored by Friday
San Onofre Nuclear Generating Station units in normal shutdown mode
San Diego-area utility says 1.4 million customers are without power
Are you there? Please submit your stories, pictures and videos to iReport.
(CNN) -- A power outage Thursday left more than 1.5 million people in the dark in parts of Southern California, Arizona and Mexico as authorities scrambled to figure out what happened and how to get the lights back on.
Authorities said the outage occurred after a high-voltage power line between Arizona and California was tripped out of service, according to a statement released by San Diego Gas & Electric. It was not known what caused the service to be shut off, though authorities said it was not an act of terrorism.
Power began to be restored by late evening Thursday, though officials warned it would take until Friday to completely restore power in portions of San Diego and Orange counties.
"Again, it's a slow process. It's going to take a long time to bring the power," San Diego Mayor Jerry Sanders told reporters.
The mayor warned residents in one California's most populous counties to stay off the road and limit cellular phone service, and school was cancelled Friday for thousands of students.
San Diego Gas & Electric said all of its 1.4 million customers were without power.
The power line break "caused our line from AZ and from the north of our region to both trip off," the utility posted on its Twitter account.
"Think of the system as linked by springs, when one part goes out the rest are affected," another Twitter post from the utility said.
Power outages in California stretched Thursday from San Clemente in Orange County to the state's border with Mexico, a San Diego County spokesman told CNN.
In Arizona, about 56,000 customers in Yuma lost power, Arizona Power and Supply said.
Parts of Mexico's Baja California and Sonora states were also without power, Mexican authorities said.
The power outage posed no threat to the San Onofre Nuclear Generating Station near San Clemente, California, authorities said.
At the nuclear power plant, units "tripped from grid disturbance" but have offsite power and were in normal shutdown mode, said Eliot Brenner, director of the U.S. Nuclear Regulatory Commission's Office of Public Affairs.
The Civil Protection Department in Baja California said authorities there were working to fix a problem at a hydroelectric plant.
San Diego County activated its emergency operations center as officials tried to learn more about the blackout, county spokesman Michael Workman said.
Linzi Berkowitz in Carlsbad, California, said the widespread power outage wreaked havoc during rush hour.
"The whole city is a mess and hopefully it doesn't get worse," she told CNN iReport.
Power went out about 3:45 p.m. in San Diego, said Joe Pettigrew, who said he was trapped on the 10th floor of an office building.
"We don't have air conditioning and the windows don't open," he said, noting that it was about 80 degrees outside.
Rebecca Bloomfield of the San Diego airport authority said the airport was letting only inbound flights land. Outbound flights and security screening were halted due to the power outage.
CNN's Chelsea J. Carter, Alta Spells, Greg Morrison and Tina Burnside and CNNMexico.com contributed to this report.
FOLLOW THIS TOPIC