STORY HIGHLIGHTS
America emerged stronger, president says at "Concert for Hope"
Passengers at JFK airport stop to observe moment of silence
Obama is impressed by the World Trade Center Memorial, spokesman says
Commemorations proceed amid heavy security
New York (CNN) -- President Barack Obama on Sunday evening helped conclude remembrances of Americans who died in the September 11, 2001, terrorist attacks with a message of unity and resolve for the years ahead.
"These past 10 years underscore the bonds between all Americans. We have not succumbed to suspicion and mistrust," Obama said at the "Concert for Hope" at the Kennedy Center in Washington. "It will be said of us that we kept that faith; that we took a painful blow, and emerged stronger."
The concert, which included performances by Patti LaBelle, mezzo-soprano Denyce Graves and Alan Jackson, who sang "Where Were You," followed solemn observances in New York, Washington and Shanksville, Pennsylvania.
"These past 10 years have shown that America does not give in to fear," Obama said Sunday night.
Thousands gathered earlier at New York's ground zero, site of the World Trade Center, and stood still in silence, some crying as they listened to the names of victims of the attacks read aloud.
"They were our neighbors, our friends, our husbands, wives, brothers, sisters, children and parents," said New York Mayor Michael Bloomberg, who, along with Obama, helped lead the commemoration on the 10th anniversary of the attacks.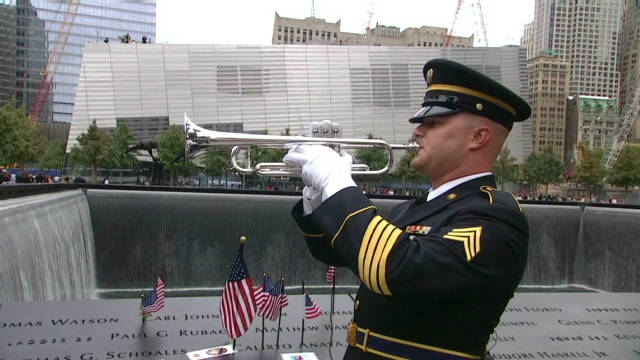 America remembers 9/11 a decade later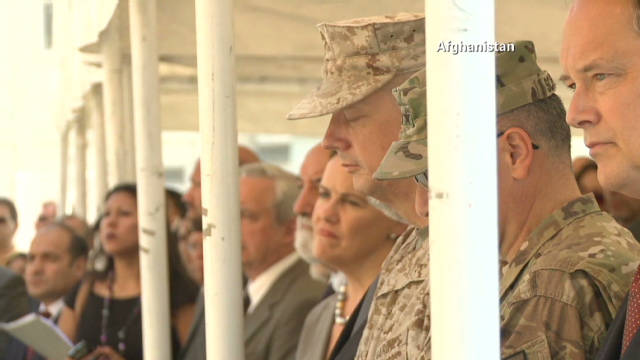 9/11 tributes around the world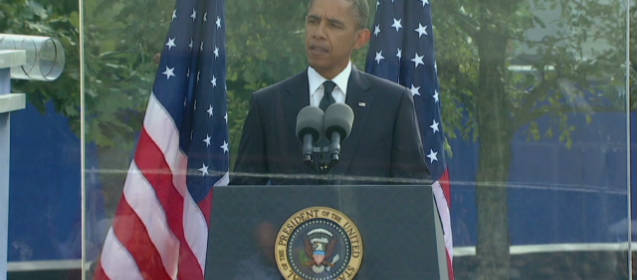 Obama: 'God is our refuge'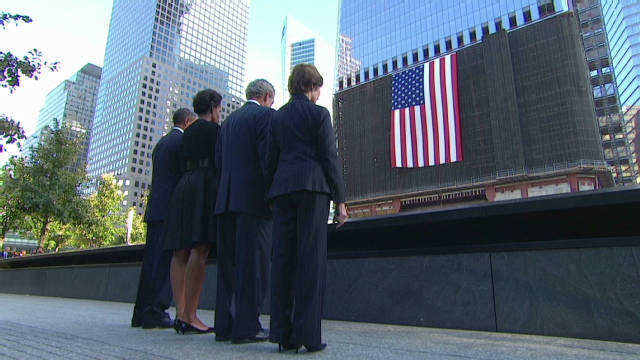 Pres. Obama, Bush visit 9/11 memorial
"We have asked their families to speak their names out loud, to remind each of us about the person we lost in New York, in Washington and in Pennsylvania. They each had a face, a story, a life cut short from under them."
A moment of silence spread across New York City at 8:46 a.m. -- the time when American Airlines Flight 11 crashed into the North Tower of the World Trade Center. Houses of worship tolled their bells.
After Obama read a psalm, 167 pairs of family members began reading the names of those who perished. The reading was interrupted by another moment of silence at 9:03 a.m. -- the time when United Airlines Flight 175 struck the South Tower.
The solemn ceremony at the site of the World Trade Center came amid a heavy security presence permeating the area in lower Manhattan, as authorities continued their search for possible plotters of another terrorist strike.
Information considered credible but unconfirmed indicated up to three attackers could be trying to use an explosives-laden vehicle for an attack in New York or Washington, according to various sources. Authorities stressed that while they were taking information of a possible attack plot seriously, there was no evidence so far that an actual terrorist operation was underway.
At the ceremony, Obama and first lady Michelle Obama stood behind bullet-proof protection. Former President George W. Bush, who was president at the time of the attacks, read a letter sent by President Abraham Lincoln to a woman thought to have lost five sons in the Civil War.
"I feel how weak and fruitless must be any word of mine which should attempt to beguile you from the grief of a loss so overwhelming," Bush read, quoting Lincoln. "But I cannot refrain from tendering you the consolation that may be found in the thanks of the republic they died to save."
Those who lost loved ones in the attacks stepped forward to read names. In all, 2,753 people died on two airplanes and on the ground when the planes slammed into the World Trade Center towers, causing their collapse. That total does not include the 10 al Qaeda hijackers on board the planes.
Parallel commemoration ceremonies also took place in Washington -- where mourners observed a moment of silence at 9:37 a.m., the moment American Airlines Flight 77 struck the Pentagon, killing 184 people -- and in Shanksville, where passengers aboard United Flight 93 are believed to have thwarted a plot to drive the plane through the U.S. Capitol dome and eventually caused the plane to crash in a field.
The total number of dead in New York, Washington and Pennsylvania was 2,977 people, not including 19 hijackers.
Moments of silence were observed at 9:59 a.m., the time the South Tower collapsed; at 10:03 a.m., the time of the Flight 93 crash in Shanksville; and at 10:28 a.m., the time the North Tower fell.
Those in the crowd included Joseph Conzo, who has been an EMT for 18 years. He recalled the moment the second tower collapsed, leaving him trapped beneath the smoldering rubble of a neighboring Marriott hotel.
"I still can't believe it's been 10 years," he said. "I've got a range of mixed emotions."
Conzo said he was in therapy for two years after the attacks, grappling with "survivors' guilt."
"It was the kind of thing that if you went right, you died, and if you went left, you lived," he said. "I was left with the question, 'Why me?'"
Sunday's ceremony, to him, is about closure, he said. "Let's get this finished and move forward."
In Washington, the moment of silence was followed by remarks from Joint Chiefs of Staff Chairman Adm. Mike Mullen, Vice President Joe Biden and Secretary of Defense Leon Panetta.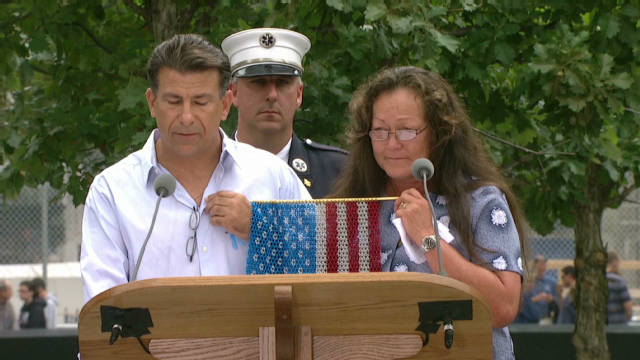 9/11 families remember loved ones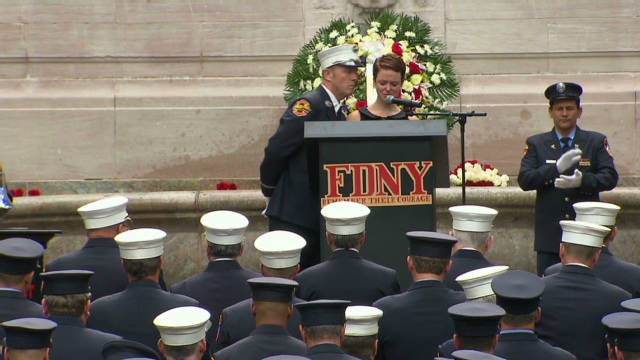 Singer's emotional salute to FDNY dad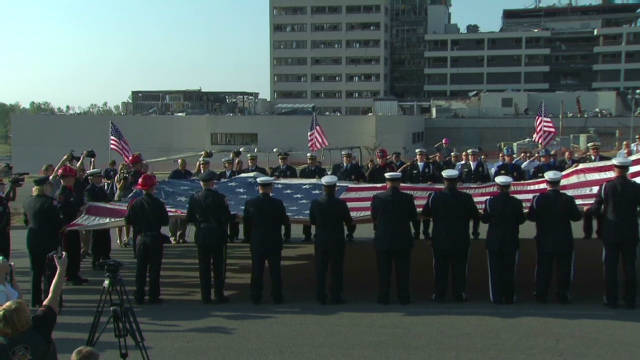 Joplin remembers 9/11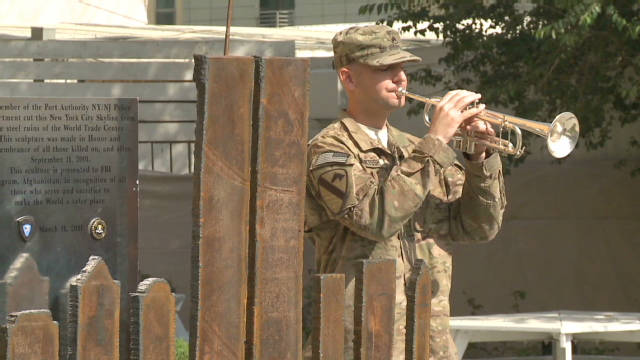 9/11 ceremony in Afghanistan
Biden spoke on the nation's efforts to combat al Qaeda in the wake of the attacks, referencing the May assassination of its leader Osama bin Laden.
"Those in this building that day knew what they were witnessing," Biden said. "It was a declaration of war by stateless actors bent on changing our way of life, who believed these horrible acts, these horrible acts of terror directed against innocents could buckle our knees, could bend our will, could begin to break us and break our resolve. But they did not know us. Instead, that same American instinct that send all of you into the breach between the fourth and fifth corridors galvanized a new generation of patriots, the 9/11 generation."
At the ceremony, troops placed wreaths at the Pentagon memorial. En route to the Pentagon ceremony, Biden stopped by a Washington fire station.
Obama attended all three ceremonies Sunday. At Shanksville, he and the first lady laid a wreath at the Flight 93 memorial, prompting cheers of "USA," from the crowd. The president also laid a wreath at the Pentagon memorial, and he and the first lady met with victims and victims' relatives at all three sites.
En route to Shanksville from New York, White House spokesman Josh Earnest told reporters the president was impressed by the 9/11 memorial.
"He also said that he was touched by the -- sort of the serene setting of the reading of the names this morning," Earnest said. "And he and the first lady were particularly moved by the families of those who were lost who participated in the ceremony, in particular the children."
The World Trade Center Memorial will open to the public on Monday, but on Sunday was open only to victims' family members and those attending the commemoration.
"We're so proud of this memorial," said Monica Iken, who lost her husband Michael in the attacks, founded the group September's Mission and played an instrumental role in the construction of the site. "I can go see Michael. He's home."
She said she comes to the site to connect with her husband. "Every time I come here, I feel the energy. It's powerful," she said.
Commemoration ceremonies -- some of them impromptu -- were also taking place elsewhere.
At Fort Drum, New York -- home to the Army's 10th Mountain Division, which has led the U.S. war effort in Afghanistan -- silence fell as bells tolled and a bagpiper played "Amazing Grace."
Soldiers and their families gathered in front of a memorial that says, "Lest we forget," etched with images of the three sites and the division's insignia.
In Washington, hundreds gathered for an interfaith prayer vigil.
Commemorations were held at sites nationwide, but others chose to mark the anniversary in their own way.
"Seeing the horror of that day changed me," said CNN iReporter Jason Asselin of Iron Mountain, Michigan. "I always thought of our flag as just a flag ... I know this sounds strange but I never gave the flag the respect it deserved. It took a tragedy for me to feel this way. Many people died that day because of our flag ... When I look at our flag today, I see policemen, firemen and military personnel. These are the people who will protect us from the evils in the world."
After the program at the World Trade Center, the Port Authority of New York and New Jersey held an interfaith remembrance service in lower Manhattan to honor 84 of its employees who died in the New York attacks, as well as the six victims of the 1993 World Trade Center bombing.
At New York's John F. Kennedy International Airport, there was little passenger traffic on Sunday, but people gathered around televisions at the airport to watch the ceremonies. At 8:46 a.m., during the first moment of silence, the airport grew quiet as passengers stopped and a police officer removed his hat.
"Today the buses are running, the birds are chirping," a pilot told passengers before takeoff, according to CNN's Laurie Segall, who was aboard. "It's a normal day. We must all be proud to be Americans today."
"It's extremely emotional," said Felicia Cappo of Jackson, New Jersey, who was among those gathered at the World Trade Center site. She was holding a laminated photo of her brother, Gary Frank, who died in the attacks. "It's hard to believe 10 years have gone by ... it will always feel like yesterday."
She said she makes an annual visit to Ground Zero. "No remains were ever found, so this is where we come to pay tribute to my brother."
Firefighter Richard Batista, 38, was in the North Tower when the South Tower collapsed. His unit worked its way down a smoke-filled staircase and outside the building before the second collapse.
"My captain, in his infinite wisdom, decided that there were too many crews up there and told us to meet outside and wait for further instructions," he said.
Moments later, the North Tower fell in a dark plume of smoke, ash, dust and debris. "We took shelter in a parking garage, and that's what saved us," Batista said. "With a rescue rope, we were able to slowly pull and guide ourselves out of the rubble."
A decade later, he said his wish is to move on.
"I've gotten to the point where I'm numb to it," he said. "And while I have all the respect for the families who lost loved ones, these types of things today make it more difficult."
Bronx resident Miguel Flores, 37, was among dozens of paramedic units who charged toward the burning towers. He arrived just as the South Tower crumbled and helped set up a triage unit to help separate the dead from the dying.
"The corner Burger King was converted into a triage center," Flores said. "The Brooks Brothers was turned into a morgue."
As rescue workers dug through the rubble, paramedics labored over those injured.
He said he lost 13% of his lung capacity when a dust cloud enveloped the site. Ten years later, Flores has physically recovered.
"It's a numbing feeling," he said. "Being back here, you start to relive that a little. We all have dealt with post-traumatic stress."
Eight miles north of ground zero, New York firefighters held their own memorial at Riverside Park. While the event has been held annually since 9/11, this event was by far the largest, with thousands of firefighters from around the nation in attendance as well as some from as far away as Germany and Australia. The firefighters stood in a formation line that stretched for blocks.
Mark Tillman, a 30-year Air Force veteran who piloted Air Force One, was among those at the New York ceremony. The plane, which carried the classified code name "Angel," took off carrying then-President Bush from the tarmac in Sarasota, Florida, that day, traveling to Barksdale Air Force Base in Louisiana, where Bush taped an address to the nation.
"The challenge for us was that we didn't know what the threat was," Tillman recalled. He said he called in a fighter jet escort to accompany the plane, and later received a call from then-Vice President Dick Cheney.
"Angel was next," Cheney told Tillman. "To me," Tillman said, "it was an act of war and the vice president was telling me that the president could be the next target."
Air Force One returned to Andrews Air Force Base in Maryland about 6 p.m. that night, after Washington had been secured.
Tillman said that Sunday's ceremony represents solemn remembrance to him, but also signals what will continue.
"September 11 is a day in history, but it's not World War I or World War II," he said. "This battle hasn't ended."
"It's the first time it feels right," said actor Denis Leary, who has helped champion health coverage for first responders affected by the toxic plume which enveloped much of lower Manhattan following the attacks. "What they did on 9/11 is an extreme version of what they do and the risks they take every day."
"I have no patience for those who have prevented first-responder care," he said, referencing controversy that swirled around whether the Zadroga bill, a recent piece of legislation that provides health care to first responders and recovery workers affected by 9/11, will also include cancer coverage. It currently does not.
"They should be the first guys we check off the list," he said.
Celeste Pollicino, 22, of Plainview, New York, wore an "I love New York" T-shirt and held a framed photo of her father, Steve Pollicino, who worked as a bond trader in the World Trade Center.
"I remember his smile," she said. "He was just fun... Now I feel like I've lived two different lives, before and after 9/11."
She said her father's death "makes me appreciate everything, every day. I'm more easygoing now. I don't let little things bother me."
Her cousin, Michelle Angeline, said Celeste Pollicino is "so much like her dad in the best way possible."
CNN's Moni Basu and Dana Garrett contributed to this report.
FOLLOW THIS TOPIC