STORY HIGHLIGHTS
Women's boxing has been added to 2012 Olympic Games in London
Marlen Esparza, a 22-year-old Texan of Mexican descent, is a five-time national champion
Boxing has been a huge sport in the Latino world for decades
Editor's Note: This piece has been done in collaboration with Latina Magazine and appears in the September edition of that publication. Marlen Esparza is featured in Soledad O'Brien's upcoming documentary, "In Her Corner: Latino in America

," which airs at 8 p.m. ET/PT Saturday, October 1.
Colorado Springs, Colorado (CNN) -- A high school gym erupts with cheers as the announcer introduces the women fighting to be the nation's top amateur boxers. Names like Esparza, Cruz and Estrada sound out over the PA system, as young Latinas with impressively defined arms take to the ring.
The top four boxers who medaled at the National Championships in late June have a rare distinction this year: Women's boxing has been added to the 2012 Olympic Games in London.
The traditionally male sport of boxing was the only summer sport at the Olympics without a female counterpart. The last great domain of men in sports is about to crumble, and a bunch of Latinas, flyweight boxers who tip the scales at no more than 112 pounds, are leading the way
The principal figure in this sport's revolution is Marlen Esparza, a 22-year-old Texan of Mexican descent who was already a five-time national champion in the flyweight division coming into this year's tournament.
Esparza is aware that her success represents more than a personal victory. "I feel like being a woman and Hispanic, and doing something well, would help us out as far as how people view us," says Esparza, whose success has drawn sponsors like Coke, Nike and Cover Girl.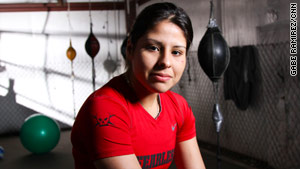 At 22, Marlen Esparza is a national boxing champ fighting to box at the 2012 Olympics.
Boxing has been a huge sport in the Latino world for decades, producing some of the community's biggest stars, such as John "The Quietman" Ruiz, a Puerto Rican who defeated Evander Holyfield for the world heavyweight title in 2001. Some boxers say Latinos have a different boxing style that makes them stand out, always pushing forward and playing a strong mental game.
"We Latinas are natural fighters," says Raquel Ruiz, who is writing "Punching for Gold," a book about the Olympic journey. "We fight all our lives to get ahead. Some of us even grow up in the streets fighting with our fists. Boxing has always been a sport of Latino culture, and, like every other area, now the Latinas are taking it and owning it, making it our victory."
Esparza began fighting at 11 when she accompanied her brothers to a gym in Houston because her Mexican-born father, David, whose hero was Mexican boxing legend Julio César Chávez, wanted his boys to take up the sport.
As it turned out, the Esparza boys hated boxing, but little Marlen begged their trainer, Rudy Silva, to coach her. He's a police officer who patrols a tough Houston high school, and Esparza, who was having disciplinary problems in school, was just the kind of kid he sought to help. But he couldn't see how a girl could fit into his all-male program.
"I tested her by boxing the boys, figuring she would get scared off," he remembers. "Suddenly it was she who was testing them!"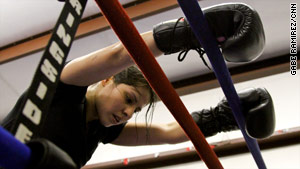 Esparza began training as a boxer at age 11, and snuck into the national championship at age 16.
Silva took her on and helped guide her to the sport's elite level. There are no shortcuts: It takes unbelievable dedication to withstand the punishing training regimen of a champion boxer. But at age 16, too young to qualify, Esparza sneaked into the national championships and won. Since then she has competed in the Pan American Games and the Women's World Boxing Championships. Her success has drawn other Latinas into boxing.
"If I make it to the Olympics it's going to mean so much to my community," she says.
Esparza has only lost once in the States since she began entering national competitions nine years ago, and it was to another Latina: Christina Cruz, a Puerto Rican boxer who dominates the New York women's boxing scene.
U.S. Olympic Coach Gloria Peek, who has trained the United States men's team for 33 years, notes that women's amateur boxing has been dominated by blacks and Latinas from working-class backgrounds, and that many have been transformed by the discipline of the sport. Esparza fits that profile: Once a troublemaker, she graduated in the top 2% of her high school class.
Eight women will compete in each of three weight classes at the Olympic trials. They are the winners of the top national tournaments. So far, half the flyweights are Latinas. The other weight classes are dominated by African-American boxers. All the competitors will be chosen by October 8, after the year's last major national fight, the Police Athletic League championships.
The trials are scheduled for February 2012. Only one woman in each weight class at the trials will make Team USA and win the chance to compete internationally.
Meanwhile, Esparza has tied the record for most national championships by winning her sixth. Esparza says she's winning now by using guile and smarts, as well as her fists.
"I move my head a lot and I time people," she says.
If her timing is right, Esparza will not only continue to get victories in the American ring, but she may just make a mark for Latinas around the world.
FOLLOW THIS TOPIC