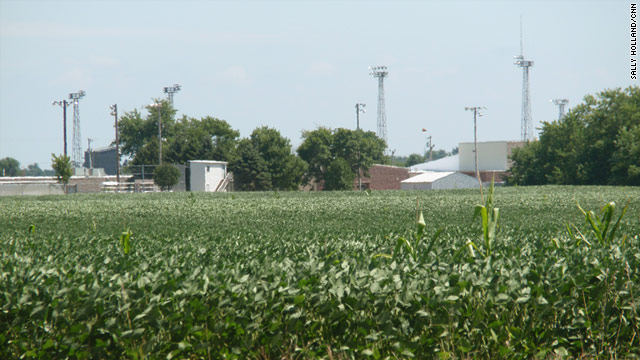 STORY HIGHLIGHTS
About 25% of all students in the U.S. attend public schools in rural areas
Rural schools' graduation rates are comparable to city and suburban rates
Schools in rural areas sometimes have trouble attracting teachers due to pay, lifestyle
Mediapolis, Iowa (CNN) -- Outside the small town of Mediapolis, Iowa, the elementary, middle and high school buildings sit together in one complex, surrounded by acres and acres of corn fields.
It's the kind of place where "everybody knows everybody," Mediapolis School District Superintendent Greg Ray says of the 1,600-resident town.
And that sense of community translates to strong support for their students.
More than a third of the public schools in the United States are in rural communities, according to the U.S. Department of Education, and about a quarter of all U.S. students attend those schools.
Rural schools have come a long way since Laura Ingalls sat on a wooden bench in a one-room schoolhouse, reciting her times tables. Like their urban counterparts, students learn everything from computer technology to Mandarin Chinese. But it's a challenge to provide a variety of classes to a smaller number of students.
Ray administers more than 800 students from Mediapolis and the surrounding communities in classes running from pre-kindergarten through high school, with 60-70 students per grade.
When only a few students are interested in a particular topic, like learning Mandarin, it creates problems for Ray.
"I can't afford a teacher for two kids," he said. "In urban areas, where you have a lot more population, you can afford a teacher because you will have several kids taking that class."
For this school year, Ray has managed to snag a Chinese native that he will share via computer hook-up with other school districts in Iowa.
Attracting good teachers in general is a common problem among rural schools.
"It is harder, no question, to recruit and retain highly effective teachers and principals in rural communities," said Kris Amundson of Education Sector, a nonprofit, nonpartisan organization based in Washington that works to promote changes in education policy that benefit students.
Rural schools generally offer lower pay than both their urban and suburban counterparts, and the rural lifestyle tends to be more isolated, making it less attractive for some teachers, she added.
West of Mediapolis, still amongst the corn fields of Iowa, is Wayland School District, where Todd Werner is the principal for both the Waco High School and Junior High, responsible for about 250 students total.
"We just can't pay our teachers as much as other districts," Werner said.
Even small fluctuations in his student population can have a big impact on his budget, Werner said, because the state allocates a certain amount of money on a per-child basis.
"For a rural school like us, if enrollment drops by 5 to 10 students, it can be a significant amount of money that we would not get from the state," he said.
In Mediapolis, Ray says that the money to run the district school buses -- including fuel costs -- comes from his general education fund and is also allotted on a per-student basis.
All of those large fields that encircle the rural schools in this southeast corner of Iowa mean the student body is spread out, making for long bus rides.
"If you have districts that don't run a bus, they're not spending some of that money before the kids get to the building," he said. "We lay out a pretty good chunk before the kids even get here, which makes it then a little more difficult to provide the same materials, the same teachers and those kinds of things as other schools."
Rural schools in general have strong high school graduation rates. Amundson says there tends to be a "tremendous commitment" to getting young people through high school in these communities.
"The graduation rate at public high schools in rural areas is essentially on par with suburban areas," she said, even though that doesn't necessarily translate to more kids going to college.
"College enrollment is really low," she said, noting that only 17% of adults in rural communities have a college degree. Studies have shown that children with college-educated parents are more likely to attend college themselves.
"Despite the challenges, our top kids compete with the top kids anywhere," said Werner attributing their success to the rural lifestyle. "In a smaller community, these teachers get to know these kids a little bit better because they know their parents, grandparents, relatives, and neighbors. Because of that, they are probably a little bit more dedicated to helping those kids succeed and preparing them for the future."
Ray agrees.
"One of the advantages of a rural area, is that everybody knows everybody and helps support everybody," he said.