STORY HIGHLIGHTS
U.S. gives more than $2 billion annually to Israel
Group opposing that aid shares its views in subway campaign
Pro-Israel aid group plans campaign in same subway stations
New York (CNN) -- As the United Nations General Assembly prepares to address the bid of Palestinian statehood next week, American supporters and critics of Israel are taking their war of words underground -- to the New York subway system.
Twenty-five posters calling for an end to U.S. military aid to Israel appeared in 18 subway stations across the city this week. In response, posters supporting Israel are to appear in the same subway stations as early as two weeks from now, according to Stand With Us, the group sponsoring the response posters.
The posters opposing Israeli aid feature pictures of a Palestinian man with a young girl and an Israeli man with a young boy. "Be on our side," the poster says, "We are the side of peace and justice." At the bottom of the poster it calls for the United States to stop funding the Israeli military.
The Committee for a Just Peace in Israel and Palestine launched in Chicago in 2010 and is responsible for the posters. According to a news release from the organization, a wide range of groups in New York "from the social justice and interfaith communities" have locally sponsored the national campaign called Be on Our Side, which has already run in six major U.S. cities including Chicago, San Francisco and Washington.
The news release says, "The campaign is designed to encourage U.S. policies that promote peace, equality, and security for Palestinians and Israelis and to inform Americans about the scale and consequences of U.S. military aid to Israel."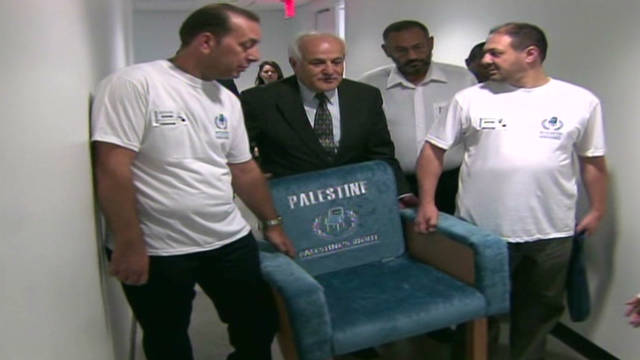 How to achieve U.N. membership
In New York, the financial sponsorship of the posters is centered on the WESPAC Foundation. Felice Gelman, a member of the foundation, describes WESPAC as a Westchester-based grass-roots social justice foundation.
According to Carl Schieren of the New York chapter of Jewish Voice for Peace, one of the groups working with WESPAC to fund the poster campaign, the announcements are designed to give a positive message around the idea that U.S. military funding to Israel is bad for all parties involved. "It's bad for Americans, bad for Palestinians and bad for Israelis," he said.
"Palestinians have faced egregious violations of human rights, Israelis have become dependent on U.S. aid and still know no peace, and we want Israel to know peace by talking with their adversaries. Americans have been spending money for years, and it hasn't bought us very much."
According to the U.S. State Department, U.S. military aid to Israel in 2009 totaled $2.55 billion. This will increase to $3 billion in 2012, and will total $3.15 billion per year from 2013 to 2018.
Gelman said the local poster initiative is funded by individual donations from across the coalition of groups. "Like many Americans, our campaign is running paycheck to paycheck, which is relevant. From our standpoint, (the money spent on Israel) is not achieving its stated purpose of moving toward a peaceful resolution of the Palestinian conflict."
"I want to make this very clear," Schieren said. "This is not meant to drive Israel into the sea. It's trying to find a way Israel can be viable in its neighborhood."
In response to these posters, Stand With Us, an international nonprofit pro-Israel organization, said it will purchase ad space for posters supporting Israel in every location and every subway station the WESPAC posters can be found.
"In this billboard war, they're misrepresenting the conflict (between Israel and the Palestinian territories)" said Roz Rothstein, founder and CEO of Stand With Us. "They ignore the fact that the Arab world and Hamas have said no to peace for decades. They're ignoring the rockets being fired into Israel all the time."
"We are countering these ads in New York as we have countered them in many other cities. Wherever they go, we'll go." Rothstein said. "When they lie about your people, you have to stand up and say, 'You're lying.' "
The posters Stand With Us will sponsor in New York feature two boys, an Arab and a Jew, their arms around each other and smiling. "Israel needs a partner for peace" it reads across the top of the poster. "The Palestinian Authority must accept the Jewish state and teach peace, not hate" it says.
Rothstein said her organization wants to clear things up about what she said is the state of things in Israel. "It's a tricky thing they do; they point a finger at Israel. Instead of working to a peaceful coexistence, they pretend they're the ones holding the banner for peace," she said. "The U.S. gives a lot of funding to the Palestinian Authority, and we get no transparency; it's like the pot calling the kettle black," she continued, "Let's talk about funding hate and violence."
According to Secretary of State Hillary Clinton, the United States gave the Palestinian Authority approximately $600 million in 2010, with $225 million going to direct budgetary assistance.
Rothstein said she believes the WESPAC posters are insidious. "You've got to be careful not to create hate or violence with these pseudo-justice posters," she said, "If they were really progressive they wouldn't do this. (Those behind the posters) are extremists. If they really cared about the Palestinians they would say have your own Arab Spring and get rid of Hamas."
FOLLOW THIS TOPIC