U.S. official: Offer to Gbagbo to come to U.S. 'rapidly closing'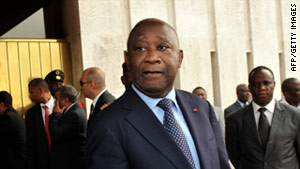 Laurent Gbagbo waits before a meeting with mediators at the presidential palace Monday in Abidjan, Ivory Coast.
STORY HIGHLIGHTS
A senior administration official says Gbagbo is ignoring U.S. efforts to communicate
Gbagbo owns properties in the region and elsewhere and has relatives in the United States
But the official says the self-declared president "refuses to leave" Ivory Coast
Washington (CNN) -- A senior administration official says an offer for self-declared Ivory Coast President Laurent Gbagbo to step down and come to the United States still is open but Gbagbo is "digging in."
The official, who spoke on background because of the diplomatic sensitivity of the issue, said "If President Gbagbo is looking for a dignified exit we remain open to help him with that, but there's no indication that he's prepared to leave at this point."
The official said Gbagbo, who was defeated in an election but refuses to cede power, has ignored efforts by the U.S. to communicate. "He has declined to see our ambassador," the official said, "He has declined to accept phone calls. But we have provided written communication. He is aware."
Gbagbo, he said, owns a number of properties both in the region and elsewhere "so he's got no shortage of possible destinations."

Laurent Gbagbo pressured to step down
"A number of countries have offered him a place to live," the official added, "but the issue is, he refuses to leave."
Gbagbo has relatives in Atlanta, this official confirmed.
"We want to see him leave," the official said. "If he wishes to come (to the United States) we, of course, would entertain that as a means of resolving the current situation, but any opportunity to do that is an opportunity that is rapidly closing because of what's happening on the ground and every indication we have is, at this point, he's digging in."
FOLLOW THIS TOPIC