Uganda media can't publish identities of homosexuals, high court says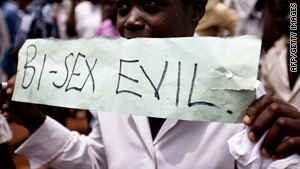 A high court banned the media from publishing the identities of gay people in Uganda, where homosexuality is a crime.
STORY HIGHLIGHTS
NEW: The court awards damages of $650
The ruling stops the media from printing names and pictures of people it says are gay
The order comes more than two months after a local tabloid published a list
Kampala, Uganda (CNN) -- The Ugandan high court has banned all media outlets in the country from publishing lists identifying people they claim are gay after advocacy groups filed a lawsuit.
The order after Rolling Stone -- a local tabloid which has no relation to the iconic U.S. music magazine -- published lists of people it said were gay, urging readers to report them to police.
Monday's ruling applies to all media outlets in Uganda, not just the tabloid.
The court awarded damages of 1.5 million Ugandan shillings ($650) to the three groups that brought the case to court.
Kasha Jacqueline with Freedom and Roam Uganda, a lesbian support organization, called the ruling "overwhelming," saying it has brought the country's gay community together in solidarity.
Giles Muhame, the tabloid's managing editor, said he was "surprised" by the ruling, saying the court has set a "dangerous precedent" that "promotes homosexuality."
Muhame has vowed to continue publishing lists of homosexuals in Uganda, despite the legal consequences.
The next issue of Rolling Stone is due on news stands Saturday.
In November, the tabloid listed 100 of what it called the country's top gays and lesbians, with photos and addresses alongside a yellow banner reading "hang them."
The next month, the paper listed 10 more people it claimed were gay. The list included addresses and alleged intimate details about the anatomy of people on it.
Muhame has said homosexuality is more dangerous than smoking.
Gay rights groups in Uganda say at least four people have been attacked since then.