Possible compromise in Ivory Coast?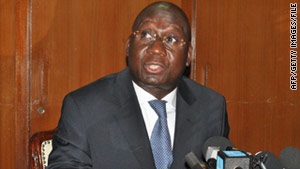 Ivory Coast has been in a political crisis since Laurent Gbagbo's refusal to step down.
STORY HIGHLIGHTS
Ivory Coast has been in crisis since the November runoff election
Incumbent Gbagbo claims he won the election for president
The United Nations recognizes Ouattara as the winner
United Nations (CNN) -- Ivory Coast's president-elect is willing to add supporters of self-proclaimed president Laurent Gbagbo to his cabinet, provided the defiant incumbent steps down, the West African nation's ambassador to the United Nations said Monday.
Ambassador Youssoufou Bamba said President-elect Alassane Ouattara would not enter a power-sharing government similar to that in Zimbabwe but that he would be open to a unity cabinet.
U.N. spokesman Farhan Haq could not confirm any such offer from the Quattara government and said that Secretary-General Ban Ki-moon still called for Gbagbo to step down in favor of an orderly transition.
The cocoa-producing West African nation was plunged into crisis when Ouattara was declared the winner of the November 28 presidential runoff election, but Gbagbo, the incumbent, refused to leave office.
The U.S. Treasury froze Gbagbo's assets in the United States last week and barred Americans from doing business with him. His wife and three top aides also were sanctioned.
Ouattara told CNN last week that he welcomes a proposal for direct negotiations with Gbagbo -- on the condition that Gbagbo recognize Ouattara as president.
Ouattara remains holed up in a waterfront hotel under the protection of U.N. peacekeepers.
An independent election commission declared Ouattara the winner of the runoff election in November, but Gbagbo said that the commission was not authorized to declare a winner, and he endorsed the country's Constitutional Council when it declared him the winner.
The United Nations and an ever-increasing number of other nations have recognized Ouattara, a former prime minister, as the rightful winner.
The United States and other countries have offered Gbagbo what they call a "dignified exit," which could mean living and working in other countries, including the United States.
Gbagbo, however, has ignored those offers and has refused to accept telephone calls from U.S. officials.
Ouattara has said he will ensure protection for Gbagbo if he concedes, said Kenyan Prime Minister Raila Odinga, the African Union envoy for a multinational mediation effort.
Violence following Gbagbo's refusal to vacate office has left more than 170 people dead in Ivory Coast and disrupted life for residents in Abidjan, the country's commercial hub.
FOLLOW THIS TOPIC