STORY HIGHLIGHTS
Supa Strikas started as a weekly insert in a South African newspaper
It's now a comic book and animated series, distributed in 16 countries worldwide
Comic translated into several languages, including Cantonese, Arabic and Spanish
Cape Town, South Africa (CNN) -- He is one of Africa's brightest footballing talents, with a reputation that's spreading around the world. His name is Shakes -- a brash young striker known for his "lethal combination of skill and determination" and his signature move -- the bicycle kick.
But he's unlikely to be signed by Real Madrid or Chelsea any time soon, because Shakes is strictly 2D -- the star of the hugely popular South African comic series Supa Strikas.
In the course of 10 years and 100 issues it has grown from a weekly insert in a South African newspaper to a comic book and animated TV series.
And it's no longer only South Africans who follow the exploits of Shakes and his team mates. The comic is now available from Asia to Europe, translated into several languages, including Cantonese, Arabic and Spanish, while the cartoon is distributed in 16 countries worldwide.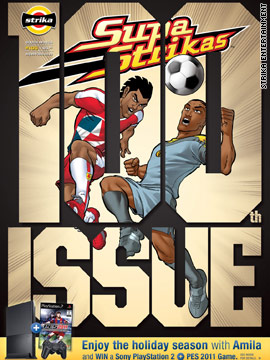 Gallery: Supa Strikas
Its international success is a source of great pride for its creators. "It's very exciting for us that people in faraway places are adopting it as their own," said Supa Strikas CEO Richard Morgan-Greenville.
"I've seen fans online, one in Lagos and the other one in Windhoek in Namibia, arguing that 'hey this is a Namibian product, no no, what are you talking about? It's Nigerian.' There's a lot to be said for that kind of patriotism that comes out of it," he says.
"We're definitely exporting a little bit of South Africa to the world when Supa Strikas goes out in Latin America or Asia.
"There's something about our culture and our personality in every single issue."
It's the job of the comic's head illustrator Bonisa Bonani and his team to turn ideas into art, bringing the Supa Strikas to life.
We're definitely exporting a little bit of South Africa to the world when Supa Strikas goes out.
--Richard Morgan-Greenville, CEO Supa Strikas
"The whole point of comics is, it has to be interesting and dynamic to the eye, because it's the art which attracts you before the story, before everything else, so the art has to grab you," says Bonani.
It is a detailed and time-consuming process to turn the ideas into a fully fledged comic book every week. For every page, it takes approximately three days to turn Bonani's black and white sketches into the colored final product.
"It starts out as a bunch of lines, then we bring in some flat color, and start building the layers, add a bit more color, then you start shading, adding effects," says creative director Bruce Legg.
"Then we add a bit of depth, and finally we add text, and hopefully by that point we're all still awake and can send it to the printer."
Despite its growing international success, its creators believe Supa Strikas will always be uniquely South African.
"I think that it's a story that at its heart is very South African," says Legg. "It started with a kid from Soweto who, like all kids, dreamed of being in the best soccer league in the world."
For Supa Strikas' fans with their own ambitions of soccer stardom, Shakes is living the dream. And that's part of the comic's appeal.
"It's really about the person we all think we might be able to be, or that we hope to be one day," says Morgan-Greenville.
"All of us as viewers project into the character of Shakes and for a moment, we imagine that we are this international soccer star."
FOLLOW THIS TOPIC