STORY HIGHLIGHTS
NEW: The president implies he will not run for re-election in 2014
NEW: "There will not be presidency for life"
NEW: Government concessions include a promise that police will not use live ammo except in self-defense
Tunis, Tunisia (CNN) -- Tunisia's president vowed Thursday to cut prices of basic foodstuffs, to lift censorship and to ensure police do not use live ammunition except in self-defense, and implied that he will not run again for president.
"Enough violence," President Zine El Abidine Ben Ali said on national television after days of riots that have killed at least 21 people. "I also gave orders to the interior minister ... not to use live ammunition. It is unacceptable and unjustified unless someone uses his weapon and forces you to defend yourself."
Ben Ali said he had asked the prime minister to reduce prices of staples, including sugar, milk and bread and said he had decided to give "complete freedom to all media outlets ... as long as they respect our values and the value of the profession."
The 74-year-old president added that he would not push to change the law setting an age limit for presidential candidates in the next election in 2014. By then, he would have exceeded the 75-year age limit. "There will not be presidency for life," he said.
The president's remarks came as street unrest percolated and a message purportedly from an al Qaeda affiliate announced its support of protesters.
The demonstrators are protesting high unemployment, alleged corruption, rising prices, and limitations on rights in the North African nation perched on the shore of the Mediterranean Sea.
The wave of demonstrations was sparked by the suicide of an unemployed college graduate, a man who torched himself in December after police confiscated his fruit cart.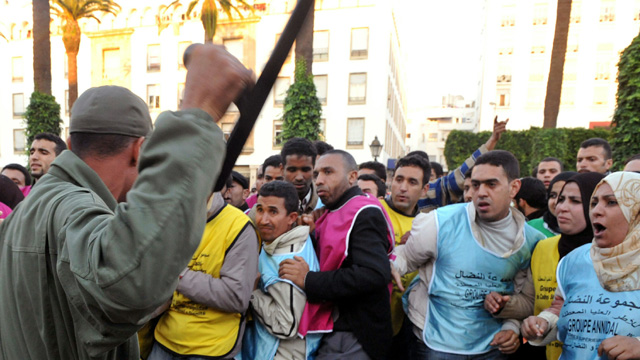 Social media's role in Tunisia protests

Students riot in Tunisia over jobs
Riots and clashes occurred Thursday on Mohamad Ali Street in the capital, Tunis, where security forces patrolled the area. Also, rioting erupted on Al Tadamon Street in that city's suburbs. Amateur video showed security forces clashing with protesters and what appeared to be tear gas could be seen.
The videos also showed throngs of protesters packing the streets in Sousse and in Kairouan province. In Sousse, the demonstrators chanted that they will not give up protesting against government economic policies.
Arabic-language media, citing witnesses, reported six deaths Thursday.
Ben Ali's concessions came a day after the top U.N. human rights official urged Tunisia's government to make sure its security forces stop using excessive force against protesters and investigate deaths that occurred during demonstrations.
State-run TV on Thursday reported that Ben Ali picked a new interior minister, Ahmed Qureiah, to replace the fired Rafik Belhaj Kacem.
The president also has fired a couple of close aides, both of whom are perceived to be conservative hard-liners, said Abdel Latif Abid, a Tunisian human rights lawyer and an active member in the opposition.
TV reported that Ben Ali has decided to release everyone detained in the latest events in various parts of the country, except for those who were proven to have links to violence.
He has decided to form a committee to probe the violence and a second committee to look into complaints of bribery, corruption and officials' mistakes, TV reported.
Ben Ali also called on the country's two houses of parliament to meet in an emergency session and implement presidential decrees to help raise employment, create more resources to improve peoples' living and push for more investments.
Abid also told CNN that Tunisian Prime Minister Mohamed Ghannouchi was meeting the opposition leaders, Mustafa Ben Jaafar, Ahmad Ibrahim and Ahmad Najib.
The meeting was viewed by the opposition as an unprecedented step by the government toward the opposition.
In recent years, Abid said, the government has created fake opposition parties. It is the first time that the government is meeting with the real opposition, he said.
The unrest has drawn travel warnings from the U.S. State Department.
The State Department recommended suspending "non-essential travel" to the country and urged Americans to avoid any demonstrations.
"These spontaneous and unpredictable events have degenerated on several occasions into violent clashes between police and protesters, resulting in multiple deaths, injuries, and extensive property damage," the warning said.
The State Department said the Tunisian government has imposed an 8 p.m. to 5:30 a.m. curfew for the greater Tunis metropolitan area.
The unrest has also attracted the attention of the al Qaeda terrorist network. An audio message about Tunisia surfaced Thursday on militant websites said to be from al Qaeda's North African affiliate, al Qaeda in Islamic Maghreb.
While CNN could not authenticate the message, it appeared on various radical Islamist websites known for posting similar statements, messages and recruitment videos by al Qaeda figures.
The 13-minute message is titled "A call of blessing & Support for the intifada of our people in Tunisia" and is said to be from AQIM leader Abdelmalek Droudkel, also known as Abu Musab Abdul Wadud.
In the message, he expresses support for the protesters and calls the clashes part of the main battle against tyranny, crusaders and Jews. The term "crusaders" is usually a reference to Christians.
The message says that the riots in the Tunisian capital are nothing but a "loud outcry from a victim confronting his executioner, breaking the wall of silence that overshadowed Tunisia for long decades, a long awaited outcry and a blessed uprising against tyranny."
The speaker says AQIM is ready to offer advice and encourages the protesters to defy the government as part of a larger battle to "liberate the lands of Islam" and establish sharia law.
"Now for your movement to be fruitful, your uprising should not be limited to one city or one suburb but your duty is to spread all over and extend your action to every part of the country because the tyrant can only extinguish the fire of one uprising of one limited group but not the fire of the uprising of the whole nation," the message says.
The street protests have gotten the attention of the world.
U.N. High Commissioner for Human Rights Navi Pillay said Wednesday that reports suggest the majority of protesters have been peaceful and that security forces have overreacted.
"It is imperative that the government launch a transparent, credible and independent investigation into the violence and killings," she said. "If there is evidence that members of the security forces have used excessive force, or conducted extra-judicial killings, they must be arrested, tried and -- if found guilty of offences -- punished according to the law. It is essential that justice is done, and is seen to be done."
She also expressed her concern over widespread arrests.
"While it is correct that people should be arrested if there is evidence they have committed crimes such as violence or arson, no one should be arrested or harassed for standing up for human rights," she said. "Human rights defenders and bloggers, arrested solely for their peaceful activities, must be released immediately."
CNN's Amir Ahmed contributed to this story
FOLLOW THIS TOPIC