U.N. expected to approve more peacekeepers for Ivory Coast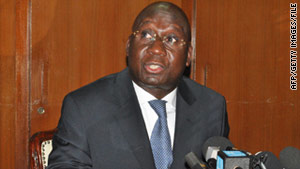 Ivory Coast has been in a political crisis since Laurent Gbagbo's refusal to step down.
STORY HIGHLIGHTS
NEW: The U.N. Security Council votes Tuesday on more troops for Ivory Coast
Raila Odinga, serving as the African Union's mediator, met with Gbagbo on Monday
The African Union and other organizations have called on Gbagbo to step aside
United Nations (CNN) -- The U.N. Security Council is expected to authorize another 2,000 troops for its peacekeeping force in Ivory Coast on Tuesday amid a standoff between the mission and supporters of self-proclaimed President Laurent Gbagbo.
The Security Council is expected to approve the increase unanimously, a diplomat from one of the council's member states told CNN. U.N. officials requested up to 2,000 more peacekeepers in early January, bringing the current mission to more than 11,000 troops and police.
Gbagbo has rebuffed calls to cede power to the internationally recognized winner of November's presidential runoff, Alassane Outtara. Ouattara is holed up in a hotel in Abidjan under the protection of U.N. peacekeepers, and the United Nations has blamed Gbagbo's supporters for a string of attacks on U.N. vehicles and troops in the past week.
Gbagbo's foreign minister, Alcide Djedje, said earlier this month that the peacekeepers are "complicit with the rebellion" and that the sitting government has "no more confidence in the U.N."
The standoff has raised fears of a renewal of the bloodshed suffered after a civil war broke out in 2002. More than 25,000 Ivorians have fled to neighboring Liberia since the crisis began, the U.N. High Commissioner for Refugees reported last week.
The Economic Community of West African States has threatened to use "legitimate force" to remove Gbagbo, who met Monday with African Union mediator Raila Odinga. Odinga, Kenya's prime minister, arrived in Abidjan for the talks early Monday.
The cocoa-producing nation was wracked by civil war from 2002 to 2007, when a settlement left the country divided between north and south. The 2010 elections came with high expectations that they would open a new chapter in the country's history.
CNN's Whitney Hurst and Zain Verjee contributed to this report.
FOLLOW THIS TOPIC