Zimbabwe AG probing Tsvangirai over WikiLeaks disclosures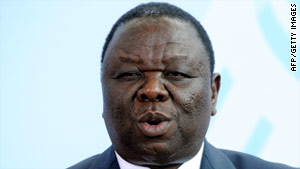 Leaked U.S. embassy cables say Morgan Tsvangirai was planning to contribute to a regime change fund in Zimbabwe.
STORY HIGHLIGHTS
Attorney general sets up panel to probe prime minister
The panel will look into disclosures by WikiLeaks
An opposition leader says the probe is "nonsense"
Harare, Zimbabwe (CNN) -- The attorney general in Zimbabwe has set up a team of lawyers to investigate whether Prime Minister Morgan Tsvangirai can be charged with treason or conspiracy related to revelations by the website WikiLeaks.
WikiLeaks published U.S. cables last week saying Tsvangirai and his party leadership were planning with U.S. diplomats for Washington to contribute to a fund to buy-off security service chiefs to achieve regime change in Zimbabwe.
"I want to get the legal opinion of the legal experts to see if I can proceed with prosecution," Attorney General Johannes Tomana said an interview Monday. He said the six-member team would remain secret "to maintain its independence and professional integrity" and would submit its recommendations by end of March.
Ironically, Tomana is himself a source of tension in the coalition government that President Robert Mugabe and Tsvangirai formed in 2009.
Tsvangirai accuses Mugabe of unilaterally appointing Tomana as the country's chief lawyer. On Monday, Tomana said he was not worried that tensions would rise further in light of the probing of Tsvangirai.
"If a senior government official breaks the law should not he be gone after? No. We are not supposed to protect any criminal. It does not matter what rank they have in life. I have a duty to make them answer the law they would have violated," said Tomana.
"Everybody is satisfied that the laws were violated. We want a proper inquiry to be able to zero-in on the violations and deal with that and not speculations."
Nelson Chamisa, a spokesman for Tsvangirai's MDC party, said the party would not recognize the findings of the probe team.
"To us this (probe) is basically nonsense. Rubbish to say the least. Who is he, in the first place? The legitimacy of Mr. Tomana is still in dispute and he goes on to waste state resources to set up a commission of inquiry based on hearsay," said Chamisa, who is a minister in Zimbabwe's coalition government.
"We need serious inquiries set up on human rights violations and on more than 200 MDC supporters murdered in 2008.
"This probe is just a political gimmick. MDC is not going to be part of that farce created by Zanu PF," Mugabe's political party. "We want to see who will recognize the probe findings."
WikiLeaks is not new to controversies in Zimbabwe. Last year, Mugabe's wife, Grace, sued a local weekly newspaper for 500 million Zimbabwe dollars for publishing quotes from WikiLeaks which implicated her in illegal diamond deals.
FOLLOW THIS TOPIC