STORY HIGHLIGHTS
NEW: Interim Prime Minister Mohammed Ghannouchi says he will leave politics after elections
Tunisian government interrogates 33 from ousted president's entourage, official says
All political parties applying for authorization "received positive reply," according to official TAP news agency
(CNN) -- Tunisia's interim prime minister said Friday that his country would hold its first free democratic elections since gaining independence, vowing to leave politics after those elections.
"We want to make the next elections the first transparent and legitimate elections since independence," Tunisian Interim Prime Minister Mohammed Ghannouchi said Friday on state-run Tunis TV.
"After this transitional period -- with all honesty -- I will leave any political role I have even if I was selected or appointed," he said. "I will leave political life and retire."
Tunisia gained independence from France in 1956.

Could Tunisia's unrest spread to Egypt?

Tunisian ripple effect in Jordan?

Tunisian protests go on, police stand by

Glimpse of normalcy in Tunisia

Tunisia's ruling party is shunned
Ghannouchi's remarks came in an interview with two independent journalists on Thursday that Tunis TV aired on Friday.
Ghannouchi spoke of coming political reforms that he said would "scrap all undemocratic laws including laws involving political parties, the elections, and the anti-terrorism law that was abused by the former regime."
"I lived like all Tunisians, in pain and fear," under former President Zine al-Abidine Ben Ali -- who was ousted in a rebellion a week ago -- Ghannouchi said.
Ghannouchi resigned from his ruling party this week and was appointed interim Prime Minister by the interim President Fouad Mebazaa.
Tunisia's new government is interrogating 33 people from Ben Ali's entourage, a top official said Friday, while 1,200 others who have "spread terror among the population and carried out unacceptable acts" have been arrested, according to state media.
Tunisia's Interior Minister Ahmed Friaa announced the arrests in a news conference, saying that "33 members of families close to the former president have been brought to justice and are now being interrogated."
"These people's jewels and huge sums of money in their possession have been seized," the country's official TAP news agency reported, citing Friaa, a holdover from the previous government.
In the interview that aired Friday, Ghannouchi said, "We have frozen their bank accounts and properties in the country," referring to assets belonging to families close to the former president.
"A judge was appointed to determine how to deal with their wealth," Ghannouchi said.
He said that the Tunisian government is trying to freeze money belonging to relatives of the former president and said that the money would eventually be returned to the Tunisian people.

CNN crew caught in Tunisia tear gas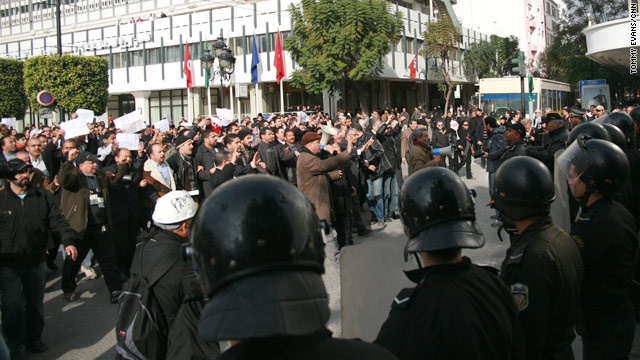 Gallery: Startling power shift in Tunisia
Former presidential guard director Ali Seriati is among those being interrogated, Friaa said. Friaa also confirmed earlier reports that Imed Trabelsi, the nephew of the ousted president, is among those being interrogated.
The identities of those being questioned will not be released until "they are judged," TAP reported.
Some of the 1,200 people arrested by the new government have been released, Friaa said, while 382 others face charges such as carrying illegal firearms, looting and committing violence.
Friaa described those who'd been killed in Tunisia's recent uprising as "martyrs of the Revolution," according to TAP.
He said that all political parties that have applied to be officially authorized "had received positive reply," according to TAP, including the Green Tunisia Party, the Left Socialist Party and Tunisia's Patriotic and Democratic Labour Party.
Friaa also said that a new group called the Baath Party -- which appears to be an offshot of former Iraqi leader Saddam Hussein's party -- had also applied for authorization.
Video from Tunis TV showed thousands of protesters in the capital, Tunis, for another day on Friday, calling the new government a sham and demanding that officials with connections to the old guard be fired.
On Thursday, Tunisia's new government announced it will recognize political groups banned under the regime of Ben Ali and grant amnesty to all political prisoners.
The Thursday announcement followed the first meeting of the new cabinet formed by the North African country's interim leaders as they and other former members of Ben Ali's ruling party tried to climb from under his shadow.
Ben Ali's Constitutional Democratic Rally's central committee was dissolved earlier Thursday, and all Cabinet members who once belonged to the party have quit it.
The party, known as the RCD, suffered a major blow earlier this week when Ghannouchi and interim President Mebazaa submitted their resignations from the party, though they remained in the government, Tunis TV reported.
Mebazaa has said he plans to sever "any link with the past," referring to the unpopular years of the former regime's authoritarian rule. His government is tasked with leading Tunisia toward new elections.
But for many Tunisians, the resignations and promises are not enough.
"The Tunisian people don't want this party, this dictatorial party," English teacher Mohammed Basha said. "We want a real revolution. We don't want any more lies, because we are fed up. Twenty-three years of lies."
Ben Ali ruled Tunisia for 23 years. The RCD initially formed a consensus government with the opposition, but protesters demanded that members of the old administration -- whom they called "leftovers" -- be swept out of power.
Ben Ali's ouster followed weeks of protests over what discontented Tunisians said were poor living conditions, high unemployment, government corruption and repression. They were sparked when Mohamed Bouazizi, an unemployed college graduate, set himself ablaze after police confiscated a fruit cart that was his source of income. He died early this month.
More than 100 people were killed in protests that followed over the past five weeks, according to the U.N. Office of the High Commissioner for Human Rights. The fatalities include victims of live fire, suicides and weekend prison riots.
The rallies in Tunisia, one of the Arab world's most secular countries, have ignited unrest elsewhere in the region, including Algeria and Egypt.
FOLLOW THIS TOPIC