Tunisians mourn protest victims as small demonstrations continue
STORY HIGHLIGHTS
A three-day mourning period ends Sunday
Interim PM Mohammed Ghannouchi says he will leave politics after elections
Small protests break out in the Tunisian capital
Tunis, Tunisia (CNN) -- Tunisia on Sunday ended a three-day mourning period for dozens of people killed in protests that ousted the country's long-term president.
As the mourning period came to a close, small protests broke out in the capital, Tunis.
Protesters have decried a new government formed in the wake of President Zine al-Abidine Ben Ali's ouster.
They have called it a sham, and demanded that officials with connections to the old guard be fired.
The nation's interim prime minister said that his country would hold its first free democratic elections since gaining independence and vowed to leave politics after the ballot.

Could Tunisia's unrest spread to Egypt?

Tunisian ripple effect in Jordan?

CNN crew caught in Tunisia tear gas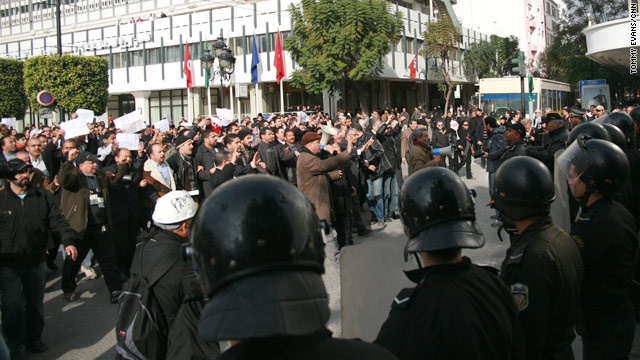 Gallery: Startling power shift in Tunisia
"We want to make the next elections the first transparent and legitimate elections since independence," Tunisian Interim Prime Minister Mohammed Ghannouchi said Friday.
Ghannouchi said he will retire from politics after the elections are held.
Tunisia gained independence from France in 1956.
Ghannouchi said upcoming political reforms would "scrap all undemocratic laws including laws involving political parties, the elections and the anti-terrorism law that was abused by the former regime."
"I lived like all Tunisians, in pain and fear" under the former president, Ghannouchi said.
Ben Ali was ousted in a rebellion a week ago after ruling the north African nation for 23 years.
Ghannouchi resigned from his ruling party this week and was appointed interim Prime Minister by the interim President Fouad Mebazaa.
Ben Ali's Constitutional Democratic Rally's central committee was dissolved last week. All Cabinet members who belonged to the party have quit it.
The party, known as the RCD, suffered a major blow earlier this week when Ghannouchi and Mebazaa submitted their resignations from the party, though they remained in the government, Tunis TV reported.
His ouster followed weeks of protests over what discontented Tunisians said were poor living conditions, high unemployment, government corruption and repression.
More than 100 people were killed in protests that followed over the past five weeks, the United Nations said.
FOLLOW THIS TOPIC


Part of complete coverage on

Pro-Mubarak supporters believe Egypt's former president is innocent of charges of corruption and killing protesters.

Fighting in Libya started with anti-government demonstrations in February and escalated into a nationwide civil war.

After months of seeming stalemate, Libyan rebels declared they were moving in on Tripoli. But who are they?

Six months and more than 17,000 air sorties after it began, NATO's Operation Unified Protector in the skies over Libya grinds on.

Click on countries in CNN's interactive map to see the roots of their unrest and where things stand today.

Are you in the Middle East or North Africa? Send iReport your images. Don't do anything that could put you at risk.

Behind the official smiles for the cameras some people in Libya's capital are waiting for the rebels, reports CNN's Ivan Watson.

Tunisia's Mohamed Bouazizi not only ignited a series of revolts but heralded the first appearance of Arab youth on the stage of modern history.


Today's five most popular stories