STORY HIGHLIGHTS
Former IAEA chief, Nobel laureate Mohamed ElBaradei to join protests Friday
Has received death threats after pushing for grassroots change in Egypt
No plans as yet to run for president despite calls for his candidacy
Says will not stand while "the deck is stacked completely"
(CNN) -- When thousands of angry protesters take to the streets of Egypt on Friday, one man many see as the country's next potential leader will be among them.
The Cairo-born former head of the United Nations nuclear watchdog, Nobel Peace Prize winner Mohamed ElBaradei on Thursday returned to the country, despite death threats, to be with "his people."
"There was an edict against me a couple of weeks ago basically saying that my life should be dispensable because I am defying the rulers," ElBaradei told CNN on Tuesday.
He said he would have no official protection during his trip to Egypt, but felt the need to express solidarity with his people in person amid criticism he has kept a safe distance while all too subtly trying to encourage change.
"I have no security when I go to Egypt .... but, you know, you have to be with your people," ElBaradei said.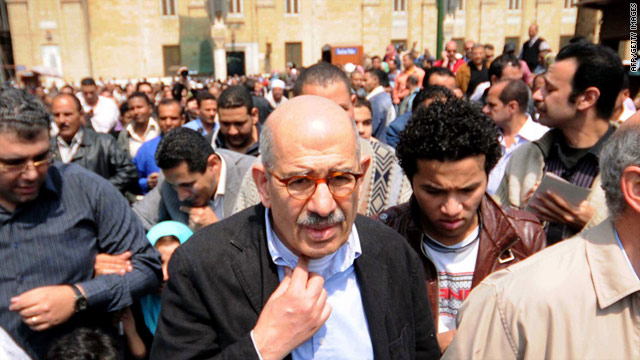 ElBaradei: Egypt is not stable

Egypt's reluctant leader

ElBaradei on the Iraq war

ElBaradei targets new democracy
Thousands of protesters clashed with police on the country's streets on Tuesday and Wednesday as unrest in nearby Tunisia stirred simmering discontent with President Hosni Mubarak's 30-year regime.
In central Cairo, people were beaten with sticks and fists and demonstrators were dragged away as police fired tear gas into the crowd. At least four people were reported dead and dozens were injured as demonstrations flared up outside the capital in the port city of Suez and Sheikh Zwayd, an area close to Egypt's border with Gaza.
ElBaradei watched as the protests unfolded, posting messages of support on social networking site Twitter.
"We shall continue to exercise our right of peaceful demonstration and restore our freedom & dignity. Regime violence will backfire badly," he wrote Wednesday night.
But one user asked: "Where were you when people were being beaten and arrested?"
ElBaradei has yet to form a political party but hundreds of thousands of Egyptians have set up Facebook groups supporting his candidacy. One "Elbaradei for Presidency of Egypt_ 2011" counts more than 200,000 members.
Asked whether he would run for president, ElBaradei said: "Whether I run or not, that is totally irrelevant. And I made it very clear; I will not run under the present conditions, when the deck is stacked completely."
"The priority for me is to -- is to shift Egypt into a democracy, is to catch up with the 21st century, to get Egypt to be a modern and moderate society and respecting human rights, respecting the basic freedoms of the people."
ElBaradei began working in Egypt's diplomatic service in the early 1960s. In 1980 he joined U.N. and in 1997 he became head of the IAEA, taking on some of the world's most uncompromising regimes -- including Iraq, Iran and North Korea -- over their nuclear programs.
The list of his high-profile adversaries also includes former U.S. President George W. Bush. As storm clouds gathered over Iraq in 2002, ElBaradei was thrust into the center of controversy when he questioned the Bush administration's insistence that Saddam Hussein's Iraq was developing weapons of mass destruction.
We shall continue to exercise our right of peaceful demonstration and restore our freedom & dignity. Regime violence will backfire badly.
--Mohamed ElBaradei on Twitter

Mohamed ElBaradei in Giza mosque
"We knew that Iraq at that time did not have nuclear weapons, we had to see whether they reconstituted their program; we had no shred of evidence that they did and I made that quite clear.
"Some people in the Bush administration did not like that and as we now know both in London and in the U.S. they had a hidden agenda, which is regime change," he said.
ElBaradei and the IAEA were awarded the Nobel Peace Prize in October 2005, in recognition of their efforts to prevent nuclear energy from being used for military purposes.
After three terms as the IAEA's director general, ElBaradei stepped down at the end of 2009. He was hoping to settle into a quiet retirement, but his return to Egypt during the week's unrest suggests that he is not content to sit and watch from the sidelines.
He said the Jasmine Revolution in Tunisia that saw the expulsion of long-term President Zine al-Abedine Ben Ali in mid-January had spurred action in Egypt.
"It sent a message everywhere to the Arab world that, to quote Barack Obama, 'Yes, we can,' you know, that it is doable. Then that we can be empowered as people to change a system that is ossified, that is completely repressive of our own basic rights."
Whether he is the man to do it remains to be seen. In an interview with CNN in August 2010, ElBaradei insisted he was "not the new pharaoh."
"The level of frustration, fear and desperation has created this illusion that one person can deliver," he said. "And this is really the major problem I am facing here, to get them to understand that you have to organize in grassroots fashion.
"Take charge of your own life, that is really the basic message I am sending to people."
This year many seem to be listening.
CNN's Ben Wedeman and Teo Kermeliotis contributed to this story.
FOLLOW THIS TOPIC