STORY HIGHLIGHTS
NEW: Roughly 1,000 inmates escape from a prison southwest of Cairo, state-run Nile TV reports
Egypt's ambassador to U.S. says his communication with the Obama administration stops
Mubarak appoints two new leaders; one is the powerful intelligence chief
Egyptians fearful of anarchy start arming themselves
Editor's Note: This article is being updated constantly by CNN reporters worldwide. Follow the latest tweets from CNN correspondents and images from the protests. Send your video, images to CNN iReport.
Cairo, Egypt (CNN) -- Relative calm settled on Cairo in the hours before sunrise on Sunday, after tens of thousands of demonstrators defied a curfew on Saturday to demand change and new fears of anarchy spread as President Hosni Mubarak clung to power.
As Mubarak tried to redeem his 30-year rule, the world's attention fell on central Cairo, where the Army was deployed to replace police forces that clashed brutally with demonstrators. But with many Cairo neighborhoods left without any security, Egyptians began to feel the sting of politics cutting into personal safety.
Shops and businesses were looted and abandoned police stations stripped clean of their arsenals.
ElBaradei: The man to lead a free Egypt?
In one area, residents set up barricades and handed out sticks and kitchen knives as defense measures. Another group of men armed themselves and planned to sit outside all night to guard their houses.

Unease and unrest grip Egypt

iReporters witness an upheaval

Citizens fear for their safety in Cairo

Egyptian citizens protect museum
"There have been no police officers on the streets since this morning," Cairo resident Sherief Abdelbaki said. "All the men are trying to protect the ladies, their wives and children."
"We have all become vigilantes ... it's like the Wild West," he said. "Where is the security?"
Mubarak faces toughest challenge

Roughly 1,000 inmates escaped from Prison Demu in Fayoum, southwest of Cairo, state-run Nile TV reported early Sunday.
After days of silence, the embattled Mubarak acted swiftly Saturday. He fired his entire cabinet, then tapped two new leaders to stand by his side.
Are you there? Send images, videos
Mubarak appointed his trusted and powerful intelligence chief, Omar Suleiman, as his deputy, the first time the authoritarian regime has seen such a post. He also asked Ahmed Shafik, the civil aviation minister in the cabinet that just stepped down, to form a new government, state-run Nile TV reported. Shafik is a former Air Force officer with strong military connections.
But Egyptians fed up with with what they see as Mubarak's hollow promises for reform were hardly appeased. In a fifth day of protests engulfing the Arab world's most populous nation, people took to the streets, chanting "Down with Mubarak" and burning pictures of the authoritarian leader.
"There is very little in terms of real power that the president still has," CNN's Ben Wedeman said from Cairo. "The army is controlling the street, but politically there is a complete vacuum."

Mubarak regime unravels

Who are the protesters?

New vice president appointed in Egypt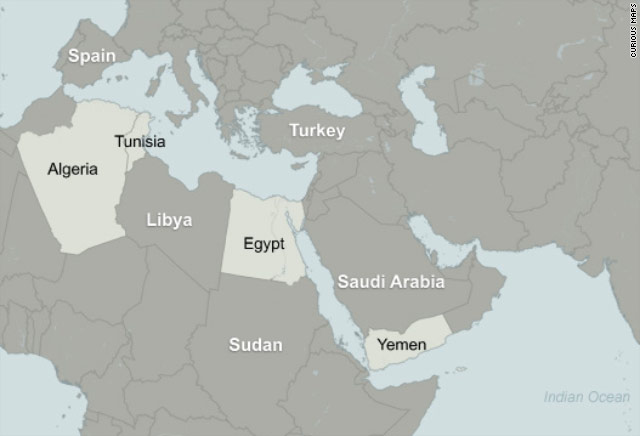 At a glance: Nations facing unrest
Anti-government demonstrators have taken to the streets in Egypt since Tuesday. The protests come weeks after similar disturbances sparked a revolution in Tunisia, forcing then-President Zine El Abidine Ben Ali to flee the country.
Both Egypt and Tunisia have seen dramatic rises in the cost of living in recent years and accusations of corruption among the ruling elite.
Tunisia-inspired demonstrations have also taken place in Algeria, Yemen and Jordan.
Egyptian opposition leader Mohamed ElBaradei, who returned home to Cairo to join the demonstrations and was placed under house arrest on Friday, said Saturday that he was disappointed in Mubarak's decision to stay put.
"This is a change of personnel and we are talking about the change of a regime," ElBaradei, a Nobel Peace Prize winner, told Al-Jazeera television of Mubarak's government reshuffle. "The Egyptian people are saying one thing: President Hosni Mubarak must leave. We have to move towards a democratic state."
The demonstrations Saturday in Cairo and other cities were boisterous but largely peaceful. One exception was near the cordoned-off Interior Ministry, where security forces clashed violently with demonstrators Saturday afternoon.
At least one person was killed, Dr. Ragab Ali said at the Ebad Al-Rahman Clinic, a medical center near the Interior Ministry, though another doctor treating the wounded said at least five people had been shot to death.
The clashes injured at least 60 people, Ali said.
There was confusion about the human toll in the demonstrations thus far.
Several officials were killed at Prison Demu as inmates escaped -- at least one after being fired on by prisoners -- Nile TV reported Sunday, though it did not say how many died.
At least 31 people were killed in Alexandria, Egypt, hospital authorities told CNN. Earlier, the state-run Nile TV earlier reported 38 people died. It was unclear whether the Alexandria deaths were part of that toll.
Chaos reigned at Alexandria's short-staffed hospitals, where injured protesters were furious at doctors for not treating them quickly enough.
At the Interior Ministry in Cairo, police surged forward, shooting live ammunition and burning tear gas as protesters rumbled towards the building, an Alamo of sorts for the police and an outpost that stood as a highly visible and potent symbol of state authority.
Nearby, tension simmered in Tahrir Square, now littered with rocks, glass, garbage and other debris after five days of tumult. People picked up spent shotgun cartridges and tear gas canisters that said "Made in the U.S.A." They called Mubarak a puppet of America.
The powerful Egyptian army, deployed to the streets for the first time since the mid-1980s, is much more respected than the police, and many protesters embraced their presence. But whether the 450,000-strong armed forces will remain loyal to Mubarak is key for the nation's future.
The military issued a stern warning to the people on Saturday: "Stop the looting, chaos and the things that hurt Egypt. Protect the nation, protect Egypt, protect yourselves," the military said, according to Nile TV.
Suleiman's appointment as vice president was seen widely as an another attempt to restore order. "His loyalty to Mubarak seems rock solid," a former U.S. ambassador said in a classified U.S. diplomatic cable leaked to the website WikiLeaks.
Marco Vicenzino, director of the Washington-based research organization Global Strategy Project, said Mubarak's focus now is on preserving order. "And the person who can do that, obviously, is Omar Suleiman," Vicenzino said.
Suleiman has also long been seen as a possible successor to Mubarak, and tapping him as a deputy at this critical juncture might allow Mubarak to make a graceful exit, Vicenzino said.
Meanwhile, Egyptian Army Chief of Staff Sami Annan huddled with five deputies after returning home early from high-level talks at the Pentagon to address the crisis at hand, a senior Egyptian military official told CNN.
U.S. President Barack Obama convened an hourlong meeting on the Egypt crisis on Saturday that included Vice President Joe Biden, National Security Advisor Tom Donilon and other top officials, the White House said.
Egypt's ambassador to U.S., Sameh Shoukry, said Saturday that his communication with the Obama administration had come to a halt on Saturday.
"I certainly had very minute-by-minute conversations yesterday with members of the administration, there had been messages going back and forth," Shoukry told CNN's Wolf Blitzer. "Today there has been a lack of communication. I have not received any direct communication and I have not received any instructions to conduct any."
British Prime Minister David Cameron spoke to Mubarak on Saturday, according to a statement from his office.
Cameron released a joint statement on Egypt with French President Nicolas Sarkozy and German Chancellor Angela Merkel calling on Mubarak to bring about a "process of transformation" and to hold "free and fair elections."
"It is essential that the further political, economic and social reforms President Mubarak has promised are implemented fully and quickly and meet the aspirations of the Egyptian people," the statement said. "The Egyptian people have legitimate grievances and a longing for a just and better future."
Mubarak imposed another nighttime curfew from 4 p.m. to 8 a.m. Sunday in Cairo, Alexandria and Suez, the cities where the largest protests have unfolded. A previous curfew had been in place nationwide Friday night into Saturday morning but it failed to keep people off the streets.
The consequences of the unrest started surfacing Saturday as Egypt's Central Bank announced the closure of all banks as well as the stock market on Sunday, state-run television reported. And midyear university examinations were postponed.
The Egyptian crisis reverberated across the world, with stocks plunging on news of unrest and airlines cancelling flights.
Egyptians and activists in cities around the world, including New York, Washington, London, Geneva and Toronto, staged protests Saturday in support of those in Egypt and demanded that Mubarak step down.
The international outcry followed a brutal crackdown Friday when thousands of riot and plainclothes police clashed violently with the protesters, firing water cannons, rubber bullets and tear gas with force and impunity.
Undeterred, people ran, screamed, hurled rocks and accosted walls of security as they tried to make their way to central Cairo.
In coastal Alexandria on Saturday, at least 2,000 protesters gathered in Raml Square. There was no sign of police, and protests appeared peaceful. But in that city, too, anxiety over looting and a lack of security ran high and by nightfall, sounds of gunfire pierced the air.
Cellular service appeared to have been restored in Egypt Saturday morning. Text messaging is one of the most common modes of communication for Egyptians and was cut off amid calls for intensified dissent.
Mubarak, 82, who has not been seen in public for some time, addressed the nation in a televised speech early Saturday. He said he asked his government to step down but he intended to stay in power.
"I asked the government to resign today and I will commission a new government to take over tomorrow," Mubarak said shortly after midnight.
The aging president has ruled Egypt with an iron fist for three decades and it was widely believed he was grooming his son, Gamal, as his successor, a plan now complicated by demands for democracy.
Mubarak said, "These protests arose to express a legitimate demand for more democracy, need for a greater social safety net, and the improvement of living standards, fighting poverty and rampant corruption.
"I understand these legitimate demands of the people and I truly understand the depth of their worries and burdens, and I will not part from them ever and I will work for them every day," he said. "But regardless of what problems we face, this does not justify violence or lawlessness."
As Mubarak spoke overnight, protesters burned police stations in Cairo and Alexandria, and overturned and torched police vehicles. People gathered, expecting an announcement of Mubarak's resignation. When that did not happen, a celebratory mood quickly turned back into anger.
Protesters ransacked the headquarters of the ruling National Democratic Party and set it afire. Saturday afternoon, thousands of chanting demonstrators filed past the smoldering building.
As they approached the state-run television building, soldiers linked arms, forming a human chain to hold back the protesters. The crowd stopped respectfully in front of the troops, and continued chanting "Down, down, Hosni Mubarak" and "the people want to bring down the regime."
CNN's Nic Robertson, Ben Wedeman, Frederik Pleitgen, Ivan Watson, Housam Ahmed, Caroline Faraj and Saad Abedine and journalist Ian Lee contributed to this report
FOLLOW THIS TOPIC