STORY HIGHLIGHTS
NEW: Mubarak urges new government to "dialogue with all the political parties"
Charter flights will begin taking thousands of Americans out of Cairo
Mohamed ElBaradei: "What we started can never be pushed back"
Editor's Note: This article is being updated constantly by CNN reporters worldwide. Follow the latest tweets from CNN correspondents and images from the protests. Send your video, images to CNN iReport. On CNN at 9 p.m. ET Monday, "Piers Morgan Tonight" brings you the latest developments from CNN correspondents on the ground in Egypt. Then at 10 p.m. ET on "AC360║," Anderson Cooper reports live from Cairo with firsthand accounts of what's happening, and where the situation might go from here. Don't miss CNN prime time Monday, starting at 9 p.m. ET.

Cairo, Egypt (CNN) -- The U.S. plans to begin flying thousands of Americans out of the country on Monday, a day after the government's call for protesters to obey a curfew, plus low-flying fighter jets overhead did nothing to deter thousands of Egyptians from continuing their protests into Sunday night.
Crowds surrounded Mohamed ElBaradei, a leading opposition figure, as he walked into Cairo's Tahrir Square on Sunday. Throngs of people cheered his arrival.
Sunday's protests appeared to be mostly peaceful, with signs of increasing cooperation between the army and civilians in the face of looting and threats of violence from criminal elements.
ElBaradei told protesters Sunday that he came "to participate today in the lives of Egyptians. Today I look into the eyes of each one of you, and everyone is different today. Today you are an Egyptian demanding your rights and freedom, and what we started can never be pushed back. As we said, we have one main demand: the end of the regime and to start a new phase."
In a CNN interview earlier, ElBaradei called on Egyptian President Hosni Mubarak to "leave today and save the country."

Gunfire heard after curfew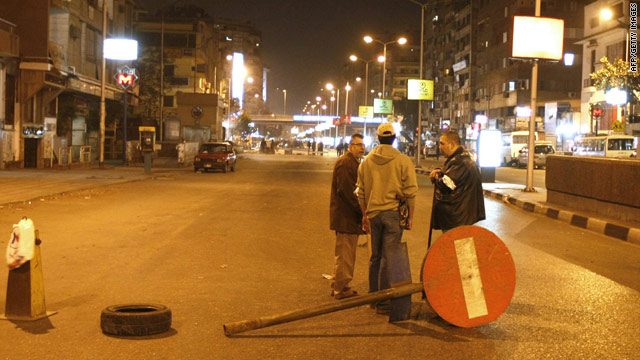 Looting, chaos in Egypt

Protesters balk at flyover

ElBaradei addresses demonstrators
"This is a country that is falling apart," ElBaradei told CNN's "Fareed Zakaria GPS."
He said he has been "authorized -- mandated -- by the people who organized these demonstrations ... to agree on a national unity government."
ElBaradei, a former head of the International Atomic Energy Agency, is one of several opposition figures whose name surfaces when protesters talk about possible future leaders of Egypt. Among other names is Amr Moussa, head of the Arab League.
But Mubarak has given no indications of giving up his 30-year rule.
On Sunday, Mubarak urged the leaders of his new government to undertake "dialogue with all the political parties," according to a reading of his remarks on state-run Nile TV.
Mubarak said that dialogue "will accomplish democracy and to make the parties have more participation to help us achieve a democratic civil society."
The president charged the new cabinet, to be shaped by newly appointed Prime Minister Ahmed Shafiq, to restore security in the country, along with Egyptians' faith in their country's economy. Mubarak also appeared to criticize the Muslim Brotherhood, the country's largest opposition bloc.
"The citizens and the young people of Egypt have gone out to the streets in peaceful demonstration asking for their right for the freedom of speech," Mubarak said. "However, their demonstrations have been infiltrated by a group of people who use the name of religion who don't take into consideration the constitution rights and citizenship values."
Mubarak had earlier vowed to listen to the protesters' message and fired his entire Cabinet on Saturday. On Sunday, Mubarak, 82, visited an armed services operations center, Nile TV reported. Mubarak was following up on the security situation and showing support for the military, a report said.
Sunday's demonstrations at times felt like a music festival, with people cheering, chatting and posing for pictures with members of the military in their tanks. The army had been deployed to replace police forces that had clashed brutally with demonstrators.

iReporter on conditions in Cairo

Alexandria: No to Mubarak!

Egypt shuts down Al-Jazeera bureau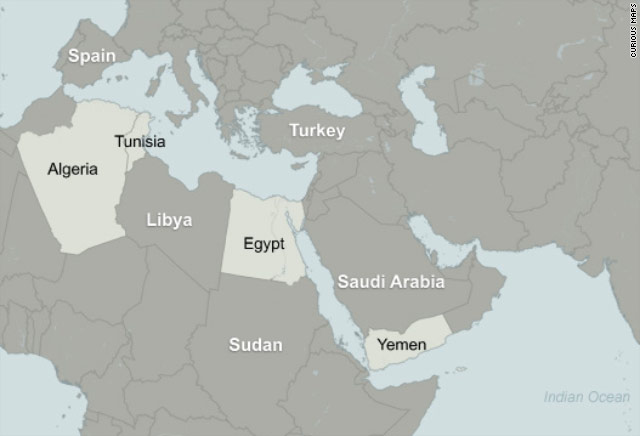 At a glance: Nations facing unrest
However, the Interior Ministry ordered police back onto some streets, a move that angered protesters, said Heba Fatma Morayef, a Human Rights Watch researcher in Tahrir Square. The army remained in control of the square, she said.
Some residents picked up the slack for police in areas surrounding the protests -- offering to clean up trash, for example. Medical personnel worked their way through the crowd, seeing if anyone needed help.
"The square has emptied out since the afternoon, but it's still a great atmosphere, a sense of solidarity and very well-behaved -- people are sitting around bonfires, or walking around picking up rubbish," Morayef said. "Crowds who find occasional looters drag them over to the soldiers and hand them over."
Several thousand people remained in the square Sunday night, and many said they plan to stay in place until Mubarak resigns, Morayef said.
Charter flights will begin taking thousands of government dependents, nonessential employees and private American citizens out of Cairo on Monday, U.S. Assistant Secretary of State Janice L. Jacobs said Sunday.
Officials are looking at Istanbul, Turkey; Nicosia, Cyprus; and Athens, Greece, as possible destinations, although the list was not finalized Sunday afternoon, she said.
The staff of the Cairo Embassy has been closed indefinitely but has a 24-7 task force and call centers and has been overwhelmed by inquiries, Jacobs said.
Turkey sent two planes to Egypt on Sunday to begin evacuation of its citizens, Turkish foreign ministry spokesman Selcuk Una said.
In Alexandria, machine gun fire could be heard overhead as thousands of protesters marched down streets Sunday night, CNN's Nic Robertson reported. Gunfire could also be heard in several locations in Cairo, including in front of the Egyptian Museum.
With the world's attention focused on their efforts, the protesters issued two central demands: that the regime that has run Egypt for years face a trial and that the Constitution be changed.
Many expressed optimism that they will succeed. "This is the start of the rest of my life," one jubilant young man who appeared to be in his 20s told CNN. "As cheesy as it sounds, that's exactly how I feel right now."
He added that he had been concerned there wouldn't be enough people "to deter any threat -- either by police or by the army. Now, it's definitely over."
Ali Regal, a student activist leader in Alexandria, said that the military is working closely with "the masses" -- including demonstrators -- to coordinate security. He said that organizers were mapping out a plan to set up checkpoints around the port city.
"The army is very helpful and working with us," Regal told Robertson. "There is a strong cooperation between the masses and the army. That's what I can tell so far."
Mohammed Sidky, an Egyptian-American who recently moved back to Cairo, said residents were banding together to fill the security void with the military's help.
Sidky said the military had increased its presence in Cairo on Sunday, with more tanks and soldiers in the streets, and that some neighborhood watch groups who catch alleged criminals call the military, which had been responding to the scene within 20 or 30 minutes.
"So this is a sense of security to us, and it is ... working together, the military and the citizens," Sidky said.
Egyptian Ambassador to the United States Sameh Shoukry told CNN on Sunday, "The situation seems to be improving slightly in terms of security for private and public property."
"The military has achieved some positive results in rounding up some of the prison escapees and in providing security in neighborhoods," he added.
A military representative appeared on Nile TV Sunday and called on Egyptians to obey the curfew "to make it possible for us to capture the outlaws," according to a translation of the comments.
The representative also asked Egyptians to quickly report "the whereabouts of those individuals committing thug actions."
Whether the 450,000-strong armed forces -- deployed to the streets for the first time since the mid-1980s -- will remain loyal to Mubarak is a key question for the nation's future.
More than 3,000 people have been arrested so far, including some looters and escaped prisoners, Nile TV reported.
Still, fear of anarchy and looting lingered Sunday. Shops and businesses were looted, and abandoned police stations were stripped clean of their arsenals. Sidky estimated that 95 percent of businesses in Cairo were closed.
A body was found in front of the country's Interior Ministry Sunday morning, but there was no police presence nearby.
In a statement carried by state television, Gen. Mohamad Tantawi, the defense minister in the sacked Egyptian government, urged the public to obey the 4 p.m.-8 a.m. curfew (9 a.m.-1 a.m. ET).
The curfew time on Monday will begin an hour earlier, at 3 p.m. (8 a.m. ET), and last until 8 a.m. (1 a.m. ET), Nile TV reported.
Tantawi was escorted to the network's headquarters by red-helmeted troops in a convoy of sport-utility vehicles. Later, Egyptian TV stations showed him walking in the streets of Cairo checking on troops.
Fighter jets began flying low over the crowd of tens of thousands minutes before the curfew was to begin. The jets flew so low, according to CNN staffers on the ground, that their cockpits could be seen.
A group of Egyptian troops fired warning shots at a car that tried to run a barricade around Tahrir Square, but the vehicle made it through the barricade and escaped, according to CNN photographer Joe Duran.
One of the biggest concerns of many Egyptians in the wake of the chaos -- that prisoners could escape -- proved true this weekend. Nile TV said some prisoners broke out of Abu Zaabal prison in Cairo, though it was not immediately clear how many.
At the Ataa prison in Al Badrashin, a town in Giza, some prisoners broke out too. Roughly 1,000 inmates escaped from Prison Demu in Fayoum, southwest of Cairo, Nile TV reported early Sunday.
The military representative on Nile TV Sunday asked "those individuals who have escaped from prisons ... (to) quickly give themselves up to the nearest police station or the armed forces in the streets."
Cell phone and mobile Internet service appeared to have returned, but word of a possible new crackdown on communication emerged Sunday.
Egypt's Information Ministry announced that it was revoking Al-Jazeera's license and withdrawing accreditation of the network's staff, state media reported.
"The closing of our bureau by the Egyptian government is aimed at censoring and silencing the voices of the Egyptian people," the Al-Jazeera network said in a statement.
The network's Arabic-language channel was off the air in Egypt Sunday afternoon, but Al Jazeera English was still on the air.
Mubarak appointed his trusted and powerful intelligence chief, Omar Suleiman, as his deputy on Saturday, the first time the authoritarian regime has had such a post. Suleiman is well respected by the military and is credited with crushing an Islamic insurgency in the 1990s, for which he earned the ear of Western intelligence officials thirsting for vital information about regional terrorist groups.
Suleiman had a meeting Sunday with the head of the military and the interior minister, Egyptian TV network ESC reported.
The protests come weeks after similar disturbances sparked a revolution in Tunisia, forcing then-President Zine El Abidine Ben Ali to flee the country.
Both Egypt and Tunisia have seen dramatic rises in the cost of living in recent years and accusations of corruption among the ruling elite. Tunisia-inspired demonstrations have also taken place in Algeria, Yemen and Jordan.
The Egyptian crisis reverberated across the world, with activists in cities including New York, Toronto and Geneva staging protests Saturday in support of those in Egypt, demanding that Mubarak step down.
The aging president has ruled Egypt with an iron fist for three decades, and it was widely believed he was grooming his son, Gamal, as his successor -- a plan now complicated by demands for democracy.
CNN's Ben Wedeman, Frederik Pleitgen, Ivan Watson, Housam Ahmed, Caroline Faraj, Saad Abedine and journalist Ian Lee contributed to this report
FOLLOW THIS TOPIC