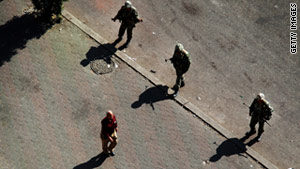 A man walks past soldiers on Monday in Cairo. Egypt's military has indicated it sympathizes with protesters.
STORY HIGHLIGHTS
President Hosni Mubarak announces he will step down in September
Angry protesters respond by saying they want Mubarak out now
The military may have to tell him he must exit immediately, analysts say
(CNN) -- If street protesters escalate their demands this week that Egyptian President Hosni Mubarak must surrender power now rather than in September, it may be up to the Egyptian military to nudge him out the door immediately, analysts say.
Already, Egypt's military, the guardian of secular stability in a major corner of the Arab world, has indicated it sympathizes with demonstrators when it announced it won't use force against protesters this week.
If given a choice between Mubarak and the masses who rejected his announcement he'll wait until the September elections to step down, military leaders now in control of a new cabinet won't back the president, some analysts say.
"They could crush the demonstrators, which is what Saddam Hussein did" in Iraq, said analyst William Quandt, a professor of politics at the University of Virginia and a National Security Council staff member in the 1970s who was involved in the Egyptian-Israeli Peace Treaty.
"Sheer repression could work, but there would be a strong reaction, and the United States would respond adversely.
"The alternative is that the military looks after its own corporate interests," Quandt continued. "Mubarak is making things difficult. As long as he refuses to go, the demonstrators won't stop. So if (they) have to choose between (their) interests and his, they would choose theirs. They would say, 'Mr. President, we can't stand up beside you and you have to go.'
"I think that's the way it's going to turn out, but it will take a few more days," Quandt said.

Egyptians react to Mubarak's speech

Obama on Egypt: Change must happen now

White House in 'full crisis mode'

ElBaradei outraged by Mubarak's speech
In addressing the Egyptian crisis, U.S. President Barack Obama commended the Egyptian armed forces for their "professionalism" in the face of angry protesters.
"I urge the military to help ensure this time of change is peaceful," Obama said.
The White House is confident of its close behind-the-scenes relationship with the Egyptian military in negotiating the turmoil consuming Egypt, a senior U.S. defense official said Tuesday.
In the last conversation between Joint Chiefs of Staff Chairman Adm. Mike Mullen and his Egyptian counterpart, "both expressed a desire to have this strong partnership continue," the official said.
Mullen hasn't had direct contact with Egyptian military leaders since Mubarak publicly announced he won't run for another term in office, the official said Tuesday.
But in a 10-minute phone call two days ago, Egypt's chief of staff of armed forces, Lt. Gen. Sami Enan, described to Mullen "how he foresees to use the military going forward," the official said.
President Obama "has relied on the chairman's views, and his good relations with Gen. Enan, on how the Egyptian military is handling the crisis so far," the official said.

Mubarak: I will not seek reelection

Moussa reacts to Mubarak's announcement

Crowd angry over Mubarak's announcement

'I've spent enough time serving Egypt'
"He assures me that they're very focused on this, and they will continue to be a stabilizing influence within their country," Mullen said, according to a Defense Department podcast with Mullen.
The Egyptian military is a buffer against sectarian influences such as the Muslim Brotherhood, but the armed forces are also heavily involved in the Egyptian economy.
"You have to understand that the current leadership in Egypt is basically the same leadership that has run the country since 1952," said Brian Katulis, senior fellow at American Progress, a left-leaning think tank.
"Mubarak came after Sadat who came after Nasser," Katulis said, referring to past presidents Anwar Sadat and Gamal Abdel Nasser. "They were all military men who had the support of the military elite. They control a good bit of the security as well as the economy."
Protesters are aware of this, as they often seek solidarity with soldiers on the street.
"The Egyptian military is the seat of power in Egypt," said Joshua Stacher, assistant professor of political science at Kent State University and an expert on Egypt.
"The Egyptian protesters have a lot of sympathy for the Egyptian officers in those tanks," Stacher said. "But one bullet, that sympathy goes."
The larger question is who will lead Egypt once Mubarak is out of the picture, Stacher said.
"Who's going to be in the office of the presidency? It's going to be someone in the military or close to the military. It's not going to be (opposition leader Mohamed) ElBaradei. It's not going to be any of these opposition groups," Stacher said.
In Egypt, the sectarian Muslim Brotherhood is very conscious of the negative connotations associated with its Islamist branding and is now trying to connect with secular opposition leaders such as ElBaradei, said analyst Reva Bhalla of the Austin, Texas-based Stratfor, an online publisher of global intelligence.
Though the armed forces will play an important role running Egypt, it will shun the front stage, much like the Turkish military, Quandt asserted.
But who would lead Egypt is quickly becoming the question of the moment.
"It's not clear who those individuals are going to be," Quandt said. "The Muslim Brotherhood will be part of that because they want influence over social policy and certain domestic issues, but I think they realize if they go for the upper hand, they will be crushed by the military," Quandt said.
Stacher and Katulis were among more than a dozen Middle East experts who met Monday with three White House National Security Council officials to talk about the Egyptian crisis, Stacher said.
CNN's Chris Lawrence contributed to this report.
FOLLOW THIS TOPIC