STORY HIGHLIGHTS
The heads of NGO missions are meeting next week
The violence disrupted operations of the NGOs
The crisis has brought people together, one official says
(CNN) -- As fighting erupted across Egyptian society, Save the Children, an international aid group devoted to helping poor boys and girls, and other agencies watched their world and work start unraveling.
The group said in a February 3 statement that eyewitnesses reported that many in the protests are children, and that the clashes in Egypt "put thousands at risk of death, injury and psychological trauma."
"The combination of a highly charged atmosphere, rival political protesters, and weapons on the streets puts children in grave danger," said Jane Gibreel, Save the Children's country director in Egypt.
"We want to send a clear message to all Egyptians that they have a responsibility to protect their children."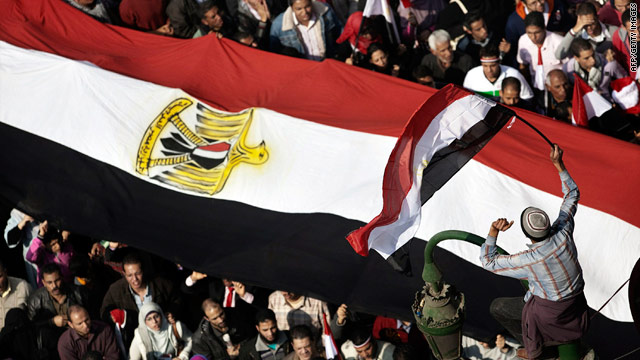 Gallery: Protesters take to the streets in Egypt

Protesters' mood 'festive' in Egypt

Could Hosni Mubarak step down Thursday?

Hosni Mubarak: In his words

Children of the Egyptian revolution
Other international non-governmental organizations operating in Egypt share this concern and fear about the unrest.
They realize that "it's no longer business as usual," said Kevin Fitzcharles, CARE director in Egypt.
The heads of several missions are gathering on Monday, and plan to discuss preparing contingency plans to respond to emergencies and the implications of the changes rippling through society.
Most international non-governmental organizations -- which forge partnerships with local NGOs to carry out projects -- had to suspend their work after the anti-government protests erupted.
One is Plan Egypt, an organization that provides a range of programs for poor children and their families.
"All of this activity is on hold at the moment," said Edward Abbey, country director of Plan Egypt.
There have been two main reasons for the delay, which affected 200 employees, Abbey said.
It was too dangerous to go to work. And, the group works closely with the Ministry of Social Solidarity. So when the government shut down, Plan Egypt couldn't coordinate with that ministry.
Only a handful of employees are back to work for Plan Egypt and Abbey said they are replanning projects. The group hopes it can get back to normal soon.
Ayman Ramsis is country director of Diakonia, which addresses human rights, gender equality, and other matters. He also heard unsettling reports and rumors that children were engulfed by the anarchy, with some moving to Tahrir Square for security and food and even some who were paid by police to attack demonstrators.
While the country and the NGO operations are slowly getting back to normal, these problems show that Egypt can't return to the state it was in before the protests broke out in late January.
Ramsis said it's important to help local and national NGOs develop contingency plans for their operations in case of emergencies -- such as the closing down of schools, the lack of security, and the dearth of drinking water and food.

Debunking Mubarak's propaganda

Ghonim: Welcome to Egypt revolution 2.0

Protests going strong in Cairo

Egypt's intriguing vice president
The groups will compare and contrast whatever emergency plans they have and what the local NGOs might need.
"What would we need if a crisis happened?" Ramsis said. "We need to think ahead."
Fitzcharles said "everyone has been so disrupted" by the crisis.
Staffers couldn't report to work because they felt unsafe, and contacts have to be renewed with local partners, communities, and local government officials, he said.
CARE is involved in a range of programs, and one swath of them includes civic participation. That work might have to be reviewed and updated during this transition time, Fitzcharles said.
"It's a sensitive issue and it's a sensitive area, and we need to make sure that we are working closely with all concerned," he said.
There have been signs of anti-foreign sentiment during the protests. Will international NGOs be affected?
No, Fitzcharles says. With the exception of him, the staff is Egyptian and regards itself as non-partisan.
"People know CARE and appreciate the work we're doing. There's been no harassment at all. We have been working in Egypt for over 55 years."
And, he said, while there might be changes on the national ministry levels, the functional apparatus below isn't going anywhere.
"We're fairly confident that the local administration will continue, as local services still need to be delivered," Fitzcharles said.
The big fear is that any lack of central government direction for now could paralyze projects and activities at the local level.
As for improving and developing emergency plans, "we'll do a big lessons learned." They'll discuss the state of their communications network, knowing where their resources are, and how to handle security.
There's "one silver lining in this whole cloud," Fitzcharles said. "It has brought people together. People are communicating and checking on others."
FOLLOW THIS TOPIC