Obama seeking reform in Libya, official says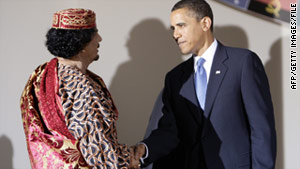 Libyan leader Moammar Gadhafi, left, and President Obama meet at the G-8 summit in Italy in 2009.
STORY HIGHLIGHTS
American officials are exploring possibilities for reform in Libya
The Obama administration is stressing the need to avoid violence against protesters
Gadhafi's son has warned of a possible civil war if protesters do not back down
Washington (CNN) -- U.S. authorities were keeping a close watch on Libya's rapidly unfolding political crisis Monday, in part to see what possibilities might exist for meaningful reform, a senior Obama administration official said.
Among other things, Washington was taking a close look at a speech delivered Sunday by Saif al-Islam Gadhafi -- Libyan leader Moammar Gadhafi's son -- which included warnings of a civil war if demonstrations in the North African country don't stop.
In the same speech, Saif Gadhafi also acknowledged changing times regionally and proposed "radical" reforms -- like bolstering local governments, relaxing restrictive laws, raising salaries, extending loans, and drafting a constitution, which doesn't now exist.
Obama officials continued to discuss with their Libyan counterparts the need to avoid violence against peaceful protesters, the official added.

Protester's view from Libya

Libya timeline of protests
President Barack Obama was briefed on the situation in Libya by his national security adviser, Tom Donilon, on Sunday night, the official also said.
Despite the warning from Gadhafi's son, Libya's protesters are showing no sign of an intention to back down. After Gadhafi's government apparently lost control of the city of Benghazi, some angry protesters in Tripoli said they hoped for a similar turn of events in the nation's capital.
Tripoli residents said state-run al-Shababiya TV was attacked Sunday evening by anti-government protesters. CNN, however, could not immediately confirm reports. The Libyan government maintains tight control on communications and has not responded to repeated requests from CNN for access to the country.
CNN has interviewed numerous witnesses by phone.
The current unrest, spurred largely by demands for freedom and angst over high unemployment, has left at least 233 people dead in Libya, according to Human Rights Watch, citing information from hospital sources.
CNN's Alan Silverleib and Jill Dougherty contributed to this report
FOLLOW THIS TOPIC


Part of complete coverage on

Pro-Mubarak supporters believe Egypt's former president is innocent of charges of corruption and killing protesters.

Fighting in Libya started with anti-government demonstrations in February and escalated into a nationwide civil war.

After months of seeming stalemate, Libyan rebels declared they were moving in on Tripoli. But who are they?

Six months and more than 17,000 air sorties after it began, NATO's Operation Unified Protector in the skies over Libya grinds on.

Click on countries in CNN's interactive map to see the roots of their unrest and where things stand today.

Are you in the Middle East or North Africa? Send iReport your images. Don't do anything that could put you at risk.

Behind the official smiles for the cameras some people in Libya's capital are waiting for the rebels, reports CNN's Ivan Watson.

Tunisia's Mohamed Bouazizi not only ignited a series of revolts but heralded the first appearance of Arab youth on the stage of modern history.


Today's five most popular stories