Gadhafi to address nation about town seeing deadly clashes
STORY HIGHLIGHTS
Witnesses describe shootings in Zawiya
A woman whose son was shot says "Zawiya is finished"
Gadhafi will speak about Zawiya, state TV reports
(CNN) -- Bloody clashes took place Thursday in the Libyan town of Zawiya, where at least seven people were killed, witnesses said.
A woman who said her son was shot told CNN, "Blood is all over the streets."
Libyan leader Moammar Gadhafi plans to discuss Zawiya during an address to the nation Thursday, state TV reported.
A witness in Zawiya, west of Tripoli, said people supporting Gadhafi came into the city square and the clashes began.

Saif Gadhafi: This is media warfare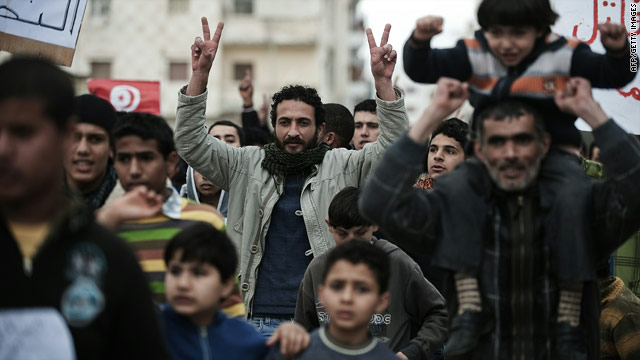 CNN crew greeted as 'liberating heroes'

At the Libyan-Egyptian border

In Libya, Al Qaeda could step in
Two sources told CNN that seven people have been killed.
In addition, 40 people were wounded, one witness said, adding that the city is controlled by anti-Gadhafi forces.
Protesters have taken over the military base and were distributing weapons to civilians, a witness said.
The woman whose son was shot said unarmed people were being fired on indiscriminately and that she believed far more than seven people were killed.
"We want to call all human beings: Zawiya is finished," she said. "The people is finished. The people is dying."
She said it was not clear who the people were that were shooting. Many seemed to be African mercenaries, but they may have been people from the government or military, she said.
"People are crying," she said, calling for help from the world. "Where is the people? Where is the peace?"
The hospital in Zawiya is "a disaster," she said, adding that some shooters were coming to the hospital and insisting that no one was killed.
CNN could not confirm reports for many areas in Libya. The Libyan government maintains tight control on communications and has not responded to repeated requests from CNN for access to the country. CNN has interviewed numerous witnesses by phone.
FOLLOW THIS TOPIC


Part of complete coverage on

Pro-Mubarak supporters believe Egypt's former president is innocent of charges of corruption and killing protesters.

Fighting in Libya started with anti-government demonstrations in February and escalated into a nationwide civil war.

After months of seeming stalemate, Libyan rebels declared they were moving in on Tripoli. But who are they?

Six months and more than 17,000 air sorties after it began, NATO's Operation Unified Protector in the skies over Libya grinds on.

Click on countries in CNN's interactive map to see the roots of their unrest and where things stand today.

Are you in the Middle East or North Africa? Send iReport your images. Don't do anything that could put you at risk.

Behind the official smiles for the cameras some people in Libya's capital are waiting for the rebels, reports CNN's Ivan Watson.

Tunisia's Mohamed Bouazizi not only ignited a series of revolts but heralded the first appearance of Arab youth on the stage of modern history.


Today's five most popular stories