France to call for arms embargo against Libya at UN meeting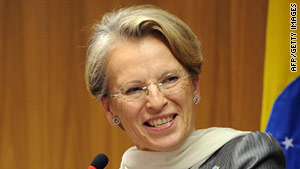 French Foreign Minister Michele Alliot-Marie indicated that France will ask for a complete arms embargo against Libya.
STORY HIGHLIGHTS
"There cannot be any impunity" says the French foreign minister
Russia says sanctions against Libya will not work
(CNN) -- At a U.N. Security Council meeting Friday to discuss measures against Libya, France said it will ask for a complete arms embargo and sanctions against the North African nation and request that the International Criminal Court look at the violence directed at civilians there as crimes against humanity.
"The situation is dramatic (and) even though we don't know the exact number of victims, a lot of things indicate that there are several hundred so there cannot be any impunity," said French Foreign Minister Michele Alliot-Marie to the France Info public radio station Friday.
On Thursday, the Russian foreign ministry said sanctions against Libya will be ineffective.
"While (sanctions) might work in some situations, you can hardly say that they are an effective method of international action," the foreign ministry said.
From CNN's Paula Newton and Per Nyberg
FOLLOW THIS TOPIC


Part of complete coverage on

Pro-Mubarak supporters believe Egypt's former president is innocent of charges of corruption and killing protesters.

Fighting in Libya started with anti-government demonstrations in February and escalated into a nationwide civil war.

After months of seeming stalemate, Libyan rebels declared they were moving in on Tripoli. But who are they?

Six months and more than 17,000 air sorties after it began, NATO's Operation Unified Protector in the skies over Libya grinds on.

Click on countries in CNN's interactive map to see the roots of their unrest and where things stand today.

Are you in the Middle East or North Africa? Send iReport your images. Don't do anything that could put you at risk.

Behind the official smiles for the cameras some people in Libya's capital are waiting for the rebels, reports CNN's Ivan Watson.

Tunisia's Mohamed Bouazizi not only ignited a series of revolts but heralded the first appearance of Arab youth on the stage of modern history.


Today's five most popular stories