STORY HIGHLIGHTS
Air campaign launched to protect civilians from clampdown on rebels
Analyst says Gadhafi will fight on and allies' campaign could be prolonged
Much depends on resistance to his regime being sustained, unity of international community
(CNN) -- The international coalition is continuing to launch airstrikes against targets in Libya -- but now speculation is growing about what is likely to follow the U.N.-backed bombardment.
The air campaign was launched to protect civilians from the brutal clampdown by Moammar Gadhafi's military against a rebellion in the east of the country based in the city of Benghazi.
The pressure on Gadhafi's 42-year reign is such that questions are being asked about whether he can survive. Some fear Libya could be drawn into a long and bloody civil war in the power vacuum caused by the regime's demise.
Will Gadhafi hang on?
Gadhafi will "fight on and on" with potentially devastating consequences for Libya, according to Fawaz Gerges, Professor of Middle Eastern Politics and International Relations at the London School of Economics and Political Science.

War power policy in question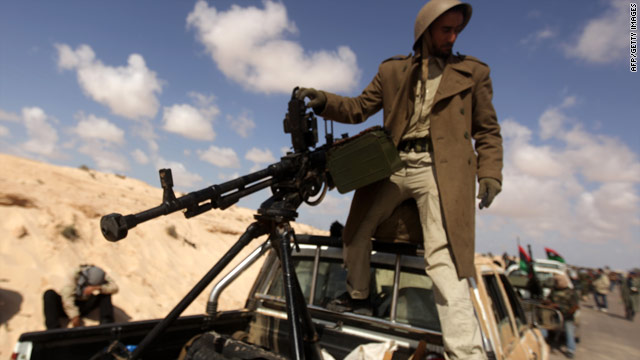 What is Obama's endgame in Libya

Libyan army has 'little will' to operate

Pro-Gadhafi forces dramatically halted
"I think Gadhafi will hang on," he told CNN. "He has very little choice anyway as there is nowhere for him to go; he has been backed into a corner by the coalition. We must remember that there were no-fly zones imposed on Iraq in 1991 and 1993 and still Saddam Hussein remained in power.
"But it could also see Libya become extremely divided with maybe Gadhafi continuing to rule one half of the country and the other half being ruled separately -- this would likely create a prolonged civil war.
Gerges also warned that public opinion in Libya and the Arab world could turn against the international intervention if casualties from the airstrikes start to increase. "This could strengthen Gadhafi rather than weaken him," he said.
What if Gadhafi is killed?
According to Gerges, the political vacuum should Gadhafi die could still result in a long civil war -- and the West might have to take sides.
"We don't know how divided Libya is; we don't know the strength of feeling for regime change. There is also a sense of increasing anxiety in the Arab League.
"I think Gadhafi will hold on for a long time. We also have to consider the wider implications for the whole of the Middle East. This could cause further instability throughout the Middle East and not just Libya."
Can Libya survive?
What happens to Libya is dependent on how long Gadhafi continues to fight, how resistance to his regime is sustained and the unity of the international community, said Marco Vicenzino, Chief Strategy Advisor at the Afghanistan World Foundation.
Libya's main source of income comes from its oil reserves, which are among the largest in the world. According to the Organisation for Economic Co-operation and Development (OECD), Libya has Africa's largest proven oil reserves and is the continent's third biggest producer behind Angola and Nigeria.
"If Gadhafi is defeated we would then see the transition of power to new players on the Libyan political scene made up of lawyers and the middle classes," said Vincenzino. "The advantage that Libya has is its financial and human resources."
"Libya is not beginning from a bleak starting point. It has money to create a strong and viable economy and to unite people and ensure they all have their basic needs. Libya has only 6.5 million people and billions of dollars in reserve.
"There is a lot of talent in Libya with excellent technocratic skills. That is not to say it won't be difficult and take time -- the scars of four decades of oppression won't disappear overnight.
"Gadhafi will not go without a fight and it could be a protracted fight. But Libya could have a great future providing money and power are distributed properly."
Can the opposition defeat Gadhafi's military?
It is difficult to assess until we know for sure what the actual balance of forces is, according to Richard Dalton, Professor of Middle Eastern Politics and International Relations at the London School of Economics.
"Is the government now very stretched or is it comfortable as to numbers of men, equipment and morale?
"The same gaps in knowledge about military resources hang over international understanding of the opposition. Have the military units that went to them in the east with General Abdul Fattah Yunis been in battle? Where are they deployed?
"Is there any kind of organized defense of Benghazi, or is it just a self-generated, self-deployed force?"
He warned that difficult decisions for all Libyans lie ahead: between peace and resistance, accountability for the regime and its negotiated departure.
"They will need all the support they can get through collective political action by the U.N. family and regional organizations."
Ian Francis contributed to this report for CNN.
FOLLOW THIS TOPIC