STORY HIGHLIGHTS
Church in Phoenix, Arizona, is thought to be the first Sudanese church in the U.S.
Instructions at the church are in English but prayers are in Dinka
Children at Sunday school learn more about Sudanese traditions in worship
Sudan's Lost Boys and Girls make up 90% of the congregation
(CNN) -- In the mid-morning Arizona sun a group of Sudanese immigrants begin to trickle into a small church yard.
Dressed in their finest, young women lead their children, while men meet and mingle on the steps of the church.
As they gather outside, songs of jubilation fill the air as the youth choir begins to practice inside.
This is St. Paul the Apostle Sudanese Episcopal Church, thought to be the first Sudanese church in the United States.
Displaced from their country during its civil war, millions of Sudanese refugees struggled to survive. But for many of the displaced it was their faith that kept them going as they tried to rebuild their lives.
"I feel that I want to serve the community," said the Reverend Anderia Arok, who has led the church since 2008.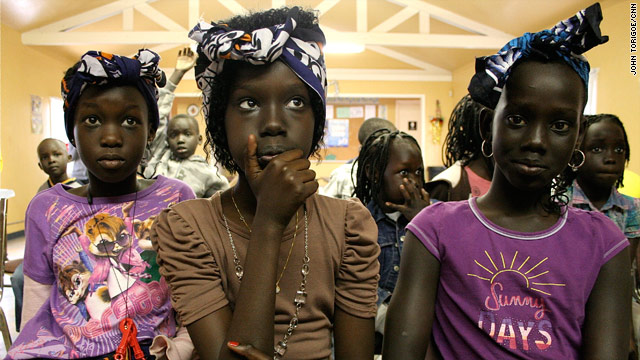 Gallery: Faith in the future
"This church is very important for the Sudanese. For so many social activities, religious activities, all coming together like a meeting point, we come here," he explained. "Church has a big role in the community."
When Sudanese refugees first arrived in Phoenix in 2001, they held their prayer services at another chapel. But in 2008, the Diocese of Arizona decided to offer St. Paul's church after attendance numbers grew for the services.
With a congregation of nearly 400 members, the church leaders said that with their own place of worship they could better serve the needs of the community.
Many who attend this church say it is more than just a place to come together and worship -- it's a place to heal as well.
Members young and old say that hearing the word of God among fellow Sudanese helps ease some of the pain and loss they have suffered during Sudan's decades of conflict.
Our church you know came with us. When were in the bush, when we were fighting in Sudan, we always put God first.
--John Pat, choir master
John Pat, choir master at the church, said that for many this faith is not new. "Our church came with us. When were in the bush, when we were fighting in Sudan, we always put God first," he explained.
"So when we came here to the United States, we don't want to abandon the word of God," he continued.
In the small chapel scripture fills the air in a mix of languages, from instructions in English to prayers in Dinka, one of the main languages spoken in Southern Sudan.
"It's really important to pray, like when the Bible says, pray to God in a language you understand, in your own language, so if you pray to God in your own language, you'll be comfortable," said church member Suzana Yom Nhial.
In a hall next door to the church, children attend Sunday school, where this message trickles down to the youngest members. The children work on strengthening their Dinka tongue and learn more about Sudanese traditions in worship.
Nhial, who is also a mother, thinks the church is a place where you can make a community strong.
"When I came to America I wanted to bring my children where they will know the church and God," she said.
Worshippers at the church also rely heavily on music. Songs about love and joy help connect members with the message.
"It's to inspire people because there are some people who don't know how to sing the song in the Bible or in the Sudanese book, so what happens, if we sing, then it's easy for other people to learn it," explained Gabriel Chol Kuany, one of the choir leaders.
He said the songs carry a distinct message for those who have suffered the effects of war.
"What we're trying to say is just forgive whoever killed your dad or you mom or whoever did something wrong to you," he said. "We just want to teach forgiveness, plus also love and be in peace and also in unity."
Many Lost Boys and Girls, children displaced during Sudan's civil war, have come together in their faith and taken charge of most events at the church.
"They are the backbone of this congregation, because 90% of them are here," said Arok.
"You know a lot of the activities that we're doing here, the Lost Boys are the people who are participating a lot," he continued.
Arok explained that he puts his faith in the Lost Boys and Girls.
"Sometimes when we have such a congregation, we want to produce the leaders, the leaders of tomorrow," he said.
"Maybe these people too they will go back home and go and give what they learned from here."
FOLLOW THIS TOPIC