Father of alleged Libyan rape victim says she is still missing
STORY HIGHLIGHTS
Eman al-Obeidy's father says he believes she is imprisoned
"We hope that she is still alive," he says
Al-Obeidy has not been seen in public since she burst into a Tripoli hotel a week ago
The Libyan government says she is safe and will "hopefully" meet with journalists soon
Benghazi, Libya (CNN) -- The father of a woman who was dragged away by officials loyal to the Libyan regime after telling journalists that troops had beaten and raped her said Saturday that he has no idea where his daughter is.
"We hope that she is still alive," Atiq al-Obeidy told CNN. "We pray for her safety but I am worried about her fate. I believe that she is imprisoned somewhere."
His daughter, Eman al-Obeidy, has not been seen publicly since she burst into a Tripoli hotel on March 26 as international journalists were having breakfast. Her face was bruised, as were her legs. She showed reporters blood on her right inner thigh.
Speaking in English, she said she was from the rebel stronghold of Benghazi and had been held against her will for two days and raped by 15 men.
Though her injuries appeared consistent with what she said, CNN could not independently verify al-Obeidy's story.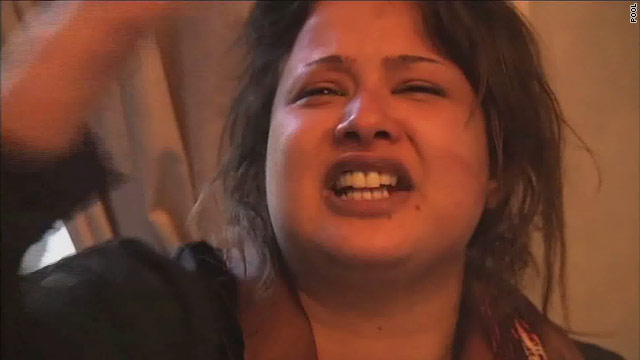 Woman alleges rape by Gadhafi forces
The Libyan government has repeatedly said that she has been freed.
On Thursday, government spokesman Musa Ibrahim said al-Obeidy would "hopefully" be visited by two or three female journalists by Saturday. There was no indication Saturday that any journalists had seen or spoken to her.
Ibrahim had previously said that al-Obeidy is "fine, she's healthy, she's free with her family."
But her father said he has serious doubts that Moammar Gadhafi's government would allow reporters to talk to his daughter.
"We are just like the rest of you. We are glued to the TV hoping that we will hear something about her. God willing she will be alive and safe," he said.
FOLLOW THIS TOPIC