STORY HIGHLIGHTS
Ouattara asks citizens to rebuild, commit no acts of revenge
Foreign guests evacuated from Abidjan hotel
Thousands of people spill into Liberia in last 24 hours, Oxfam says
Laurent Gbagbo's fighters attacked the Japanese ambassador's home, French say
(CNN) -- Defiant as ever, Laurent Gbagbo remained hunkered down Thursday in the basement of his Abidjan residence, as a stern warning came from the United Nations that he should seize his last chance for a graceful exit.
About 200 men guarded the Gbagbo residence in Abidjan, Ivory Coast's largest city. Tension was thick after a night of heavy fighting between Gbagbo's men and forces loyal to his rival, Alassane Ouattara, recognized by the international community as the legitimate winner of last November's elections.
Ouattara, meanwhile, urged citizens to help rebuild the country and restore democracy.
"President Gbagbo needs to step aside," U.N. Secretary-General Ban Ki-moon said Thursday in Washington. "He has to cede power. This is his last chance. He has to mind the safety and prosperity of his people."
Gbagbo, however, showed no signs of surrendering. Not far from his residence, assailants looted the Japanese ambassador's residence and made their way to the rooftop, from which they attacked homes and area embassies, including that of France, said Col. Thierry Burkhard, spokesman for the French Defense Ministry.
In dramatic fashion, French forces fired back at Gbagbo's fighters and rescued the frightened Japanese ambassador and his staff, Burkhard said. The rescue mission was over in less than an hour.
The fighting, however, between the Gbagbo and Ouattara camps carried on beyond daylight. A week has passed since Ouattara's forces entered Abidjan, and the city was particularly tense Thursday after what was billed as a "final assault" failed to get to Gbagbo.

Carter on women's rights, Ivory Coast

Diplomat rescued in Ivory Coast violence

Ivory Coast unrest impacts aid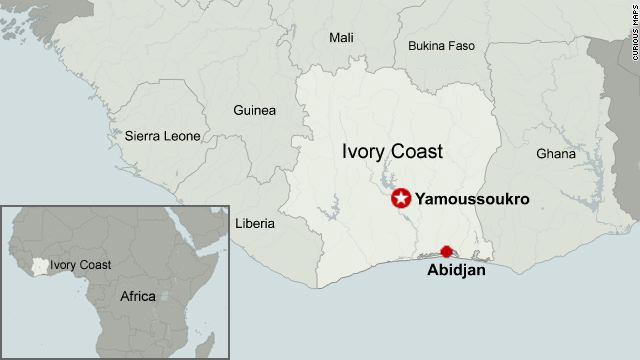 Map: Ivory Coast
"We could hear it all night," said Kelnor Panglungtshang, a spokesman for the International Committee of the Red Cross. "There were small gunfire and even what sounded like rocket-propelled grenades coming from the residence. It is clear that the area is far from being secure."
In a nationally televised address Thursday evening, Ouattara said, "The stubbornness of the outgoing president brought Abidjan to a humanitarian crisis."
He blamed Gbagbo for people being shut up in their homes for a week, with limited food, water and power. Mercenaries, Ouattara said, "have established a climate of terror and insecurity in the city."
The leader also looked ahead, telling citizens that he has ordered military and police forces to safeguard hospitals, markets and other public places.
"I asked them to take all measures in order to maintain order and security of people and of their movements," he said.
And, Ouattara said, the country will see a "progressive return to normality." He asked people to work together to rebuild.
"I invite all my compatriots to not commit any acts of revenge or reprisals," the president said.
Forces loyal to Ouattara stormed Gbagbo's home Wednesday, officials from both sides said. Despite reports of negotiations of a surrender, Gbagbo has remained defiant. Adviser Abdon Bayeto told CNN that Gbagbo was in the basement of his residence "conducting business."
A key question over a surrender revolved around where Gbagbo might go if he were to exit Ivory Coast. African Union spokesman Noureddine Mezni said several African nations -- though he did not name any -- are offering the beleaguered leader "safe retreat."
Journalist Seyi Rhodes, who had been staying at a hotel in Abidjan, said 95% of all foreigners staying there were evacuated Thursday afternoon with the help of French troops.
Rhodes told CNN he was in a convoy that was fired upon by "Gbagbo loyalists."
The hotel evacuees are now staying at a French military camp, Rhodes said.
"I doubt Gbagbo loyalists have any way of receiving orders from him, but they are still going strong as they are seeing all his predictions come true," said Rhodes, referring to Gbagbo's expectation that the French would move in.
The November presidential election had been expected to help unify the West African nation, rebounding from a 2002 civil war. Instead, the disputed vote sliced the nation in two.
Sporadic post-election violence erupted into all-out war after Ouattara's troops launched an offensive that swept them through the country to Abidjan, Ivory Coast's commercial center.
Hundreds of people have been killed in Ivory Coast's violence. Humanitarian agencies warn of a worsening toll from the crisis.
Oxfam reported Thursday that thousands of people have fled into Liberia in the past 24 hours alone.
The international agency, whose website says its goal is the elimination of poverty and injustice, said that besides the fighting in Abidjan, violence against civilians has been reported in the western part of the country.
"People have been caught up in violent attacks and are running from their homes with nothing," said Oxfam's Shemeles Mekonnen, speaking from southeast Liberia. "Refugees are speaking of fighting, looting and burning of homes. This crisis is far from over, and the needs are immense."
CNN's Joyce Joseph, Aliza Kassim and journalist Saskya Vandoorne contributed to this report
FOLLOW THIS TOPIC