Protesters clash with police in Zimbabwe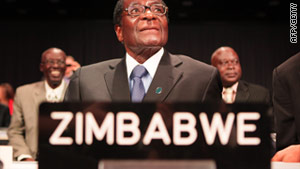 President Robert Mugabe's ZANU-PF party is accused by the Movement for Democratic Change of sending 'thugs' to a rally.
STORY HIGHLIGHTS
Police used tear gas and batons
Four people were arrested, human rights lawyer says
Tension simmer between rivaling parties in unity government
Harare, Zimbabwe (CNN) -- Thousands of protesters demonstrating against the escalating violence in Zimbabwe were met with tear gas and batons near the capital on Saturday, as the rift within the African nation's "unity government" continued to widen.
Organizers says the protest was supposed to be peaceful -- an appearance by Prime Minister Morgan Tsvangirai was to be wrapped up with a prayer. However, protesters we ordered to disperse by police officers at the scene.
At one point, an officer shouted, "I am giving you very few moments to disperse -- otherwise, we will use force."
The crowd refused to leave, sparking police to hurl canisters of tear gas and beat protesters with batons.
Police arrested four people, said Alec Muchadehama, a human rights lawyer at the protest.
"We are still trying to locate those arrested," said Muchadehama. "What has happened today shows that Zimbabweans still have a long way before they can attain their freedoms. They cannot be guaranteed freedom of assembly. A peaceful prayer to for a peaceful nation is dispersed violently, that can only happen where there is no rule of law."
Police spokesman Wayne Bvudzijena could not be reached to confirm the arrests.
In a statement, Tsvangirai's opposition Movement for Democratic Change -- which is in a troubled unity government with President Robert Mugabe's ZANU-PF -- accused the rival party of sending "thugs" to detain the MDC's youth leader.
"Dozens of people are injured after riot police disrupted the praying for peace for Zimbabwe church service," the MDC said in a statement.
The violent crush of the protesters came a week after regional leaders met in neighboring Zambia, and condemned escalating violence in Zimbabwe which critics say is caused Mugabe's militia.
After the meeting in Zambia, South African President Jacob Zuma, dispatched a team to Zimbabwe to draft a plan to end tensions in the two-year-old coalition government.
Mugabe's policies over the past 10 years have been blamed for plunging the once-prosperous country into an unprecedented economic crisis. Mugabe has called for an election this year, but his political rival, Tsvangirai, has threatened to boycott the poll if a referendum on a new constitution is not held.
FOLLOW THIS TOPIC