STORY HIGHLIGHTS
Somaliland is taking a tough stance against piracy
Pirates who are caught face jail terms of 15 to 20 years
Many prisoners claim they were not pirates, but fishermen
Hargeisa, Somaliland (CNN) -- "We want money," say the group of inmates with a smile. Somaliland's highest security prison hasn't dampened the hustling spirit of its pirate prisoners. My government handler rolls his eyes. They do this a lot, he explains.
I was told there are over 40 convicted pirates in this facility in Hargeisa, capital of the tiny breakaway east African state. The authorities say the coast guard has caught close to 100 in the past two years.
Prison officials tell me that most of the convicts ventured into Somaliland waters from Puntland, a haven for pirates just down the north Somalia coastline. They rarely hijack ships in Somaliland waters, because the coast guard has a reputation for catching them, officials told me. But the pirates often run out of fuel and are forced to come into the Somaliland port town of Berbera.
The first group of pirates brought out to speak with me refuse to talk without money, having decided on a union of sorts. Mohammed Ali Orsamen then comes down the corridor, chancing his luck for some cash but still keen to speak even after I refuse payment. He is serving fifteen years for piracy.

Somaliland Coast Guard takes on pirates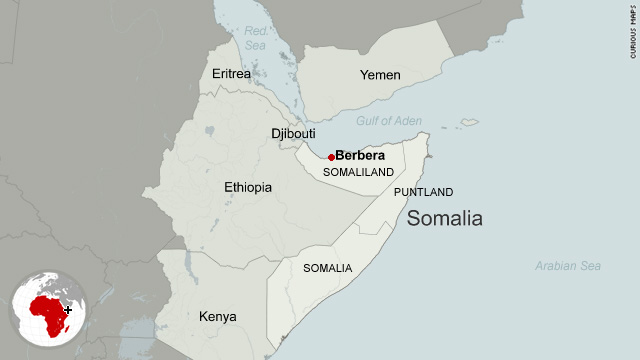 Somaliland and environs
"I am not a pirate, I am a fisherman," he begins. They all say that, smiles my government minder. Ali Orsamen does however have strong opinions on piracy. "The Westerners are doing illegal fishing and arresting fishermen and accusing them of being pirates," he repeats several times.
To Ali Orsamen, arresting so-called pirates was an excuse for Western fishing companies to take over Somalia's fishing territory.
"Because of the collapse of the Somali government there is no patrolling of our territories and that is why there is illegal fishing and those Westerners are entering our territories, and those pirates are only hijacking ships in Somali waters," he says. "Please tell the international community to stay away from Somali waters. If we hijack one Western ship and we kill one Westerner, then they kill ten of us."
Ali Orsamen and his fellow inmates are at the mercy of a new and extremely strict judicial system in Somaliland. Pirates in the past used to get five to eight years here, now with the world struggling to combat a major pirate plague in the region, they are being sentenced from 15 to 20 years each.
Osman Rahim, Berbera's regional court judge, presides over an historic court house in Berbera, just down the dusty street from the old prison. When suspected pirates are caught by the coast guard, this is where they end up before being sentenced and transferred to Hargeisa's high security facility.
Shortly before my visit, a group of suspected pirates had been caught and taken to Berbera prison, causing much excitement amongst officials. Their boat had been marked by a coalition warship as a pirate vessel, said officials, and their leader was a well-known pirate boss.
The man in question, Omar Abdullah Abdi, disagrees. "We were arrested doing our work - fishing. I don't know why we were arrested," he says. The group of six had elected him their spokesman, and none of the others are keen to disagree with his version of events. Pointing out that his boat was marked, Abdi says: "We have not been charged in court yet. We have nothing to do with these charges."
Rahim explains that Somaliland is taking a very tough stance against piracy, in part to discourage others from following the practice. "Now when they hear that they can get 20 years and 15 years, everybody is stunned," he adds, "and not going to the sea. That's why we are sentencing them for a long time - to restrict them."
With millions of dollars to be made by pirates in hijacking ships for ransom, such risks may seem small in comparison. The hope in Berbera, however, is that these waters gain a reputation for a fierce rule of law: keeping pirates at bay.
FOLLOW THIS TOPIC