90,000 Botswana government workers on strike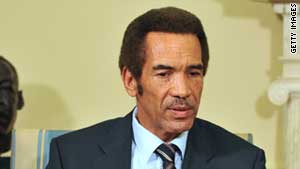 The government of President Ian Khama has not given a pay raise to civil servants for the past three years.
STORY HIGHLIGHTS
Nearly 90% of government workers are on strike in Botswana
They are seeking a 16% pay raise
Their salaries have not been increased for the past three years
Gaborone, Botswana (CNN) -- Public servants across Botswana are in the fourth day Thursday of a strike that is expected to last until April 29.
The strike began after the mediator between the five unions representing civil servants and the Directorate of Public Service Management gave the unions the go-ahead to strike.
The workers are seeking a 16% salary hike. The government of President Ian Khama has not increased civil servants' salaries for the past three years.
It is estimated 90,000 government workers out of a total of some 103,000 have been staying off the job.
It has been reported that 50 doctors at Princess Marina Hospital in Gaborone, the southern African nation's capital, have also joined the strike. This is in addition of hundreds of health workers, including nurses, across Botswana who have been off the job.
There are reports that some schools in the country have closed because of the absence of teachers and cooks.
But despite the five unions' threat to paralyze border posts, it has been business as usual at Ramokgwebana border post throughout this week.
Members of the Botswana Defence Force were deployed there to render service that is usually offered by immigration officers. The soldiers were apparently inducted on Sunday to man the border for the duration of the strike. They manned the offices in full military uniforms, allowing travelers in and out of the country.
This action, seen as disregard of strike rules agreed upon by the Directorate of Public Service Management, has incensed the unions.
"This is a clear contravention of strike rules, especially Section 37 of the Trade Dispute Act, which says an employer cannot replace (people) on strike before 14 days elapses. The government does not respect the rule of law," charged Ketlhalefile Motshegwa, secretary general of the Botswana Land Boards Local Authorities and Health Workers Union, who was making the rounds to assess the situation in the northeast.
Meanwhile, Khama and his Cabinet went on leave Monday after the adjournment of Parliament last Friday. Some union members have complained this shows the president is not taking their plight seriously.
FOLLOW THIS TOPIC