NATO warns Libyans to avoid military areas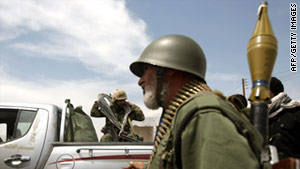 Libyan rebels Thursday head to the towns of Ajdabiya and Brega, both controlled by Moammar Gadhafi's forces.
STORY HIGHLIGHTS
Britain, France and Libyan rebels complained that NATO wasn't doing enough
The warning may be an indication there will be stepped-up airstrikes
Gadhafi forces have been attacking civilians
(CNN) -- NATO has issued a new warning to Libyan civilians to stay away from military areas -- foreshadowing plans for stepped-up air strikes on targets seen as strategically significant in stopping the Gadhafi regime's attacks against civilians, according to a NATO military official.
The warning comes days after Britain and France -- as well as Libyan rebels -- complained that NATO was not being aggressive enough to protect civilians.
The NATO military official, who declined to be identified due to the sensitivity of the matter, pointed to an April 20 NATO website announcement saying in part, "In the next few days, we will maintain the pressure on regime front-line troops to show NATO is resolute in its determination to protect civilians. We will continue to strike at regime forces as long as they continue to attack their own people." The written statement from Lt. Gen. Charles Bouchard, commander of NATO's Libyan operations, did not specify what actions might be taken.
The next phase will largely involve increased airstrikes on key Gadhafi command, control and communications sites in and around Tripoli, although targets in other areas could be hit as well, the official said. When asked if was accurate to describe the plan for upcoming strikes as a "stepped -up campaign," the official said, "it's as good as any way to describe it."
NATO is well aware the regime of Libyan leader Moammar Gadhafi may have seen its announcement, even Gadhafi himself -- that is, "if he is listening," the official said. But the source indicated NATO's top priority in signalling its intention to strike is to minimize the risk of civilian casualties. "It's a moral imperative," the official said. It's also likely a bid by NATO to avoid giving Gadhafi a propaganda victory.
So far there are no plans to ask the Unites States for additional assistance in any new strikes, the official said. Although U.S. warplanes are hitting some Libyan air defense sites, a separate request for striking targets on the ground has not been made, said the official.

Eman al-Obeidy: I usually get harassed

Explain it to me: Libya's revolution
Two U.S. military officials said the Pentagon is considering a longer so-called "tether" for U.S. attack aircraft, which essentially means the planes might not be quickly available. No final decision has been made, but if that plan is approved, it's another signal of Washington pulling back militarily from the NATO mission.
The new focus on targets in the Tripoli area comes after nearly three weeks of NATO-led bombing and surveillance of Gadhafi's forces and facilities. The NATO military official indicated the alliance has been able to use the intelligence it has gathered to assemble a crucial list of targets it now wants to strike.
In the last three weeks, a number of communications sites have been bombed, but the focus has been on hitting the ammunition supplies and heavy armored equipment that Gadhafi would have otherwise used against civilians, the official said. That tactic has led to at least some of the pro-government forces using light trucks with mortar, rocket launchers, and rocket propelled grenades as they attack civilians in cities like Misrata.
"We're forcing him (Gadhafi) to fight in ways different than the way he would want to," the official said.
FOLLOW THIS TOPIC